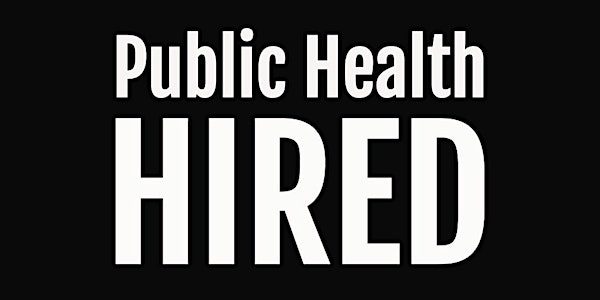 Graduation SPECIAL Mini Mentorship LIMITED TIME OFFER
Refund policy
Contact the organizer to request a refund.
Eventbrite's fee is nonrefundable.
Kickstart your job hunt with a 1 month mentorship for job searching, leads, resume/cover letter edits, interv prep, & bonus summer workshop
About this event
Congratulations on completing your degree or finising finals! Now that you're done with school, you can focus on the job hunt this summer! But do you wish you had a partner in crime for the job hunt? Are you intimiated or confused about your prospects? Good news is you don't have to job search alone anymore!
Invest in yourself and your career growth for only $849.50 for an exclusive offer of 1 month mentoring with Zoila.
BENEFITS OF THE MINI MENTORSHIP:
One complimentary onboarding session
Weekly Zoom one-on-one coaching with Zoila for 4 sessions
View Zoila's LinkedIn Job Feed directly over Zoom, which is used for the job alerts on Instagram stories
Job leads sent directly to your phone
Mastery and practice of the H.I.R.E.D. method with Zoila's guidance
A mentor in your pocket to answer your burning questions
Proofreading and editing your resumes and cover letters
Access to the online Masterclass and winning resumes/cover letters
Interview Prep Support for callbacks that you got with Zoila's support
Assignment support for final rounds of interviews, when neeeded
BONUS: INTERVIEW PREP WORKSHOP TBD SUMMER
BONUS RECORDED TRAINING: HOW TO USE LINKEDIN FOR PUBLIC HEALTH JOBS
BONUS: EYE MASK THAT SAYS "DREAM JOBS COME TRUE"
FREQUENTLY ASKED QUESTIONS:
1. What's the difference between the Mini Mentorship and the HIRED Mentorship? Unlike the Hired Mentorship, the MINI Mentorship ends after four weeks of coaching and there is no guarantee of hire upon completion of the Mentorship. If you were interested in securing employment regardless of the length of time it takes - then Hired Mentorship is more appropriate. visit the site www.publichealthhired.com for the HIRED Mentorship.
2. Who is the MINI Mentorship ideally for? Recent graduates or those seeking to make a transition in their career. You must have a degree in Public Health or a related field. This is a wonderful opportunity if you are on a budget and have been trying to make a transition but have not been able to. You can get a quick boost, immense clarity and build momentum so that you can continue to apply once the mini Mentorship ends.
3. What are the results of the MINI Mentorship? Many individuals have been hired by working with me for only one month because they get to practice over and over how to apply to jobs with their specific interest and background. While there is no guarantee of getting hired after getting mentored for 1 month, the first person to ever get hired with the support of PHH started with 1 month. After she completed the MINI mentorship, she continued to use the tools she learned and was successfully hired within three months. There are other success stories of those who worked with me for just a short amount of time so yes this could be all you need in order to break through for a job offer, just depends.*
4. When do we start? Activate your Mini Mentorship any time! I'm here when you're ready! Many individuals reserve their mentorship and activate it months later but you also have the option of meeting with me as soon within 24 hours upon purchasing. I am happy to provide a complimentary onboarding mentor session so that we spend our first session getting grounded on the process and answering your initial questions and spending the other four sessions really in your mentoring, so that's actually 5 zoom sessions with me total.
5. I'm not ready right now but can I get this offer for another time?? This is a GRADUATION SPECIAL so it is a limited time offer. You should consider purchasing now and activating it later once you know you can meet weekly and maximize your time applying to jobs. If you simply need an extension beyond May 31 to purchase the mini mentor ship, feel free to contact Zoila for arranging an extension.
6. How do you send me job leads? I prioritize all my mentees for job leads, meaning if I see something that suits you, I will send it straight to your phone and not disclose it to others or on the instagram job alerts. I give you an edge by showing you the best jobs, especially when they are a good fit for you! We can decide to work on job leads on a weekly basis, and we can also do job search sessions over zoom during your 30 minute weekly touchbase with me. I will also help you find them on your own by helping you improve on your job search technique through your own linkedin and searching.
7. Do you review all my resumes and cover letters for each job application? Depending on your goals that week, we can discuss which documents you need review/edits/feedback. We'll work within a google shared drive to save all your job applications, job announcements you apply to, plus interview prep recordings. I can review your applications also during the zoom 30 minute touchbase on a weekly basis. The goal is also for you to IMPROVE on your application submissions, so over time you should be able to see where and how to edit your documents, but I'll be here to review as needed and when you get stuck. You will be learning a new approach on all this, and we'll work together to make sure you're learnig and catching onto what's important.
8. When are you available during the mentorship? We will meet over zoom on a weekly basis that suits both of us plus you'll have me available on my cellphone via text and phone calls if you ever need to talk! I'm here to help you make this transition and that sometimes involves talking about a tough day at work, considering to quit your job, reviewing job leads, deciding how to ask for references from current or past employers, and so much more! My phone line is dedicated to Public Health Hired, so you can text or call anytime and I'll respond as soon as possible.
9. Are there other terms to the Mini Mentorship ? Please read the terms of agreement here, you will sign during your onboarding session through DocuSign: https://docs.google.com/document/d/12hDkU67nlo_jzC0n2lnJHVxnw_fy6dUY/edit?usp=sharing&ouid=102651457615356852703&rtpof=true&sd=true
**Results Vary, there is no guarantee of getting hired.