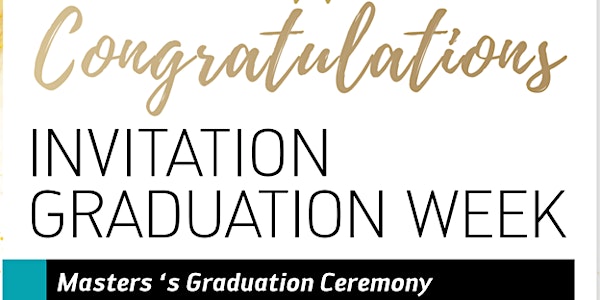 Graduation Ceremony of Master's programs
Graduation Ceremony 2022 of the master's programs.
When and where
Location
Maison du Savoir - Grand Auditoire au -1 2 Avenue de l'Université 4365 Esch-sur-Alzette Luxembourg
About this event
The Master's ceremony will take place from 3pm to 5pm. It will be followed by a cocktail reception.
Please confirm your attendance by 25 November.
Please note that photos will be taken during the ceremony and the reception. If you do not wish to be photographed, please inform a member of the organisation.
PRIVACY NOTICE
The University of Luxembourg (hereafter "Uni.lu") collects and processes your personal data in the framework of your registration and your participation in this event and the communication of its future activities. Uni.lu processes and keeps your personal information only to the extent necessary to fulfill the purpose stated.
During the registration process your personal data is being collected and processed on the Eventbrite website by Eventbrite Inc. located in the United States. This will involve the transfer of personal data to countries that do not offer the same level of protection as the European Union regarding data protection rules. Eventbrite Inc. participates in and complies with the EU-U.S. Privacy Shield framework as set forth by the US Department of Commerce regarding the collection, use and retention of personal data. Eventbrite may process your personal data as a controller for different purposes than the purposes of the University of Luxembourg. More information is provided on Eventbrite Inc.'s website in their EU-US Privacy Shield Notice, Privacy Notice and Terms of Services.
You can deregister from the event directly on the Eventbrite website and withdraw your consent for the processing of personal data by Uni.lu for the purpose stated above. You have the right to access, rectify, and erase your personal data as well as further rights described on the Uni.lu website. You can exercise your rights by following the procedure described on the website.