This is a two-part workshop series that discusses the creation and implementation of a Graduate Profile.
About this event
Envision Learning Partners (ELP) is launching a two-part workshop series, led by ELP's VP of Program, Alcine Mumby. Participants will explore the value of having a Graduate Profile, develop and define a draft, and then learn how to implement and measure it once they take it back to their school, district, etc.
Session A: Defining Your Graduate Profile
Wednesday, August 17th, 2022 ⋅ 9:00am – 12:00pm PT (12:00pm - 3:00pm ET)
We will explore what a Graduate Profile (aka Vision of a Graduate, Portrait of a Graduate, etc.) is and why it is an important shift for schools, districts, systems, etc., as well as what it means to situate the Graduate Profile as your organizing principle. Participants will brainstorm the skills they believe would be ideal for their graduates, then have an opportunity to check that brainstorm against quality criteria, ideate and revise again. We will clarify what Performance Outcomes are, determine the scope of the Outcomes that you are drafting (individual school, district-wide, etc.), and practice creating high quality Performance Outcomes for your Graduate Profile. This language will then be used to design shared assessment tools and much, much more. Participants will leave with a draft prototype of a Graduate Profile, including a set of skills, as well as a plan to engage stakeholders in a vital input/feedback process in order to move toward a more finalized draft.
Session B: Select & Design Your Culminating Performance Assessment
Wednesday, August 24th, 2022 ⋅ 9:00am – 12:00pm PT (12:00pm - 3:00pm ET)
Once you have your Graduate Profile designed and defined, you need to create a system that actually measures it. If you don't, it remains a pretty poster on the wall. One component of that measurement system is a culminating assessment that gives you and your students concrete evidence of how they are able to demonstrate the skills of your Graduate Profile. In various groups, participants will explore different types of exhibitions (student-led conferences, capstones, portfolio defenses, etc.) and design a prototype of a culminating exhibition that provides evidence of student learning/thinking of essential competencies.
FAQ
What is the best size of team to attend? These sessions are designed for individuals on their own (who we are titling "Solo Adventurers") to teams from a single school to folks district-wide... However, 5-7 per team might be a good max size for the allotted group worktime sessions. Solo Adventurers will be given the option for alone worktime or to collaborate with each other!
What would be the ideal team member roles? Having a robust cross section of perspectives is, of course, the best option. It is great to have at least one person with decision-making power. (We say this because we have done these before and had teachers get super fired up during the workshop only to feel deflated at the end when they realize they don't think their admin will get behind the vision.) You may want to have some folks who tend to be the early adopters as well as some who tend to be more critical - ideally the experience will inspire both sides of that coin (but no promises!).
Should we involve students or other stakeholders in the workshop? We are strident supporters of having students at the table WHENEVER possible. We think a student (current and/or alumni.... former students are often the absolute best source of info about how school prepared them for the next chapter), parents, and other community members are deeply valuable in this process. That being said, part of each of the sessions will include stakeholder engagement planning time. So if they are not part of the group that attends the actual workshop, you can [should] still absolutely engage them in the overall process.
* Zoom info will be sent via email to the registered participants the week of the event. The workshop will be recorded and any resources or materials will be shared.
Please reach out to Courtney Katen (courtney@envisionlearning.org) with any questions.
Meet Your Facilitator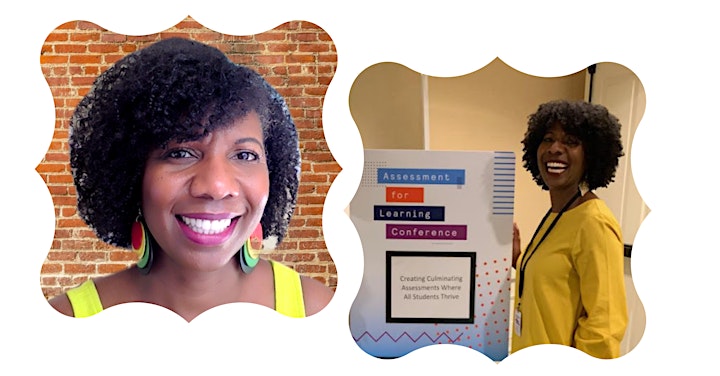 Alcine Mumby is a dedicated educator who has spent that last 25 years teaching and leading traditional and charter public K-12 schools all over the country. She currently supports and coaches district and school leaders to develop high-quality performance assessment systems that center student-led demonstrations of learning and metacognition. Prior to coaching Alcine taught Humanities at one of the first small schools in the Bronx where project-based learning and portfolio defenses served as the foundation of instruction. Afterward Alcine became a founding principal of Envision Academy in Oakland an administrator in several small middle and high schools in Atlanta and DC and a leadership coach in DC Charlotte & Philadelphia. Alcine earned her BA in English Education from NYU and a Master's in Curriculum Studies and Teacher Education from Stanford University. When she's not listening to podcasts or catching a flight Alcine enjoys working toward earning BAE (Best Auntie Ever) status with adorable niece and five nephews.
Connect with Alcine on Twitter: @Alcine_Envision