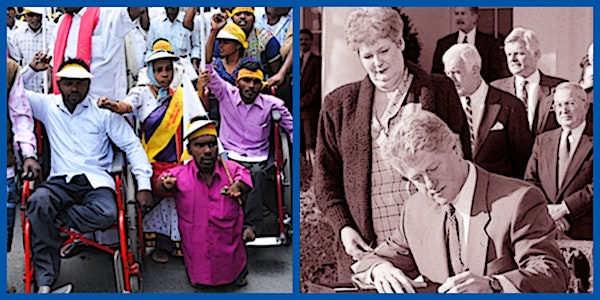 Grad Workshop - Difference & Democracy: Welfare State Promises & Pitfalls
Two papers discuss the provision of, and exclusion from, social services in the United States and India.
About this event
INFRASTRUCTURING EXCLUSION: DISABILITY, CERTIFICATION AND CITIZENSHIP IN INDIA / Kim Fernandes (Penn Anthropology and GSE)
RECENT LEGISLATION IN INDIA OUTLINES A COMPREHENSIVE FRAMEWORK for the rights and entitlements of people with disabilities to state services. However, the process of being counted and legally certified as disabled is at best fraught, due to which roughly 60% of all disabled people in India are not officially certified as having a disability. As a result, despite recent nation-wide attempts to statistically quantify disability in the most accurate manner possible, numerous peoples' embodied experiences of otherness remain unvalidated. People with disabilities face significant challenges in their everyday lives but are not able to participate in social entitlements largely because their bodies are outside of the margins of state acceptability. KIM FERNANDES examines the politics behind the production of knowledge on people with disabilities by examining the role of state and non-state actors in identity-making around disability and the subsequent production of statistics as bureaucratic facts.
PROMISES TO KEEP: THE DEVELOPMENT OF THE FAMILY MEDICAL LEAVE ACT IN AN AGE OF BACKLASH / Kwelina Thompson (Cornell History)
"MR. BUSH," REPUBLICAN CONGRESSWOMAN MARGE ROUKEMA IMPLORED the president in a 1990 New York Times op-ed, "keep your promise to American families." Representative Roukema, along with a bipartisan coalition of congressional leaders, policy analysts, and activists, had finally pushed H.R. 770, the Family and Medical Leave Act (FMLA), onto President George H.W. Bush's desk at the time of Roukema's writing. A veto, however, was all but assured. Still, Representative Roukema reminded President Bush that he had campaigned on "family values and job security," and that this long-anticipated, bipartisan legislation would fulfill both objectives: social policy for the dawning of a new economy. In fact, the Family and Medical Leave Act, under various headings and sponsors, had percolated through congressional halls since 1984. KWELINA THOMPSON analyzes the emergence of this key piece of labor legislation as it took shape amidst the labor and gender politics of the late 20th century.