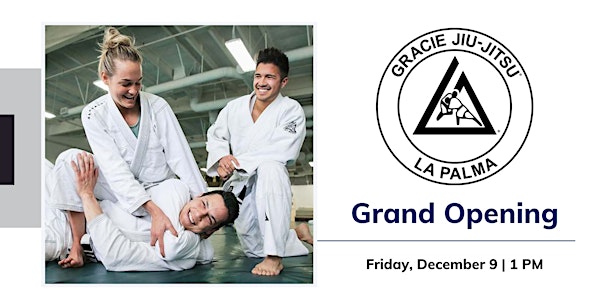 Gracie Jiu-Jitsu La Palma
Gracie Jiu-Jitsu La Palma Grand Opening Ribbon Cutting
When and where
Location
Gracie Jiu-Jitsu La Palma 7821 Valley View Street La Palma, CA 90623
About this event
On behalf of the Orange County Inland Empire Small Business Development Center (SBDC) Network, the CSUF SBDC, and our partners, we invite you to join us in celebrating the grand opening of one of the newest businesses in La Palma. Join us for a ribbon-cutting ceremony and more festivities!
About Gracie Jiu-Jitsu La Palma
Gracie Jiu-Jitsu La Palma is a certified Gracie Certified Training Center (CTC), which offers self-defense training for children and adults. The owner, Alex Lam, is a certified instructor with over ten years of teaching experience. They offer Gracie Bullyproof for children 5-12, and Gracie Combatives and Master Cycle for students ages 13 and up.
Visit their website to learn more: www.gracielapalma.com