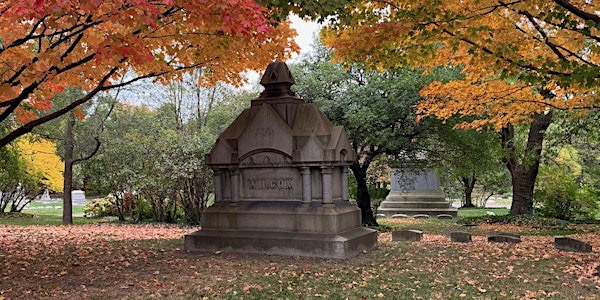 Graceland Cemetery Walking Tour: 50 Ways to Die at Graceland !
Location
Graceland Cemetery
4001 North Clark Street
Chicago, IL 60613
In-person cemetery strolls return with incredible stories from Mysterious Chicago - a new route focusing on causes of death.
About this event
Dropping dead mid-waltz. Falling down a hole in a factory you were trying to prove was safe. Killed in battle. Typhoid fever. Murder. Hanging. Cholera. Consumption. How many causes of death can we find at Graceland Cemetery?
This light-hearted walking tour will hit some of the most famous monuments in the cemetery, and, in this new edition, will focus on causes of death old and new. Some once-deadly killers have been all but eradicated by vaccines, antibiotics, and better sanitation... but you can still drop dead in the middle of a waltz today! And you can still die while taking a leak if you aren't careful.
Adam Selzer is the author of Mysterious Chicago, HH: Holmes: The True History of the White City Devil, and many other Chicago history books. He has been running Graceland tours for years, and his new book on Graceland is due from University of Illinois Press in Aug, 2022. His virtual tours continue to log thousands of viewers per week.
Each tour is a little different, but almost all of our Graceland routes include the famous Inez and "Eternal Silence" statues - with some newly discovered data that you can hear on this tour before the book is released! Join us for a 75-90 minute walk through American history! (Please note that for this, the first edition of the "50 Ways to Die" tour, we're just estimating that we'll cover 50. It could be more!) Perfect for the morning after the Dead and Co shows at Wrigley Field - a whole other way of jamming with the Dead.
What You Need to Know:
- Meet a bit before 12pm just inside the gates (at N. Clark and W. Irving Park.) You'll see Adam with his headset mic.
- Tour runs rain or shine! This being Chicago in June we don't know whether to tell you to bring a hoodie or sunscreen, but it's probably gonna be one of those!
- The cemetery is near the red line, the 22 Clark bus, and the Irving Park bus.
- Limited parking is usually available in the cemetery, and free parking is usually available along Clark Street. The Cubs game can complicate parking, but they'll be in St. Louis today. Biggest X factor is the Dead & Co show at Wrigley Field!
Bathrooms are available before and after the tour. Like most cemeteries, there are no facilities mid-tour.
- The walk covers about 1.5 miles over the course of 75-90 min. Some of the walking veers off the paved paths. You'll get about 3-4k steps!
- The tour is in the safe outdoors, but we -strongly- request that patrons be fully vaxxed against Covid 19 (really, we hope you have -all- your shots!). If you have questions about the vaccines, the Mayo Clinic has an excellent page to answer them. The vaccines are the reason we can do in-person events at all.