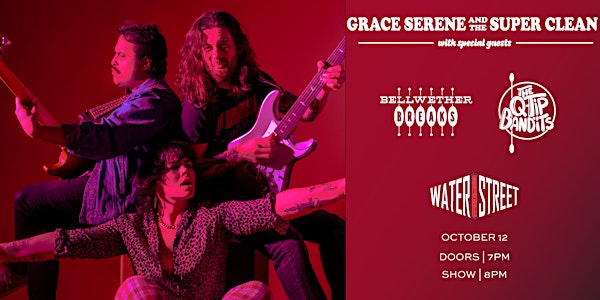 Grace Serene & the Super Clean w/ The Q-Tip Bandits & Bellwether Breaks
Join us on October 12th live music with Grace Serene & the Super Clean, The Q Tip Bandits , and Bellwether Breaks
When and where
Location
The Club at Water Street 204 N. Water St. Rochester, NY
Performers
The Q-Tip Bandits
Bellwether Breaks
Grace Serene & the Super Clean
About this event
Grace Serene & the Super Clean Bio
In January of 2021, all three of us had spent plenty of time locked up in our rooms, brushing off any musical dust that may have gathered and writing new music over the past year. One day meeting together in a chilly motorcycle shop where we had a small studio setup, we wrote our first song together. Through this process, we found a chemistry that felt like we ought to do something more with.
-
Soon donning the name, Grace Serene and the Super Clean, the band continued to build up their repertoire of original music and began booking shows in the Rochester, NY area. Finding a wealthy amount of local support, they soon made appearances in local editorials and on local television (https://www.youtube.com/watch?v=6qel1K4fKYI) and radio stations. Their high-energy fusion of funk, pop, and classic rock soon expanded their radius and began to attract a following in the surrounding Upstate, NY area.
With Grace Serene leading on vocals, Zack Mikida on electric guitar, and Arjun Baxter on bass, the band plays with a rotating number of talented individuals that bring the stage to life.
Now celebrating a year of music together, they are amidst the recording process for their debut EP and look for what's to come in 2022.
The Q-Tips Bio
Since their inception in early 2018, The Q-Tip Bandits have emerged into the Boston music scene as an energetic and vibrant act that continues to touch audience's hearts while getting them up on their feet. Their smooth yet powerful sound is backed by the raw energy of rock and the coolness and colors of R&B and funk — with palpable grooves coated with savory, soul-inspired riffs, anthemic horns and meaningful lyrics.
Described as "an indie-pop delight" by The Deli Mag, their debut single "Willow" made waves across the Atlantic, reaching 50,000 streams on Spotify within the first 3 weeks of release and garnering enough momentum for the band to record their debut EP, Ain't It Great. It was met with great enthusiasm, despite being released amidst a global pandemic, and was called "a must add to your summer playlist" by The Courier.
After a summer of outdoor touring in 2021 — including shows opening for pop-funk powerhouse Ripe — Willow broke 1 million streams, the band was nominated for "Best New Artist" by the Boston Music Awards, and they returned to the studio to record their first LP Melancholy Flowers, which came out on June 10th, 2022.
Bellwether Breaks
This five-piece lineup from Rochester — guitarist Peter Goebel, drummer Dave Goebel, Chris Coon on keys, bassist Eugene Bisdikian, and Elyse Coughlin on vocals — plays sweet soul music, though they may disagree about the semantics of genre or the purity of sound.
"Bellwether Breaks plays early rock with a heavy nod to the 1950s and 1960s," says Coughlin. "We write and play original songs with lots of influence from soul and early rock. Even some stuff from the 1990s creeps in from time to time."
But when it comes down to soul, or soul-infused music, Bellwether Breaks doubles the fun by mixing classic soul with nouveau soul. The band says it started with a handful of original songs that brought them together.