"Grace Prescriptions" NYC Workshop presented by Walt Larimore and Bill Peel

Friday, December 4, 2015 at 2:00 PM

-

Saturday, December 5, 2015 at 4:00 PM
Event Details
Walt Larimore,MD & Bill Peel,DMin 

Teach 

"Grace Prescriptions"

Organized by Beacon Christian Community Health Center.
Sponsored by Nyack College, CMDA-NYC, CMDA-Mid Hudson Valley, Center for Faith & Work (Redeemer Presbyterian Church), Christian Community Health Fellowship
How often do you prescribe grace to your patients? Not just kindness, which is important, but also specific and appropriate doses of grace that may bring your patients a step closer to a right relationship with God? Many of us in healthcare struggle with guilt and inadequacy in this area. But there is hope.
Join us for the live seminars of Grace Prescriptions designed to teach you to share your faith with patients in ways that safeguard the important ethical principles of respect, sensitivity and permission. Originally taught in CMDA's popular Saline Solution course, these concepts are proven to be effective as thousands of lives have been transformed. Grace Prescriptions builds on this legacy.
Taught by co-authors Walt Larimore, MD, and William C. Peel, ThM, we encourage you to come learn how God can use you to dispense Grace Prescriptions.

Great news! We have been approved to offer 6.75 hours of CME credits for Grace Prescriptions attendees! There will be a $70 processing fee for the request. More details will be available at the conference. 
Click to view a video excerpt from Grace Prescriptions: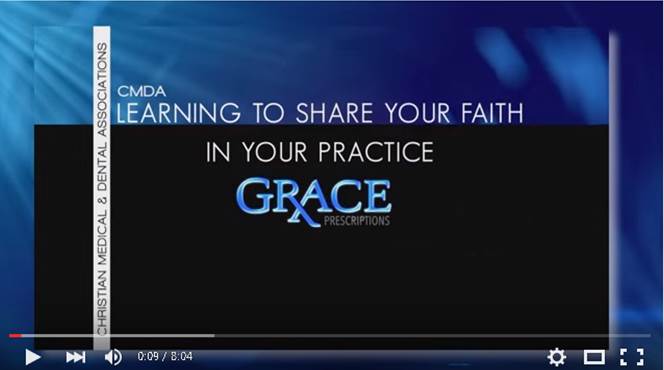 Immediately after the workshop, you are invited to dinner for fellowship, and to hear Dr. David Kim, CEO of Beacon CCHC, speak about Christ-centered Urban healthcare. 
Brief Schedule (Detailed Schedule Here)
Day 1 Friday
2:00 p.m. - Check-in
3:00 p.m. - Conference
    Are Spiritual Interventions Appropriate?
    Biblical Case for Spiritual Care
4:40 - 4:55 - Break
    Clinical Case for Spiritual Interventions
    Understanding Barriers
6:10 - 6:55 p.m. - Dinner
    The Importance of a Spiritual History
    Earning the Right to be Heard
9:00 p.m. - Conclusion
Day 2 Saturday
8:30 a.m. - Breakfast
9:00 a.m. - Conference
    Faith Flags, Stories, & Prescriptions
10:15 - 10:30 - Break
    Personal Faith Story
    Reality of Time & Spiritual Care Team
12:00 - 12:45 p.m. - Lunch on your own
    Sharing the Good News
    Biblical Case for Prayer
2:15 - 2:30 - Break
    Clinical Case for Prayer
    Seminar Summary & Challenge
4:00 p.m. - Adjourn
5:00 - 7:30 p.m. - Dinner and Presentation (Doors open at 5, dinner served at 5:30)
***Limited childcare will be available for children ages 3+. Children must be potty-trained. Please indicate how many children will need childcare on registration page. 
***HOTEL ROOM BLOCK NOW AVAILABLE!***
We have reserved a block of hotel rooms at the Doubletree Hotel, located at 8 Stone Street, New York, NY 10004 (this is a 4 minute walk to Nyack College)
Rate is $269/night + tax for King and $299/night + tax for 2 doubles. 
Rate includes free Wi-Fi; 24 hour fitness center; and option available for breakfast at $12/person (including tax) for full American buffet. 
Parking: $40/night for self parking; $55/night for valet.
Rate available for nights between December 3 - 6, 2015.
Click on this link to access the hotel registration: 
 http://doubletree.hilton.com/en/dt/groups/personalized/N/NYCBPDT-BCC-20151203/index.jhtml?WT.mc_id=POG
or you may call the hotel at 212-480-9100 and use Group Code: BCC
Rate available until November 6, 2015 or until room block is sold out.
When & Where

Nyack College-NYC Campus
2 Washington Street 22nd floor
New York, NY 10004


Friday, December 4, 2015 at 2:00 PM

-

Saturday, December 5, 2015 at 4:00 PM
Add to my calendar
Organizer
Sponsored by:
Beacon Christian Community Health Center 
About Beacon:

Since its founding in 2003, Beacon Christian Community Health Center founders Drs. David and Janet Kim have worked to bring quality healthcare to the poor living in the forgotten borough of Staten Island in New York City.
 Both David and Janet were drawn by God's love for the more than sixty thousand people living well below the poverty level who do not have access to the most basic healthcare.
 Beacon has become the definitive model for Urban Community Health in America. It delivers physical, spiritual and emotional care to thousands of underserved people regardless of their ability to pay.