Are you sick of sleepless nights and hustling in your business with little or no return at all?
About this event
I've been there done that and got the sparkling t shirt. I've desperately sold my products at trade shows every weekend while leaving my newborn twins to try and make a dream come true FOR YEARS; I've relentlessly sobbed & cried in the shower worrying if I was even doing the right thing or if I needed to go and get a job again and I've frantically worried about sales in my business until my edges were gone. But not anymore.
I've cracked the formula for building a multi-million dollar brand that creates raving customers for life AND a profitable empire.
I know what it takes to build a multi-million dollar business, because I've done it in less than 1 year. After all of the chest pains, headaches and emotional episodes (because entrepreneurship can be so emotional), I've figured the 7 figure formula out and I'd like to share it with you. And the people & resources that help me get there. I didn't figure this all out alone. Yep, direct access to my money team. The good folks that I personally work with to help take your brand to the next level.
You don't have to figure all out alone and live frustrated, I wish I knew that same when I was so busy grinding. But I needed to go through these things to create this formula for you. When I met Michelle Obama at a VIP event last year, she told me that I needed to take others along with me. So I will.
Why should I listen to you?
-I had no easy route. I'm a mother of twin toddlers and a GOOD wife. I never took a bank loan or investment or had a mentor when I first started, I wasted so much money and time trying to figure it out on my own. This doesn't have to be you.
-This formula allowed my husband to leave his 6 figure job with a fortune 50 company to work in the business too. We do what we want.
-I've built a multi million dollar brand in 11 months. I have receipts from actually DOING the work, not teaching other people how to do the work.
-In 2017, I tripled my revenue from the prior year. In 2018, we generated over 9 times our 2017 revenue.
-We have built successful channels in the business to guarantee that you make money while doing the cupid's shuffle on your next vacation.
-I've spent years doing what everyone else was doing, it never worked. The second I started to follow this formula, everything changed.
-Our business makes $10,000+ for 1 hour of work. I'll teach you how I do it.
What's Included?
-You, me and 9 other women in my corporate headquarters in an extremely private and intimate setting.
- Hands on with me and your business. You walk away with a 7 figure plan to launch your business to the next level.
-Skip ALL the expensive mistakes, learn from the ones that I made.
-See first hand how I run my business and learn my strategies for making $10,000 in one hour.
-Direct access to my money team and the people that I've used to help me build a 7 figure empire in less than 1 year.
Questions? Email us at sassyjonescouture@gmail.com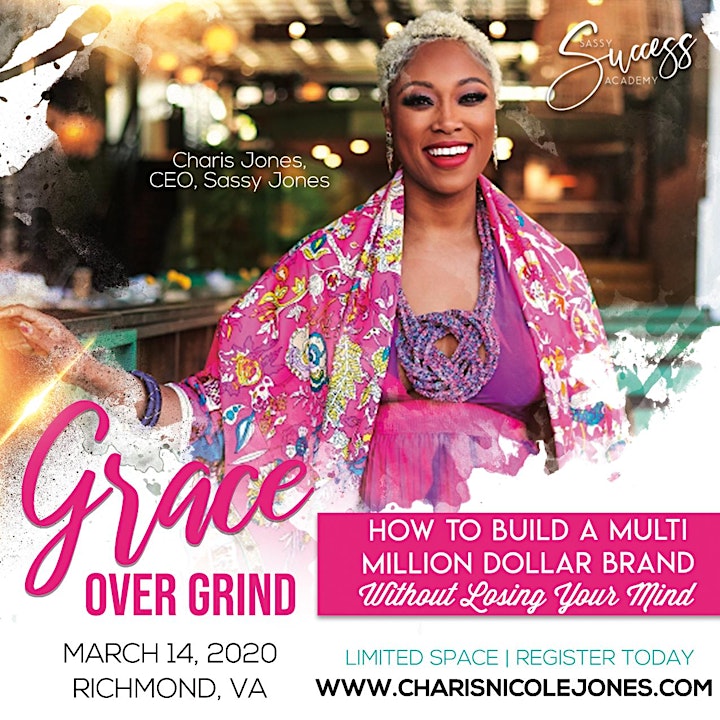 Organizer of Grace Over Grind®️ 1.0 : How I Built A Multi-Million Dollar Brand In 1 Year
Our Story 


Hey girl hey!
I jumpstarted our brand with 3 things: the relentless desire to make a difference, my minivan and my dining room. In 2013, I invited my girlfriends over to purchase jewelry that I beautifully displayed on my dining room table utilizing mirrors and decorative hat boxes from the local arts + crafts store. I thought I was really onto something after my girlfriends would tell me about all the compliments they'd get when wearing my pieces.
After much fear, I gathered enough money and confidence to showcase my products at a local trade show. The fear was REAL; standing next to these large brand jewelry names I felt completely inferior to represent myself in this way. But I did it afraid and with knees trembling, I styled women at that event and helped them see themselves in a completely new light. I learned 2 things: I can make enough money doing this that maybe one day I could leave my corporate job AND most importantly, I learned my brand is more than jewelry.. It's my ministry. To help myself grow my brand, I decided to travel all up and down the USA doing these trade show events by myself.
The problem was, I became pregnant. Like REAL pregnant, with twins….Crazy moments of doubt set in and I mean after all.. I needed my health insurance right? Who was I to not only leave my job but leave my job to pursue my business full time right after having twins? It sounded crazy, I know. And it was so crazy that I executed all of those trade shows mostly alone just a few months after giving birth. Driving to Orlando twice in 1 months as a new twin Mom was nothing for me during my first full year of entrepreneurship.
I wanted it soooo bad. However, at the end of that year I had hit a wall both literally and figuratively. After sleepless nights of driving I almost wrecked my vehicle tons of times and I was ready to give up and go back to work. A predictable check and my sanity looked REAL good right about now…Before I completely decided to throw in the towel, I decided to pivot. "What if I put all my efforts online?" So with the same shelving that I used to set up all over the USA for trade show events, every Wednesday night I sat these same shelves up in my dining room and showed them how to wear my pieces virtually. I called it, The Sparkle Party®. It's where I began to nurture my community.
 3 years later, thousands of customers all over the world shop with us both virtually and in-store and also tune in weekly every Wednesday night to interact with us LIVE on our Facebook page. Our goal is to help women feel undeniably confident about themselves and shine our light brightly wherever we go. Nothing or no one can stop you, except YOU.
 Welcome to the Sassy Jones Sisterhood and thank you so very much for shopping with us! We hope to make a small difference in your day, you definitely made a difference in ours.