Description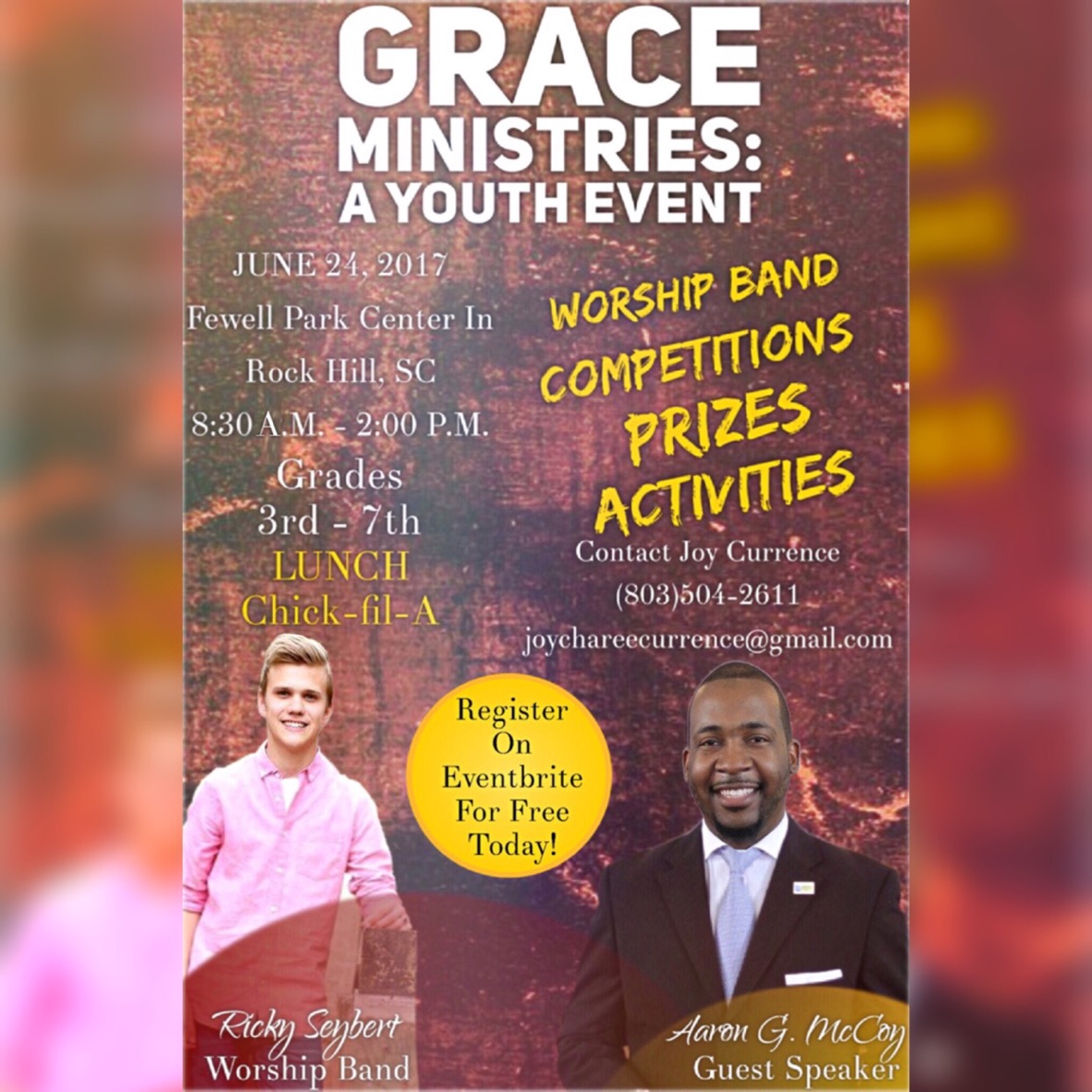 GRACE MINISTRIES will provide a creative, spiritual and fun-filled atmosphere for our children and youth. This event will include a total of three competition games, huddle time and activities that will lead back to the uplifting messages spoken about leadership

Theme:
"Stage of Instruction"
This year's theme is based out of the Book of Matthew.
There are two points to focus on within this message. The first point is taking a look at where it all began, the relationship between Jesus and His father. We want to know what were the expectations and his instructions, from God the Father to His son Jesus to ultimately fulfill the prophecy.
"I cannot do a single thing of my own initiative. I seek, not my own will, but the will of him who sent me"
(John 5:30)
The second point is Jesus understanding his purpose to now relaying messages and demonstrating the expectations, instructions and establishing relationships between Jesus and his disciples so that they can meet everlasting life.
"Do not go in the way of the Gentiles, and do not enter any city of the Samaritans; but rather go to the lost sheep of the house of Israel" (Matthew 10:5-6)
This theme is to touch the lives of children and youth beginning at an early age and to come close to understanding what Jesus expects from them. Youth should also understand that before we can do the work of God we need instruction and guidance in knowing what to do and where he is leading us. We need to be in the PRESENCE of Jesus, have MATURITY, and to understand what is REQUIRED of us first before we can say YES to the task that God has appointed to us as ambassadors.
FAQ's
When and where is Check-in?
Check-in begins at 8:30 am on Saturday at Fewell Park. The area will be marked for clarification upon arrival.
What is the cost of the youth event?
No matter because it is absolutely FREE!!!
What is the dress code?

All students will be provided a camp t-shirt.
Girls: Comfortable shorts to run in and tennis shoes. Ladies, please make sure that the shorts are not tight and or too small to wear.
Boys: Absolutely no muscle t-shirts.
The dress code will ensure to minimize temptation
What should my child bring?
Nothing but bottled water
(If there are any questions, comments or concerns feel free to contact Joy Currence at joychareecurrence@gmail.com or call (803)504-2611