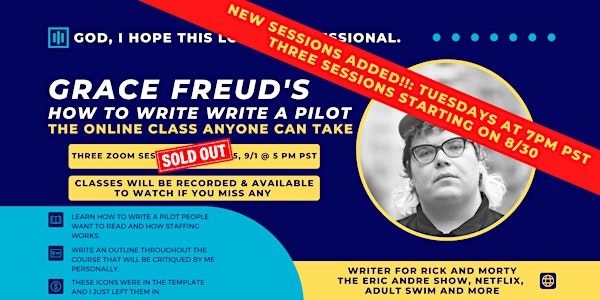 Grace Freud's How To Write A Pilot
You want to write TV? You need a good sample: a pilot script that only you could write. I'll teach you how to do that and more.
About this event
THURSDAY SESSIONS ARE SOLD OUT -BUT- NEW TUESDAY CLASS JUST ADDED. SAME AS THURSDAY. THREE CLASSES EVERY TUESDAY AT 7 PM STARTING 8/30!
Hi there, I'm comedian and TV writer Grace Freud (Rick and Morty, The Eric Andre Show, etc.).
Over the years I've noticed a lot of screenwriting courses suck. They focus way too much on form and theory and way too little on the barebones process of writing a pilot that people actually want to read, which is what you need to get staffed on a TV show (if your dad isn't the NBC Peacock himself). Plus they're often super expensive, $500 or more. This class is what I wanted out of a TV writing course before I got my first gig.
Everyone has a different story, but I'll tell you all there is to know about how I landed the jobs I've had. We'll go through my sample, a pilot that's gotten me pretty much every TV writers room I've been in. We'll talk about what showrunners and execs have told me they're looking for in samples and run through some story, dialogue and character building basics. By the end of this course you will have an outline for your pilot, reviewed by me, that you'll be able to take and write a script with.
Plus, each class will have a question and answer section where you can hit me with whatever you've got.
Every session will be recorded if you can't make it and I will also give each attendee my email address so everyone can get the chance to ask me questions regardless of whether or not they were able to make the actual session.
I really think this class will leave anyone who takes it with skills they need to write a good pilot and good TV in general. Hope to see you there!