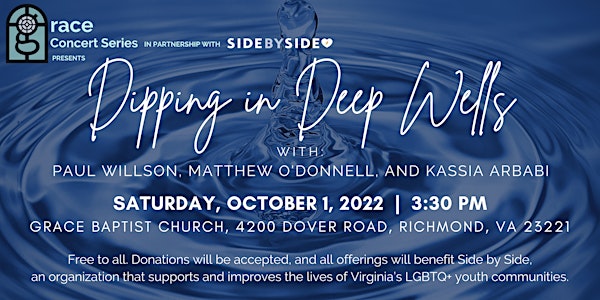 Grace Concert Series presents Dipping in Deep Wells with Paul Willson
Exploring the wells of deep longstanding music traditions of Scotland, Ireland, and England and original compositions by Paul Willson.
When and where
Location
Grace Baptist Church 4200 Dover Road Richmond, VA 23221
About this event
This concert is a mix of old and new: traditional folk musics as well as original compositions by Paul Willson. Paul is joined by musicians Matthew O'Donnell and Kassia Arbabi, and they will play a variety of instruments including fiddle, guitar, concertina, and bouzouki.
In addition to instrumental tunes from Ireland, the program will feature a variety of songs consisting of both traditional English language ballads common to Scotland, Ireland, and England as well as original songs written by Paul.
The wells explored here are deep longstanding traditions of music on the one hand, and the fresh imagination and drive for growth and relationship that inspire Paul's compositions on the other. The water from these wells is offered for enjoyment and also for contemplation and meditation.
This performance is free and open to all. Donations will be accepted and all offerings will benefit Side by Side, a local organization that supports and improves the lives of Virginia's LGBTQ+ youth communities. For more information about Side by Side, please visit: https://www.sidebysideva.org/.
For more information about this program and the Grace Concert Series, please visit: www.rvagrace.org/grace-concert-series.