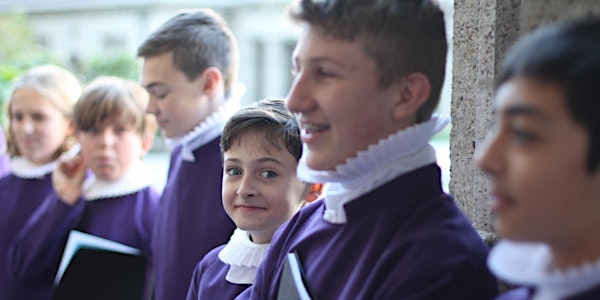 Grace Cathedral Choir of Men and Boys: Unearthed
A special afternoon concert in celebration of Jim Hodges' artwork, Unearthed.
By Ghiberti Center for Culture: Opening Doors to Arts and Ideas
Date and time
Sunday, September 8, 2019 · 3 - 4pm PDT
Location
Grace Cathedral 1100 California Street San Francisco, CA 94108
About this event
PROGRAM
The Tree, Jonathan Harvey (1939-2012)
Christ Hath a Garden, Gerald Near (b. 1942)
The Beatitudes, Arvo Pärt (b. 1935)
Mass for Five Voices, William Byrd (c. 1540-1623)
And other works to be announced
About the Choir
Since its founding as an institution in 1906, Grace Cathedral has hosted a men's choir, subsequently adding boys' voices to the Choir in 1913. Since then, the centuries-old Anglican tradition of a men and boys' choir has blossomed at the cathedral as one of a handful of such choirs still performing in the United States. The boys of the Choir are students at the Cathedral School for Boys. The men of the Choir are a professional ensemble. The Choir has been invited to share their music internationally in cathedrals across Europe.
Benjamin Bachmann, Canon Director of Music, received his first organ training in his native Akron, Ohio with Robert Quade. Ben was the recipient of the Emilie Spivey Scholarship at Clayton College and State University in Atlanta, Georgia, where he studied with Richard Morris. He was Assistant Organist at St. Luke's Episcopal Church, Atlanta, and Associate Director and composer for Impromptu, a civic choir in Atlanta. He received his Master's Degree at the Royal College of Music, where he studied with Margaret Phillips. At the Royal College, he was the recipient of the Walford Davies Organ Prize in 2004. During his time in London, Ben was Organ Scholar at St. Paul's, Knightsbridge and Farm Street Church. Ben was made a Fellow of the American Guild of Organists in 2008. He has participated in numerous RSCM choir training camps and worked with conductors including George Guest, David Willcocks, John Rutter, and David Hill.
Christopher Keady is the Assistant Director of Music at Grace Cathedral, serving as principal accompanist for the Cathedral Choir of Men and Boys. Christopher was raised in Eugene, Oregon and earned a bachelor's degree from Lewis & Clark College in Portland, OR, where he studied organ with Dr. Lee Garrett. He subsequently served as Assistant Organist at Trinity Episcopal Cathedral in Portland, accompanied the cathedral choir in a UK residency at Bristol Cathedral in 2014, and was course organist for the first Pacific Northwest RSCM Training Course in 2014. In May 2017, Christopher completed an MM in Organ Performance at the Institute of Sacred Music at Yale University, having studied with Martin Jean and served concurrently as Sacred Music Intern at the Brick Presbyterian Church in New York City.
More about Unearthed
About the organizer
Ghiberti's primary purpose is to enrich and inspire all people through the arts, music and education, and to preserve Grace Cathedral, a San Francisco treasure and resource.