Actions and Detail Panel
G.R.A.B. Your Future: Find Your Passion & Create Your Dreams
Tue, December 6, 2016, 5:30 PM – 8:30 PM EST
Description
What if everything you learned about life outside of the classroom is FALSE?
Many people think the process goes like this:
Middle School --> High School --> College --> Dream Job --> $$$ --> Freedom
Unfortunately, according to job placement firm Adecco, the Accenture 2014 College Graduate Employment Survey, and the National Postsecondary Student Aid Study:
60% of U.S. college graduates could not find a job

in their chosen profession

52% of college graduates do not receive training

from their first employer

41% are earning $25,000 or less

42% are living at home with parents

71% of all students graduating from four-year colleges had student loan debt
And, according to Centers for Disease Control and Prevention, American Psychological Association, and Fox Business News the average American experiences this:
Divorce – 50%
Debt - $48k student loans and $40k combined Auto/Credit Card
Disease – 1.2 million Americans have heart disease or cancer
Disorder -71% of Americans 20 yrs+ are overweight
Disability – 60% of Americans 65 yrs+ have activity limitations and 32% of 18yrs+
So, trends show that life outside of the classroom looks like this:
Middle School --> High School --> College --> Lonely, Broke, Sick, Fat, & Inactive
If you would like to avoid these trends, gain control over your life, and leverage your passion for greatness, join this event!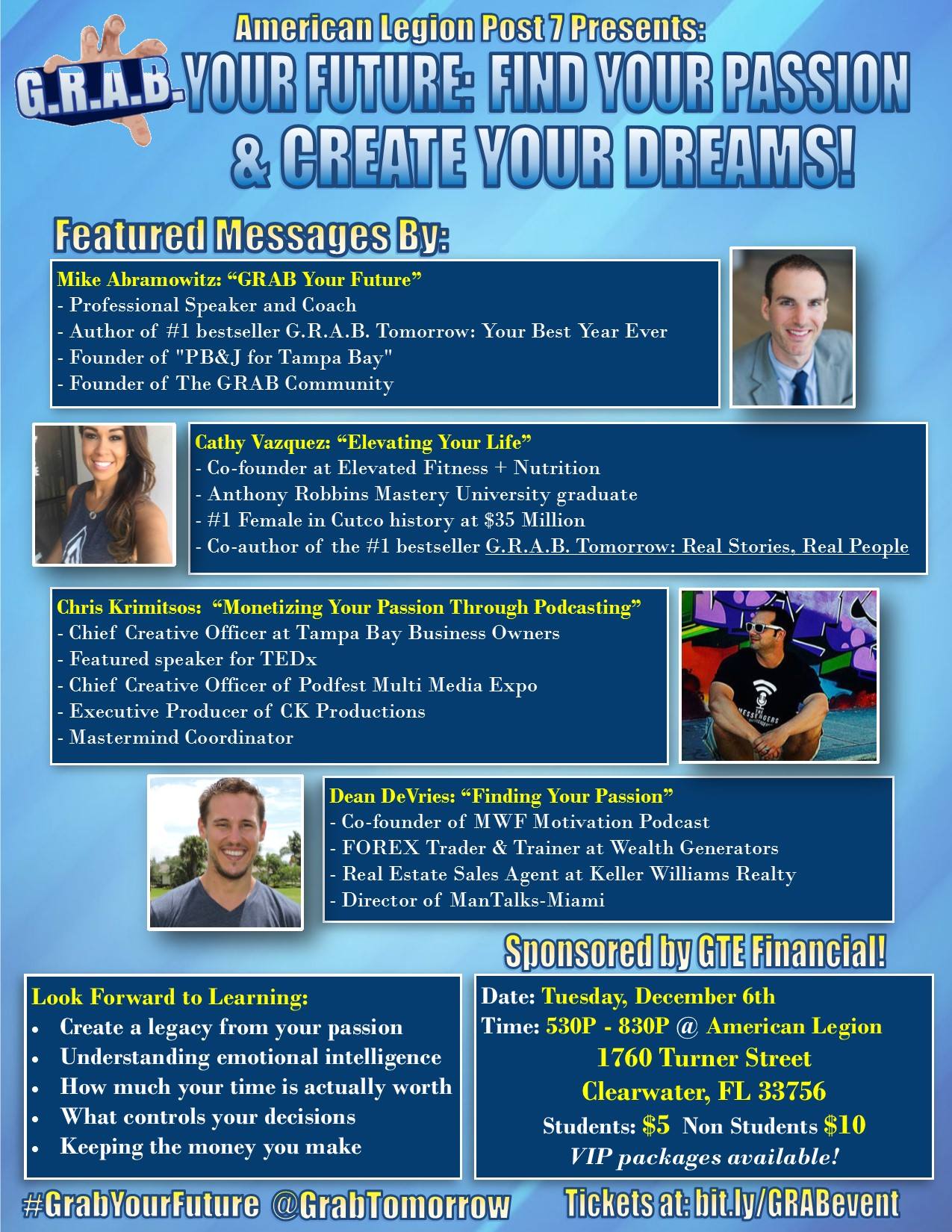 G.R.A.B. Your Future: Find Your Passion & Create Your Dreams
You will leave this event with the "Simple 7 System" to find fulfillment outside of the classroom
We have 4 special guest speakers!
Mike Abramowitz
District Executive for Vector Marketing, founder of PB&J for USA, founder of the organization G.R.A.B. Tomorrow, and Author of the #1 Amazon bestseller G.R.A.B. Tomorrow: Your Best Year Ever
He will discuss:
His "Simple 7 System" to help G.R.A.B. Your Future

How to elevate your relationships

How to take control over your time, money, & energy

How to make a powerful impact in your local communities
*****
Chris Krimitsos
Founder of Tampa Bay Business Owners, CCO of Podfest Multi Media Expo, Executive Producer of CK Productions
He will discuss:
Wealth creation strategies through podcasting

Building your own private podcast radio show

Where to begin with your niche
*****
Cathy Vazquez
Co-Founder of Elevated Fitness + Nutrition, Graduate of Anthony Robbins Mastery University, #1 female in company history with Cutco at $35 million
She will discuss:
Elevating your life through energy management
Making healthy tasty
Keeping fit while keeping busy
*****
Dean Devries
Co-Founder of MWF Motivation Podcast, FOREX Trader & Trainer at Wealth Generators, Real Estate Sales Agent at Keller Williams Realty
He will discuss:
Finding your passion through life's experiences
Tapping into a buried potential
Leveraging self development to create fulfillment
*****
At this event, we will also discuss strategies on avoiding student debt, creating job offers, and how to tap into your true potential to maximize your time, energy, and relationships.
Other topics include:
Create a legacy from your passion
Understanding emotional intelligence
How much your time is actually worth
Making Money and Keeping it!
Secrets Behind Energy and Healthy Living
What controls your decisions
And much more!
Get ready for an OUTSTANDING event!
This is the First Ever G.R.A.B. Tomorrow event and we are honored and excited to bring this tradition of success to our community.
General Admission: $5 with student ID or $10 without (Limited Free student tickets available)
VIP Admission: $25 (Enjoy a 1-1 coaching session following the event, along with the VIP experience afterwards to network with the speakers, GRAB crew, and other VIP attendees)
Complete VIP Package: $35 (includes VIP admission plus an autographed copy of the #1 Amazon bestseller G.R.A.B. Tomorrow: Your Best Year Ever including a photo with the author)
A portion of all ticket sales goes towards the American Legion Post 7 to support our local Veterans.