Description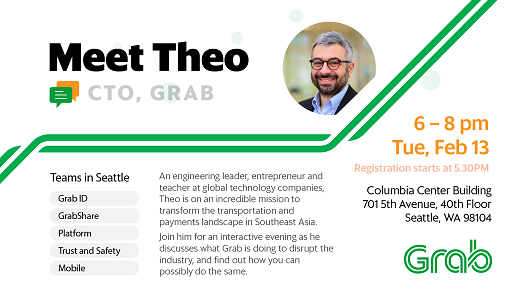 Come to our Seattle Open House for food and refreshments on Tuesday, February 13th at 6:00PM. Registration begins at 5:30, with limited availability for 100 people.
Joining us will be our CTO, Theo Vassilakis. Theo joined the Grab team to drive further the scalability, reliability and capabilities of our platform, which was built to make the lives of hundreds of millions of people easier through convenience and income opportunities.
Grab is the leading ride-hailing and mobile payments platform in Southeast Asia. With 2.4 million drivers and 72% of the ride-hailing application market share, our solution is continuing to grow and scale and calls for world-class engineers to solve real world problems.
We are inviting you to meet our Seattle team. This will be a casual event whose purpose it is to promote a fun and informative evening. We look forward to seeing you soon!