Grab A Girlfriend & Go Get Your Sexy Back: An Event For Women To Come Together To Kickstart Their Journey To Better Self-Care

Saturday, May 14, 2016 from 8:30 AM to 11:30 AM (EDT)
Who's Going

Loading your connections...
3 of your friends are going.
Share it to get more people on board!
Share

Sara Haughty
San Francisco, California

Luke Picard
London, United Kingdom

Rick Vespucio
Florence, Italy
Event Details
It's been said that a body in motion stays in motion and a body at rest stays at rest. And this is true because our bodies were meant to move...even if you do so slowly, moderately and at-your-own-pace. When you move your body, you feel better, you build more energy and you look better no matter your age, weight or size. So whether you are a size 6 or a size 26, whether you're 18 or 78, whether you are already relatively active or you barely get off your couch, we welcome all women who want to take part in this self-affirming event where women will be COMING TOGETHER to Recharge, Refuel, get Re-inspired and Recommit to their own wellness and self-care. MOVE YOUR LIFE FORWARD by MOVING WITH US.
Together we will move our mindsets from habitual to intentional, we will move our emotions from the realm of overwhelm into the realm of motivation and inspiration and we will move our bodies from a state-of-sluggishness to a state-of-forward-motion. If this sounds like something you'd like to be part of, then grab a few of your girlfriends or just grab yourself and....... Join us on Saturday, May 14, 2016 @ 9am in the NYC for our Grab A Girlfriend & Let's Get Our Sexy Back …a morning of Fun, Friendship, Fellowship & Moderate Movement to Jumpstart Your Journey to Better Wellness, Intentional Movement and Supportive Self-Care.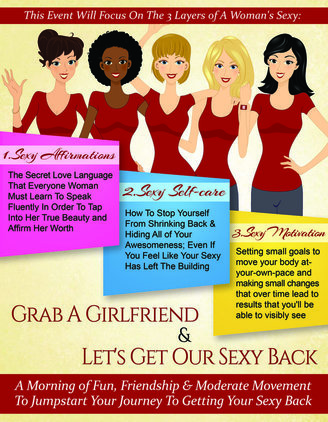 Why Should You Participate In This Event?
Have you gotten into a rut where you feel like your vibrancy has left the building and you are not taking care of yourself like you know you should be? Be honest!
Do you find yourself sitting on the couch with the remote control in one hand and a bag of Oreos or Doritos in the other; wishing you could get your sexy back?
Do you indulge a little too much on the sweets or comfort food when you're bored, lonely, emotional or stressed?
Do you reach for the same pair of baggy sweatpants because you don't feel like putting in the extra effort or truth be told ...you can't fit anything else in your closet?
It's okay, if you answered yes to each and every question. There's no judgment here and you are not alone if this is you.
Well that's my story right now. And I've been asking myself... How the heck did I get here? Was it all of those strawberry cheesecakes that magically leaped off the bakery shelves and mysteriously landed in my mouth or was it the late night snacking that has manifested itself as the additional 25lbs that I am now wearing on my waistline? Well, if you're like me in that you need a gentle nudge or a not-so-gentle one to motivate you to take better care of yourself and become more active, then join us on May 14, 2016 for our Grab A Girlfriend & Let's Get Our Sexy Back Event. Because when we take charge of our wellness, we tap into our true beauty ….no matter our age or dress size. We feel more vibrant, vivacious, incredible and sensual …And the biggest payoff of all is: We Empower Ourselves To Show Up For Our Lives More Powerfully and Awesomely. Don't miss the shift!
 Who are the women that will be attending this event?
Women of all ages and sizes who want to jumpstart their journey to intentional self-care and better wellness. This event is not about shedding physical weight. It's about shedding the weight of unhealthy mindsets, unproductive habits and our inner roadblocks that block our path to better self-care and well-being. And as a result, prevent us from experiencing higher levels of energy and enthusiasm.

What Makes This Event So Special?
What makes this event so special is, that it's so much more than a morning of moderate movement and activities .... it's Intentional Self-Care Time Undergirded With The Support of Positive, Like-Minded Women Who Are On The Same Path. Not only will we be moving together at your-own-pace, but we will focus on the three components of a woman's sexy. You'll be guided through some simple yet very powerful activities designed to help you activate your inner awesomeness; so you can go get your sexy back in mind, attitude, personal presence and lifestyle.  
 Day-At-A-Glance
Reminder - Advance Registration Is Required To Participate In This Event

I. Welcome/Meet/Check-In @ 8:45am – Whole Foods Tribeca
270 Greenwich Street, NYC 10007 (corner of Warren St. & Greenwich St in Lower Manhattan)
II. Event Begins @ 9.00am  SHARP!!!– We will depart from Whole Foods Tribeca
III.  Sexy Self-Affirmations @ Irish Hunger Memorial (Vesey St. & North End Ave., Lower Manhattan, NYC)

IV.  Sexy Self-Care @ The Upper Room in The Esplanade, Battery Park City (Albany St, Lower Manhattan, NYC)

V. Sexy Self-Motivation @ Waterfront Plaza at Brookfield Place, (West of The World Financial Center/Winter Garden Complex, Lower Manhattan, NYC)
VI. Conclude The Event .
Here's What Your Registration Covers:
1. Your participation in the Grab A Girlfriend and Let's Get Our Sexy Back event led by Cassandra Mack. (You'll get to participate in high-value activities that Cassandra Mack only offers in her live corporate trainings and workshops)

2. One copy of the e-journal,"Grab A Girlfriend & Go Get Your Sexy Back E-Journal," an e-journal to chronicle your walk and journal what you got out of it. (A $20 value, only availble for those who register for this event) (Please allow up to 3 business days for your e-journal to arrive in your email inbox.)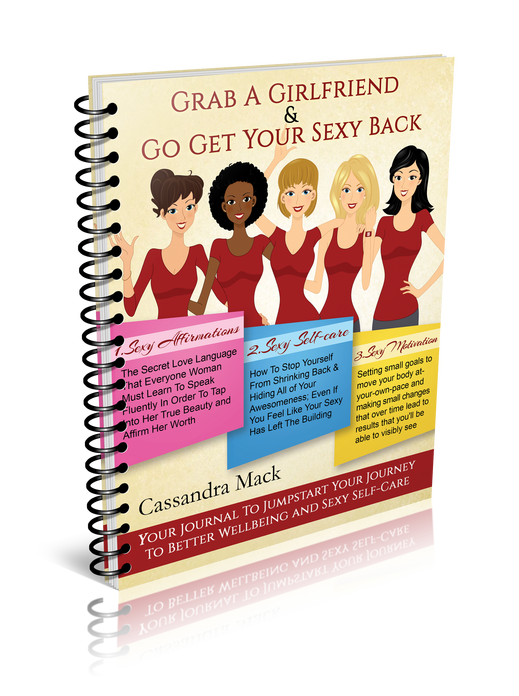 3. A follow-up group coaching session ( a live group coaching session that wil happen via telephone which you can access from any telephone) The follow-up group coaching session will happen on Monday, May 23, 2016 from 7:00pm to 7:45pm (EST)  led by Cassandra Mack. (A $250 value, as Cassandra Mack's telephone coaching sessions start at $250)
4. A follow-up motivational video delivered to you via e-mail.
 About Cassandra Mack....
Founder of Grab A Girlfriend and Go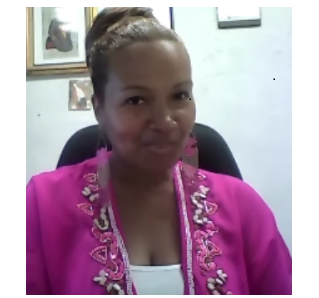 Cassandra Mack, MSW is an entrepreneur, a success coach, personal growth strategist and the author of more than ten highly successful personal development books that are widely utilized in the human services sector. She is the CEO of Strategies for Empowered Living Inc., a training/consulting/coaching company that offers workshops, consultation services and products designed to help individuals and organizations accelerate their success and breakthrough the roadblocks that hold them back. Cassandra is also the founder of Grab A Girlfriend and Go, a campaign to empower women to activate their extraordinary lives through the power of community, accountability and having access to a sisterhood of positive, uplifting women cheer them on as they strive to achieve their personal best. You can Like our Facebook page: Grab A Girlfriend and Go Facebook Page.  You can get the book that started the movement and that is changing women's lives all around the globe: "Grab A Girlfriendand Go Take Your Life Back The Girlfriend's Guide To Escaping A Rut and Activating Your Extraordinary Life,"

Cassandra comes to you with a master's degree in social work and more than a decade of experience as a business owner, training facilitator, manager and  consultant to non profits. Some of the organizations she has worked with include: The Support Center for Nonprofit Management, TIAA-Cref, CSEA, Kean University, Xerox, JP Morgan Chase, National Resource Center for Youth Services, Urban Leadership Institute, The Day Care Council of New York and the Archdiocese Drug Prevention Program. For more information about our company or your seminar leader, please visit our company website: www.strategiesforempoweredliving.com
--------------------------------------------------------------------------------------------------------------
Event Meeting Location
 

We will meet @ 8:30am sharp in front of

Whole Foods Tribeca

located @ 270 Greenwich Street, NYC 10007 (Corner of Warren St. and Greenwich St.) The Whole Foods is in the same building as Barnes & Nobel Bookstore. For directions go to:

www.hopstop.com.
 -----------------------------------------------------------------------------------------------
What To Wear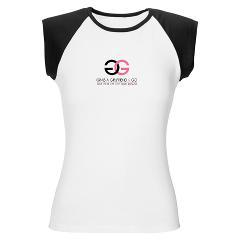 What To Bring
Bring bottled water with you.

Bring a light snack for yourself.

Bring an umbrella...just in case

Bring a lightweight bag to carry your stuff in

---------------------------------------------------------------------------------------

 Refund Policy
 No Refunds. Refunds will not be given. But you can gift your ticket to someone else if you are unable to attend. If you want to gift your ticket, you must contact the event organizer with the name, of the person you are gifting your ticket to. The individual will need to bring the paid ticket that you've gifted to them to the event, they will need to present a picture ID and they will need to sign the waiver at the event.

--------------------------------------------------------------------------------------------------------

WAIVER
I understand that the Strategies for Empowered Living Inc., Grab A Girlfriend and Let's Get Our Sexy Back Event  involves physical activity associated with walking. I understand that physical activity, by its very nature, carries with it certain inherent risks. I assume all risks associated with participating in the Strategies for Empowered Living Inc., Grab A Girlfriend and Let's Get Our Sexy Back Event  relating to the risk of strenuous physical activity, collisions with other participants, or falling.
 I acknowledge that I  may incur minor injuries, major injuries, and catastrophic injuries including paralysis and death. I assume all risks from contact with other participants and volunteers, negligent or wanton acts of other participants and volunteers, any defects of conditions of road surfaces (including uneven or wet road surfaces or gravel on the road surface), failure of other participants, vehicles, and non-participants to observe traffic signals or laws, and the effects of weather including high heat, thunderstorms, lightning, precipitation, cold temperatures, high winds, and/or humidity.  I also assume all risks from any and all activities in which I participate at the event site prior to the start of the event and after the conclusion of the event.
 I agree to dress myself  appropriately as to mitigate risk of physical injury to myself including, but not limited to: wearing shoes appropriate for physical activity involved in a long distance walk; and dressing in conjunction with the weather.
I agree that the hosts are not responsible for any personal items or property lost or stolen before, during, or after the event
I certify that I am 18 years of age or older. 
I attest that I am medically and physically able to participate in the Strategies for Empowered Living Inc., Grab A Girlfriend and Let's Get Our Sexy Back . If I experience any doubt as to my ability to successfully and safely participate in and/or complete this walk, I take full responsibility for consulting a physician. I attest that, if I am pregnant, disabled in any way, or have recently suffered an illness, injury, or impairment, I should have or did consult a physician prior to participating in the Strategies for Empowered Living Inc., Grab A Girlfriend and Let's Get Our Sexy Back
 In consideration for being permitted to participate in the Strategies for Empowered Living Inc., Grab A Girlfriend and Let's Get Our Sexy Back I voluntarily agree for myself, my family, heirs, assigns, executors, and administrators to the following:
TO RELEASE, WAIVE, HOLD HARMLESS, DISCHARGE, AND COVENANT NOT TO SUE the hosts from any and all liability, claims, actions, demands, expenses, attorney fees, breach of contract actions, breach of statutory duty or other duty of care, warranty, strict liability actions, and causes of action whatsoever, that I might have or may acquire in the future, arising out of or related to any loss, damage, or injury, including death, that may be sustained by me, or to any property belonging to me  while participating in the Strategies for Empowered Living Inc., Grab A Girlfriend and Let's Get Our Sexy Back including, but not limited to, any claim that the act or omission complained of was in whole or in part by the negligence or carelessness of the hosts.
 I recognize that various photographs, video recordings, and other media will be taken during the Event. I agree to grant the Hosts full permission to use any photographs, video recordings, or other media of the Event that contain my likeness for the purpose of promoting Strategies for Empowered Living (the organization) or Grab A Girlfriend and Go the Event, or for any purpose deemed appropriate by the organization.
 For safety purposes, I agree to refrain from using headphones (and/or cellular phones) while participating in the walk.
 I acknowledge that this Agreement is the entire agreement between the Hosts and me, and that this Agreement cannot be modified or changed in any way by representations or statements of the Host or by me.
I hereby declare that I have read and fully understand this Agreement in its entirety.
By registering for this event I consent to all of the terms and conditions contained in this Agreement.
Have questions about Grab A Girlfriend & Go Get Your Sexy Back: An Event For Women To Come Together To Kickstart Their Journey To Better Self-Care?
Contact Cassandra Mack
When & Where

Whole Foods
270 Greenwich St
New York, NY


Saturday, May 14, 2016 from 8:30 AM to 11:30 AM (EDT)
Add to my calendar
Grab A Girlfriend & Go Get Your Sexy Back: An Event For Women To Come Together To Kickstart Their Journey To Better Self-Care