Georgia Piedmont Technical College is hosting a drive-through for our 2020 fall semester and 2021 spring semester graduates
About this event
Congratulations on your achievement! Georgia Piedmont Technical College's drive-through commencement ceremony for our 2020 fall semester and 2021 spring semester graduates will be held at the DeKalb campus in Clarkston, GA as a commencement parade on Saturday, May 22, 2021. All participants must arrive to the campus no later than their assigned time and the commencement parade will begin at the times assigned below.
Only one registration per graduate. Please keep your registration ticket handy. You will need your ticket to check in on the day of the drive-thru graduation.
Graduates are expected to pre-register and report to line up at their respective time:
 School of Arts & Sciences | 9:30am
 School of Business, Computer & New Media | 10:00am
 School of Health, Education and Professional Services | 10:30am
 School of Industrial Technologies and Legal Studies | 11:15am
You will need to know which school your major falls under. If you are not sure, find it below before clicking register.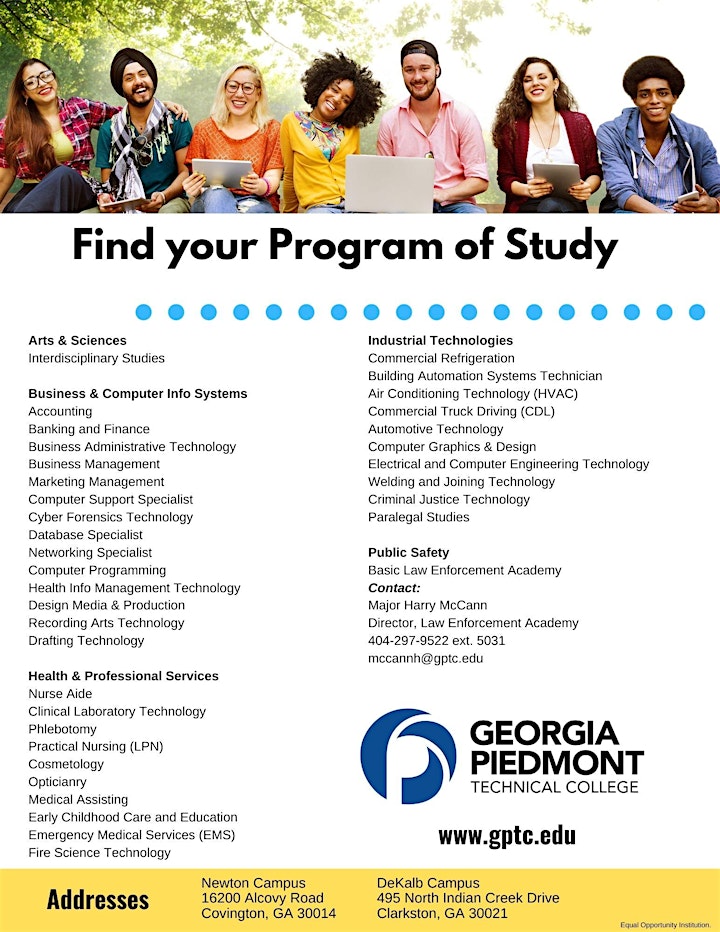 Reminders:
Limit of one vehicle per graduate. All graduates participating in the parade must have someone driving them. No trailers, floats, commercial vehicles, etc. will be allowed in the parade. All family that attends must be inside the vehicle. As graduates arrive, there will be signs and campus police officers directing the graduates to where they need to park.
Graduates will need to arrive fully dressed in their cap, gown, and tassel. There will be no area to get dressed and no time to do so. Caps, gowns, and tassels will not be provided at the commencement parade. You can preorder your cap and gown by clicking here: https://herff.ly/georgiapiedmont.
Cap and Gown order deadline: The deadline to order your cap and gown is April 22, 2021. Your cost should be $0.00 unless you are purchasing souvenir items.
Graduates will get out of their car at the designated area and give their (2) pre-printed cards to the announcer. The graduate's name will be announced as they walk across the blue carpet towards President Holston. A volunteer will hand the graduates their credential cover and pictures will be made by Village Photographers. President Holston will hold one corner of the credential cover while the graduate holds the other corner of the credential cover. As a precaution, there will not be handshaking at this event.