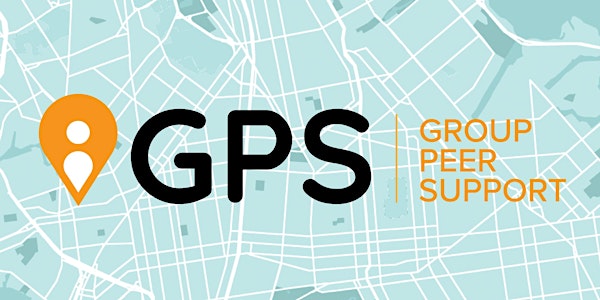 GPS Facilitator Training Spring 2021
Join the GPS Facilitator Training and learn how to run trauma-informed, evidence-based and community-tested support groups.
Refund Policy
Refunds up to 7 days before event
Eventbrite's fee is nonrefundable.
About this event
Join the GPS Facilitator Training
"The GPS Training not only gave me the skills and techniques to facilitate a support group, it also allowed me to recognize my own strength and ability to be a better version of myself."
~ Maria Jose Mojardin Lopez, Maternal Mental Health Task Force, Tucson, AZ
GPS Group Peer Support provides you with the map to support people in your community. GPS is a perfect tool for diverse communities facing unique challenges. Whether you are supporting parents, students, faith communities, communities striving for solidarity, those struggling because of COVID, those in recovery or dealing with grief, GPS is an effective and impactful approach to support connection, resilience and participant's ability to act on behalf of themselves, their families and their communities.
GPS is a nationally-recognized Group Model that is being successfully implemented in state, local and community settings, in English, Spanish, Chinese and Arabic.
Bring GPS back to your community:
GPS for Academic Success - for your school community
GPS for Faith - Christian, Buddhist, Jewish, Muslim and spiritual communities
GPS for Health - addressing chronic and acute health conditions
GPS for Parents - for parents at all stages of parenting
GPS for Recovery - for those struggling with addiction and in recovery
GPS for Solidarity - addressing racism, white supremacy and inequity
GPS for Work - equity issues, job burnout, mental health concerns and other work place conditions
"People are looking for safe places where they can talk about their lives. GPS creates that space and healing happens!"
~ Diane Ogunlade, Addiction and Recovery Specialist, Falmouth, MA
IN THIS TRAINING YOU WILL LEARN
A trauma-informed, culturally responsive support group model that is easy to learn and implement in diverse settings, with diverse populations, and in multiple languages.
How to address the intersection of trauma, racism, poverty, disparities, cultural and gender identity, as well as the COVID-19 pandemic, with compassion, transparency and skill.
Unique trauma-informed skills to create environments of mutual respect, non-judgement, compassion and safety.
How to incorporate evidence-based approaches of Cognitive Behavioral Therapy, Motivational Interviewing and Mindfulness-based Stress Reduction in groups.
A strengths-based group approach that ensures an accessible, welcoming and transformational group experience for all.
How to run groups that support, empower and benefit not only the individuals and communities being served, but the group facilitators as well.
How to lead online groups to mitigate and address the isolation, stress and trauma of the COVID-19 pandemic that has affected all communities, especially those most vulnerable.
THIS TRAINING IS FOR YOU!
Whether you are experienced or are a first time group leader, you will learn skills that will change the way that you run support groups and gain the confidence to lead consistently impactful groups for your community.
Activists, organizers and equity leaders
Business leaders
Clergy and lay leaders
Mental health and medical professionals
Peer specialists
People with lived experience
Supervisors and administrative leaders
Teachers and education leaders
Volunteer leaders
* Social Work CEUS are available. Inquire about other continuing educational credits at info@grouppeersupport.org.
TRAINING SCHEDULE
OPENING PRACTICUM OPTIONS 11:00 am - 1:30 pm EST
TRAINING MODULES 11:00 am - 1:30 pm EST -- recordings of all modules will be available to registered participants until May 16th
April 13: Introduction to GPS and the Intersectionality of Trauma
April 14: Mindfulness Rest Stop
April 15 : GPS Trauma-informed Guidelines
April 20: GPS Realities & GPS Principles
April 21: Check-in & GPS Reflective Listening
April 22: Weaving, Grounding & Closing
CLOSING PRACTICUM OPTIONS 11:00 am - 1:30 pm EST
* All times listed are Eastern Standard Time - EST
TRAINING FORMAT
Opening Practicum - Live attendance is required. Please choose a date/time option in your registration
Training Modules - 6 LIVE sessions which will also be recorded so they can be viewed in lieu of live attendance
Post Session Quizzes - 8 submissions are required, one for each practicum and module, submitted online and required for a certificate of completion
Closing Practicum - Live attendance is required. Please choose a date/time option in your registration.
HOW TO ACCESS TRAINING AFTER REGISTERING
Access to training materials, live sessions, recorded sessions, required quizzes and evaluations will be via the Eventbrite online event page after you register. You must have an Eventbrite account to register and then be logged in with that same account in order to view the online event page content. Click here for more guidance.
SCHOLARSHIP IS AVAILABLE
We are committed to ensuring that GPS is in the hands of those who need it and who have been historically disenfranchised from resources and support. If you have barriers to being able to attend the GPS training and can commit to running groups in your community, please reach out to us.