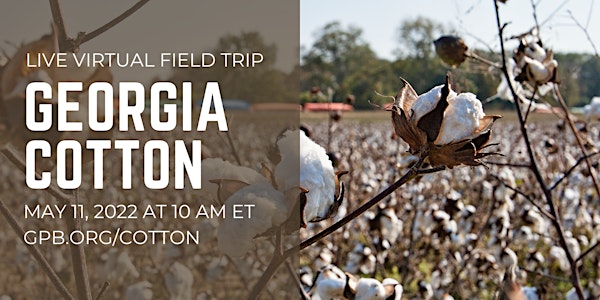 GPB Live Exploration: Georgia Cotton (TV/Online Event)
On May 11th at 10 AM ET, join GPB Education for a special live virtual field trip to explore Georgia's cotton industry.
Date and time
Wednesday, May 11, 2022 · 7 - 8am PDT
About this event
Learn all about cotton...from farm to fabric!
In collaboration with the Georgia Cotton Commission, GPB Education will be live streaming from 1888 Mills manufacturing in Griffin, GA, on May 11th at 10 AM.
During the program, students will hear from various experts as they learn about farming cotton, the historical significance of cotton in Georgia, products made from cotton, and the crop's impact on Georgia's economy.
This event will include interactive elements, such as polls and experts who will be available to answer students' questions. Use the hashtag #CottonLive to participate in the conversation.
Georgia Cotton Live Exploration will be available on demand online after May 11th with supplemental classroom resources for grades K-12. This program will be televised on GPB-TV and live streamed on gpb.org/cotton.
Frequently Asked Questions
Q: Do I need to register all my students or just my classroom?
A: You only need one ticket for a location or classroom. All your students are covered by the one ticket. If your students are watching remotely, simply direct them to watch on GPB TV or on gpb.org/cotton.
Q: Where do I watch the live show?
A: A video player will appear on gpb.org/cotton the morning of May 11th, and the program will be live streamed from that site. Alternatively, you can watch the show on your local GPB TV channel (Georgia residents only) or on GPB Education's Facebook page.
Q: My classroom can't watch at this time. Will the program be archived?
A: Yes! The archive will be available on gpb.org/cotton. Classrooms and teachers registered for the event will be notified when the archive is available soon after the live event.
About the organizer

GPB Education encourages lifelong learning through high quality, reliable content and the ability to connect educators, students, and families at all levels. Our goal is to remain at the forefront of the digital learning movement by creating, curating, and distributing quality educational programs and services through our state-of-the-art production facility, cutting edge digital media division, and our partnerships with Discovery Education and PBS LearningMedia.