About this Event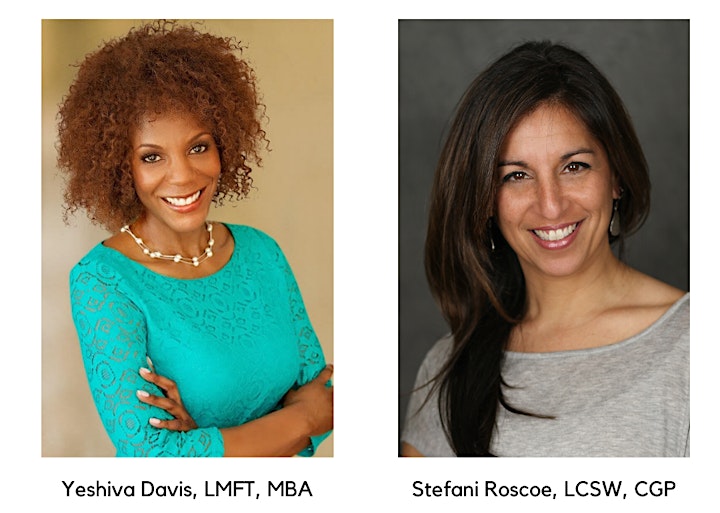 Dialoguing About Anti-Racism
This "Group Chat" will explore the challenges of anti-racism in the therapy room and specifically in group process. This interactive dialogue will include some exercises to begin learning how to be an anti-racist. We will begin exploring this complex process in a setting that encourages open hearts and human mistakes.
Presenters Bio:
Yeshiva Davis, LMFT, MBA is a Licensed Marriage and Family Therapist (MFC 52250) with a B.A. in Communications, and Minors in both Psychology and English from Framingham State University. She also received an M.B.A. with a concentration in Marketing from Northeastern University and a M.A. in Clinical Psychology with an Emphasis in Marriage and Family Therapy from Pepperdine University. Yeshiva helps people with relationship problems caused by: depression, anxiety, anger, trauma and communication issues.
Stefani Roscoe, is a Licensed Clinical Social Worker and Certified Group Practitioner providing psychotherapy to children, families, couples, and professional adults in need of support with their relationships. After earning her MSW at New York University, she worked in various community mental health organizations and residential facilities as a means to assisting families and supporting her community. This experience built her expertise and comfort in working with all types of trauma, which she continues to provide. 
Stefani is committed to the health and well- being of children, specifically with adolescents and the zero-to-five population. Stefani's training with Brazelton Touchpoints, Nurturing Parenting Programs and play therapy allows her to focus on strength-based models and improving attachment with children and their parents. Stefani's extensive training as a group therapist provides her with a solid foundation to add to her passion for facilitating group therapy. Stefani currently runs her private practice in Los Angeles where she sees her clients as well as provides guidance and supervision for the associates who have joined her practice.
Cost to attend: FREE