GovLoop & Esri MeetUp: Story Maps

Thursday, May 16, 2013 from 5:00 PM to 8:00 PM (EDT)
Event Details
Registration is currently closed - if you'd like to attend, you're welcome to join us at the District Architecture Center.
How can maps help you develop your story?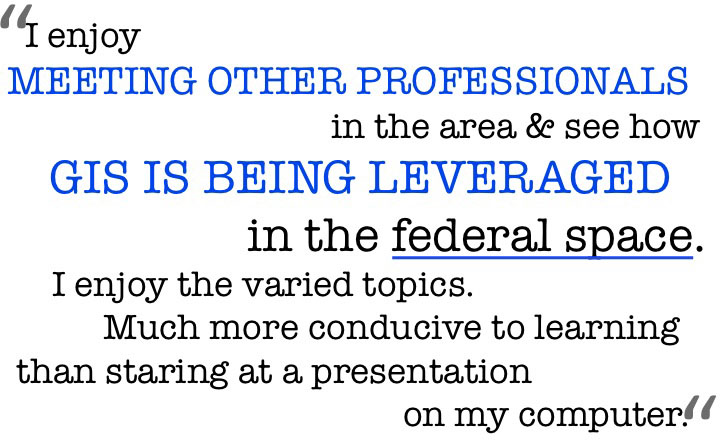 Come to our next Washington, DC Meet Up on Thursday, May 16, and learn how GIS can enrich your story. There are countless examples of incredible uses of GIS technology. Everything from charting at-risk communities, presidential elections, hurricanes, and various kinds of public information. Map making in this kind of capacity facilitates improved decision making, and increased ability to understand complex data and relationships.

Schedule:

5:00 PM – 6:00 PM


Meet & Mingle

Mix and mingle with fellow D.C. metro area GIS and developer professionals while enjoying complimentary hors d'oeuvres and beverages.


6:00 PM - 6:30 PM


Featured speaker: Chris Liedel, President of Smithsonian Ventures

Chris Liedel, President of Smithsonian Ventures, will talk about the activities of his group, which includes Smithsonian's television, magazine, internet, and travel businesses. Mr. Liedel was formerly the Chief Financial Officer of National Geographic, where he worked with Allen Carroll, now a Program Manager at Esri. Chris and Allen will discuss the ongoing collaboration between Esri and Smithsonian.


6:30 PM - 6:45 PM


Story Maps (A Developer's Perspective)

Story Maps rely on application programming to present maps and data in an engaging and logical way.  We'll look under the hood of some of our favorite Story Maps and discuss the tools that we use: the ArcGIS API for Javascript, as well as some 3rd party libraries (JQuery and plug-ins).


6:45 PM - 7:00 PM


A Quick Tour of the Story Map Templates


Templates are a great way to jump-start your story.  We'll explore our suite of templates and discuss their uses.  We'll also provide a brief glimpse into configuring a template.  

Lee Bock and Stephen Sylvia are application developers in the Story Map group at Esri.  They strive to create innovative map interfaces, using Javascript, HTML, and CSS.


7:00 PM - 8:00 PM


Meet & Mingle

Mix and mingle a little longer with fellow D.C. metro area GIS and developer professionals while enjoying complimentary hors d'oeuvres and beverages.


Click here for Directions to the District Architecture Center.
This event is open to military and government personnel, government contractors, and systems integrators only. Due to limited space, we reserve the right to reject any non-governmental registrations.
The Esri (Conference) is a private event organized and hosted by ESRI All rights related to this private event are the exclusive property of Esri. Esri will be recording the conference. Please be aware that your image may be recorded and possibly used in Esri marketing or promotional materials. No compensation is provided. You may not record, distribute, or transmit the content of this event or any of its participants in any medium of communication for commercial purposes without obtaining permission.
Be sure to Follow Esri On Twitter - StoryMaps & Federal Government
Thank you to the District Architecture Center and Geppetto Catering, Inc for making this event truly unique!
When & Where

District Architecture Center
421 7th St NW
Washington, DC 20004


Thursday, May 16, 2013 from 5:00 PM to 8:00 PM (EDT)
Add to my calendar
Organizer
GovLoop and Esri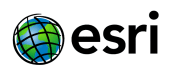 When Esri was founded in 1969, we realized even then that geographic information system (GIS) technology could make a difference in society. Working with others who shared this passion, we were encouraged by the vast possibilities of GIS. Today, our confidence in GIS is built on the belief that geography matters—it connects our many cultures and societies and influences our way of life. GIS leverages geographic insight to ensure better communication and collaboration.
GovLoop's mission is simple: connect government to improve government. We aim to inspire public sector professionals to better service by acting as the knowledge network for government. The GovLoop community has been widely recognized across the public sector -- federal, state local, industry and academia -- as a leading site for addressing public sector issues.
GovLoop & Esri MeetUp: Story Maps