GovJam LA, presented by Hub LA and Friends
When and where
Location
The Hub LA / Arts District, Downtown LA 830 Traction Avenue Third Floor (up sparkly purple staircase at back of building) Los Angeles, CA 90013
Refund Policy
Contact the organizer to request a refund.
Description
This June, join us at
GovJam LA
, presented by the
Hub LA
and friends.
Global GovJam
is a 48 hour global event where teams of Gov folks and private citizens work together on the challenges faced by public services. Check out the
other cities participating
around the world! Local teams will collaborate to come up with innovative solutions to real-world problems. Participants will apply design thinking/human-centered design principles and multi-disciplinary expertise to develop ideas, from concept through to prototype.
While the theme is government, the objective is learning through hands-on experience. Design thinking/human-centered design gives us tools to rethink public services in a new light. This 2.5 day hands-on event gives public sector individuals and concerned citizens the opportunity to learn new approaches and tools (and to learn from each other), and to bring those new skills, thinking, inspiration back to their jobs and life.
Are you looking to improve the "customer experience" of citizens interacting with healthcare, education, public transportation, policy, governance, and so much more?

Are you looking for new approaches to tackle problems and create innovative solutions?


Are you looking to meet an amazing group of passionate people, learn new skills, and have fun doing it?

Concrete results might be in the form of policy documents in an actionable or decidable form, change suggestions supported by research and plans of action, service designs, and new initiatives or platforms.

Less tangible but equally valuable results will be in experiencing diverse ideas and new working methods, building real connections to people in the same team or on the other side of the world, and in seeing how a structured innovation process can produce robust, concrete and human-centered results, even in just 48 hours.
Tuesday, June 4 (7-9pm)

Wednesday, June 5 (9am-5pm)
Thursday, June 6 (9am-5pm)
Jamming is a new kind of professional development where you'll be learning by doing, so the Global GovJam is happening during the week.

The Hub LA
Arts District, Downtown LA
830 Traction Ave., Suite 3A (up the sparkly purple stairs at the back of the building)

Lot parking available for $5; Free street parking on Traction Ave.

Hub LA is a community of social impact professionals in downtown Los Angeles. It offers members shared working space, social and cultural programming, business acceleration services, and a network of like-minded individuals.
Hub LA is hosting GovJam as a part of their series of events promoting Civic Innovation in LA.
Everyone and anyone can join the Jam! You do not have to currently work in the public sector, though you should come to the Jam interested in working on public sector issues. You do not have to have any design experience, though you'll leave the Jam with a toolbox of design methods, which you can apply to your daily life.
You might be...an engaged citizen, government employee, designer, developer, non-profit professional, social entrepreneur, social worker, urban planner, architect, MBA, Public Policy Administrator, student, teacher, hacker, maker, thinker or tinkerer.
Since the focus of the jam is learning by doing, there will be speakers and mentors from the design world and the public sector to help you throughout the Jam.
Registration opens Wednesday, May 8.
In addition to Jammers, we're also looking for Mentors, Sponsors, and Volunteers - contact us and let's chat!
QUESTIONS? Need more info?

Looking forward to jamming with you!!
EVENT PARTNER AND SPONSORS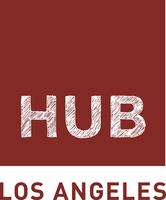 Partner - The Hub LA
We're actively seeking event sponsors - let's chat!