Governor's Marketplace Conference 2013

Wednesday, April 17, 2013 from 7:30 AM to 3:00 PM (PDT)
Event Details

2013 Governor's Marketplace Conference
Governor's Marketplace Conference brings together State, Federal and regional government entities along with private sector firms and non-profit organizations, to help Oregon small businesses achieve greater contracting success.
The day's events will feature industry focused training, an inspiring luncheon and a reverse vendor exhibitor fair, where small business owners will have the opportunity to meet face-to-face with organizations who could utilize their products or services.
Hurry! Registration Ends Tuesday, April 9th!
2013 Exhibitors:
·         Associated General Contractors
 ·         Bureau of Labor and Industries
 ·         CenturyLink
 ·         CH2M HILL
 ·         City of Gresham
 ·         City of Portland
 ·         City of Salem
 ·         Clean Energy Works Oregon
 ·         Columbia River Crossing
 ·         Construction Contractors Board
 ·         Department of Environmental Quality
 ·         Government Contract Assistance Program
 ·         Hoffman Construction Company
 ·         Howard S. Wright
 ·         JE Dunn Constructin
 ·         JR Abbott Construction, Inc.
 ·         Lease Crutcher Lewis
 ·         McKinstry
 ·         Metro
 ·         Multnomah County
 ·         NW Natural Gas
 ·         Oregon Advocacy Commissions
 ·         Oregon Association of Minority Entrepreneurs
 ·         Oregon Department of Administrative Services
 ·         Oregon Department of Corrections
 ·         Oregon Department of Corrections
 ·         Oregon Department of Energy
 ·         Oregon Department of Fish And Wildlife
 ·         Oregon Department of Forestry
 ·         Oregon Department of Human Services
 ·         Oregon Department of Human Services
 ·         Oregon Department of Justice
 ·         Oregon Department of Revenue
·         Oregon Department of State Lands
 ·         Oregon Department of Transportation
 ·         Oregon Employment Department
 ·         Oregon Health & Science University
 ·         Oregon Health Authority
 ·         Oregon Housing and Community Services
 ·         Oregon Lottery
 ·         Oregon Parks and Recreation
 ·         Oregon Small Business Development Center Network
 ·         Oregon University System
 ·         Oregon Youth Authority
 ·         PacifiCorp
 ·         Port of Portland
 ·         Portland Public Schools
 ·         Portland State University
 ·         RapidMade
 ·         Digital Scan 3D
 ·         SAIF
 ·         Skanska USA Building
 ·         TriMet
 ·         Turner Construction
 ·         US Army Corps of Engineers
 ·         Walsh Construction
 ·         Wells Fargo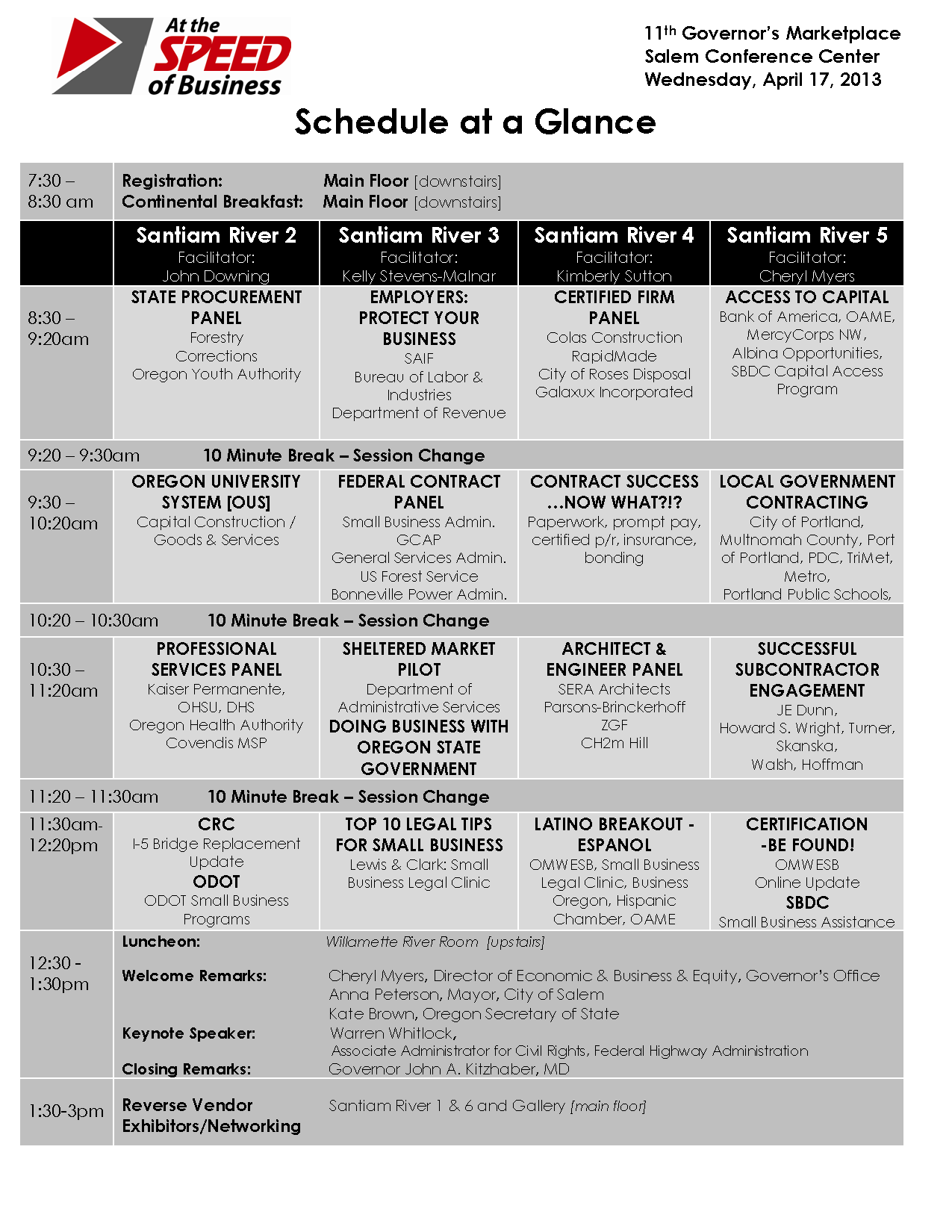 When & Where
200 Commercial St. SE
Salem, 97301


Wednesday, April 17, 2013 from 7:30 AM to 3:00 PM (PDT)
Add to my calendar
Governor's Marketplace Conference 2013