Government Contracting for..... Minority Owned and Women Owned Businesses
About this Event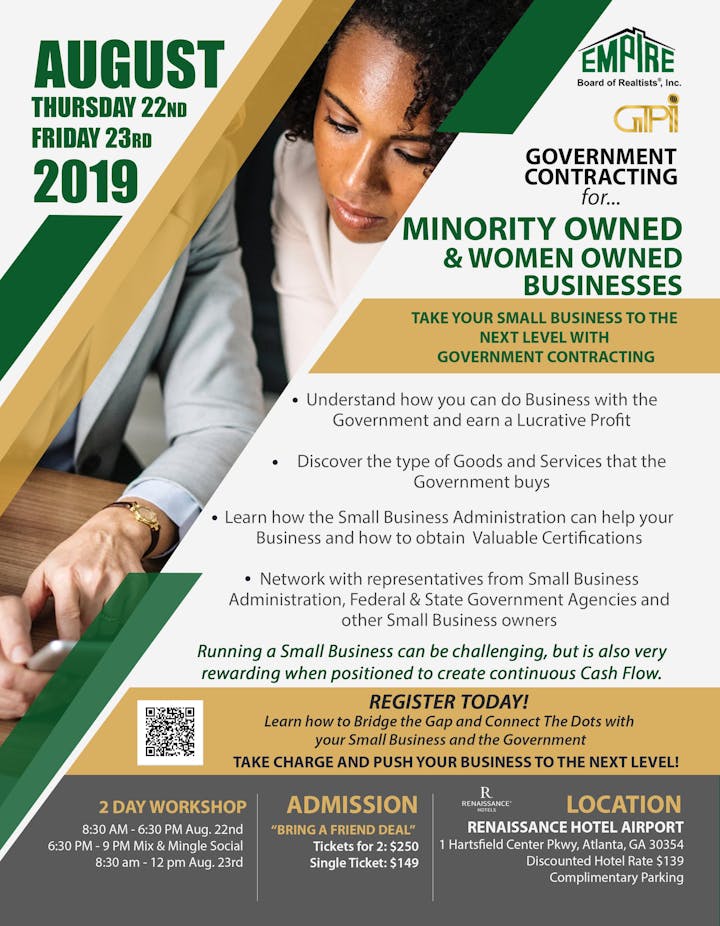 TAKE YOUR BUSINESS TO THE NEXT LEVEL !
GET INVOLVED IN GOVERNMENT CONTRACTING FOR YOUR BUSINESS
The Federal Government is the Largest Buyer of Goods and Services in the World!
Discover the type of Goods and Services that the Government buys
Understand How Your Small Business can Do Business with the Federal Government and Gain Access to more than $105 Billion Dollars in Awarded Contracts
Learn how the Small Business Administration can help you Develop your Business and how to obtain Valuable Certifications
Network with representatives from the Small Business Administration, Federal & State Government Agencies and other Small Business owners
Running a Small Business can be challenging, but is also very rewarding when positioned to create continuous CASH Flow.
Let Us Show You how to Bridge the Gap and Connect The Dots with your Small Business and the Government.
Register Today!
Take Charge and Push your Business to The Next Level!
Overnight Hotel Accommodations available at Discounted Rate $139.00
https://www.marriott.com/event-reservations/reservation-link.mi?id=1555448097795&key=GRP&app=resvlink