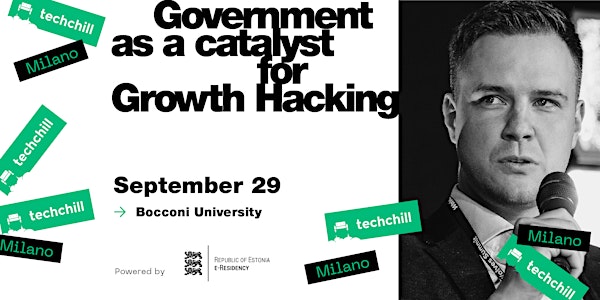 Government as a catalyst for Growth Hacking
Government as a catalyst for Growth Hacking
When and where
Location
Via Guglielmo Röntgen, 1 1 Via Guglielmo Röntgen 20136 Milano Italy
About this event
In this panel discussion, several top-tier entrepreneurs and investors with the experience of living, working, and doing business in several countries will be discussing how a country's business and regulatory environment can be a catalyst for the rapid growth of your startup. Join the session to find out which jurisdiction is the most favorable for incorporating your startup in 2022.
Panelists:
✨ Egita Polanska, Cyber Program Managing Director @ Startup Wise Guys, one of the most experienced B2B accelerators in Europe. Egita is working on scouting for cyber sec startups and developing an acceleration program to support their scaling.
✨ Federico Fini, Associate @ Karma VC, an early-stage VC firm, specialized in late seed and A round investments in Europe's most promising deep-tech software startups. Federico has a background in investment analysis and product management from Italy, the UK, South Africa, and Saudi Arabia.
✨ Farokh Shahabi, Co-founder & CEO @ Formaloo, a powerful no-code collaboration platform for teams to collect, organize and understand their data. Farokh is also a co-founder of Eventbox, Hostinstall, and Bipfa, and has served a key leadership role in several other startups in 10+ countries.
✨ Attila Algan, Co-founder and CEO @ Cognitiwe, the predictive vision AI startup that helps retailers and manufacturers to increase their efficiency and customer satisfaction. Attila has been involved in launching and growing businesses in tens of different countries and has personally registered and managed businesses in Estonia, Italy, Turkey, and the UK.
✨ Moderated by Sergei Žunajev, Business development coordinator @ e-Residency of Estonia. Estonia is the first country to offer e-Residency, a government-issued digital identity, and status that provides access to Estonia's transparent business environment. E-resident entrepreneurs from all over the world can easily start an EU-based company and manage the business from anywhere, entirely online. Sergei is responsible for the expansion of the Estonian e-Residency program to Italy, Poland, Ukraine, Slovenia, Croatia, and Bulgaria.
👏 Free to attend by registering on Eventbrite 👏
TechChill Milano is an international event focused on the startup ecosystem and entrepreneurship, September 27 - 29.
📗 Learn more and get your pass https://www.techchillmilano.co