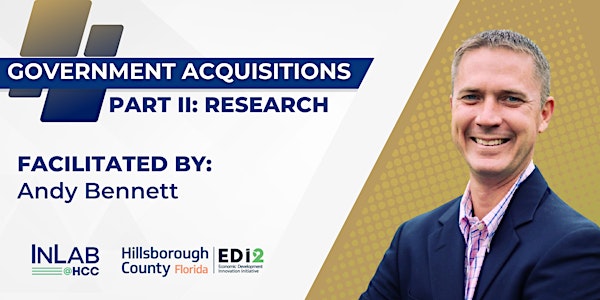 Government Acquisitions Part II: Research
Government Acquisitions Part II: Research
By Hillsborough Community College (HCC) - InLab
Date and time
Wednesday, June 21 · 8:30 - 9:30am PDT
About this event
1) Federal procurement process
2) Terminology
3) Register, Research and Respond to solicitations
Federal, State and Local governments are often wonderful customers. Understanding the barriers to entry can seem steep. Here we will focus on how to navigate the waters of government procurement. Our initial focus will be federal government procurement as we drill down to local city and county buying. This workshop may also interest those simply curious about how their taxes are spent. Do you have to know someone or have a connection to be successful? We will discuss the process rather than any specific product or service. This workshop focuses on business owners who understand their own skillset. They may have an operating business that has shown profit and has multiple locations and employees, or they may be just considering opening a business. They bring knowledge of their own industry but lack the understanding of how the procurement and acquisitions process works. They WANT to, but not HOW.
About the Facilitator
The National Center for Responsible Government Contracting, LLC (NC-RGC) is a registered Limited Liability Corporation. The Managing Member and President of the company is Andrew "Andy" Bennett. Mr. Bennett, PMP is a United States Air Force Academy graduate who served in more than 36 countries around the world. Established as a Program Manager in the Defense Industrial Base Sector for government contracts totaling hundreds of millions of funded dollars. He oversaw all aspects of fulfillment, finance and contracting for his programs. For 17 years, he has worked firsthand with startups through multi-billion-dollar international companies in both prime and subcontractor roles. We depend on collaborative technology, consistent processes and a mentorship mindset to exceed expectations for our existing client base and set realistic objectives for prospective clients. With overarching objective to guide companies to conduct ethical and responsible business with the government, we are comprised of industry experts.
This workshop is part 2 of a 3 part series.
Part 1: Introduction
Part 2: Research
Part 3: Pricing and Proposal
(Please note this workshop will be presented virtually via Zoom. Due to security concerns, the Zoom link will be e-mailed to you 24 hours and again 1 hour prior to the workshops start date and time.)
About the organizer
The InLab@HCC is a collaboration between Hillsborough Community College (HCC) and the Hillsborough County Government. The InLab is the centralized hub for all things related to innovation, creativity, entrepreneurship, and social venturing offered at Hillsborough Community College (HCC). Through four program areas (Academics, Community Events and Workshops, Veterans entrepreneurial services offered through Operation Startup, and the Research Institute, which is a design thinking center of practice for the National Association for Community College Entrepreneurship – NACCE), the InLab@HCC provides the community with a rich mixture of high impact advisory services, robust collection of innovative workshops, co-working space, subject matter expert entrepreneurs-in-residence, formal college credit entrepreneurship programs, business funding opportunities, design thinking services, academic research project initiatives, and an array of informal non-credit structured programs. We help early stage entrepreneurs take action on their business ideas.