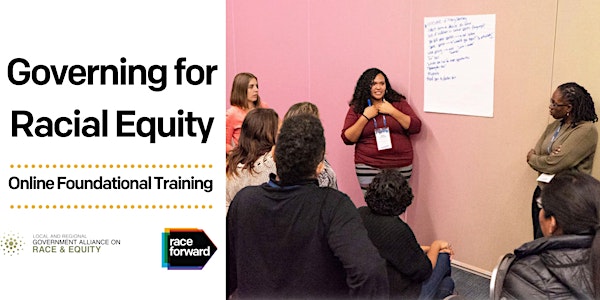 Governing for Racial Equity - Virtual 8/22/23
This workshop provides an introduction to the role, responsibilities and opportunities for government to advance racial equity.
Date and time
Tuesday, August 22 · 9am - 3:30pm PDT
Refund Policy
Contact the organizer to request a refund.
About this event
Race Forward imagines a just, multiracial, democratic society, free from oppression and exploitation, in which people of color thrive with power and purpose.
This workshop provides an introduction to the role, responsibilities and opportunities for government to advance racial equity. We focus on normalizing racial equity as a core value with clear definitions of key terminology, operationalizing racial equity via new policies and institutional practice, and organizing, both internally and in partnership with other institutions and the community.
Participants gain awareness of the history of race and of implicit and explicit bias and individual, institutional, and structural racism and how it impacts the workplace; gain skill at identifying and addressing institutional and structural racism; and increase capacity to advance racial equity. 
We introduce a racial equity tool that can be used in decisions relating to policies, practices, programs and budget and share effective communications strategies. This workshop includes facilitated discussion, exercises and video. 
In this training participants will gain understanding for their role as government employees to move racial equity forward.
Objectives :
1. Understanding the role of government in advancing racial equity.
2. Develop a shared racial equity analysis including definitions of key terminology
3. Be motivated to take action
All of our workshops include:
Interactive and experiential components. Adult learning styles vary. We use varied forms (including exercises and small group discussions) to share information to ensure learning objectives are met.
Explicit conversation and facilitation to illuminate the connection between individual, institutional and structural racism. Our training methodology allows participants to make connections between individual experiences and the broader societal and structural ways in which race is constructed. We focus on institutional and structural strategies, as those are most effective for leveraging change.
Strong, expert facilitation. Conversations about race can sometimes be difficult. We have a team of expert facilitators who not only are prepared to lead and guide conversation but to re-design activities in the moment to ensure participants' time and experience is maximized.
Applying learning. Racial equity concepts can, at times, be abstract. Our workshops focus on the application of learning in the work place. Doing is often the best teacher.
FAQ
Payment:
Please note that if you are paying via check/invoice, please email bre@raceforward.org to request an invoice.
Zoom Use:
Please note that you will need to be able to access zoom in order to participate in this training. We are unable to accommodate dial-in only participation at this time.
Where's my access link?
If you don't have access to your Zoom link or encounter problems with registration, we ask that you first check your spam folder. If you cannot find your zoom link please email the BRE team at bre@raceforward.org. We try to respond to urgent requests within 24 hours of receipt. For all other requests please allow up to 2 business days to respond.
Space:
We have limited space in our virtual training as we believe it is critical for our participants to be able to receive tailored support and coaching throughout the duration of our virtual training session.
About Race Forward:
Race Forward is home to the Government Alliance on Race and Equity (GARE) network. The GARE network is a national membership network that fosters critical connections among racial equity practitioners who work in local, regional, and state government. GARE works to advance a more racially just and equitable society that benefits everyone. Practitioners develop and share skills, lessons, and approaches to strengthen racially equitable policies, practices, and cultural strategies within our member jurisdictions.
Race Forward is also home to the Federal Initiative to Govern for Racial Equity. The program, a partnership with PolicyLink, is in direct response to President Biden's Executive Order On Advancing Racial Equity and Support for Underserved Communities Through the Federal Government. The Initiative provides strategic support, learning opportunities, frameworks, and tools for change through ongoing dialogue with federal agencies. The goal of the program is to create sustainable change for racial equity in federal government structure, policy and practice.
About the organizer
Race Forward is home to the Government Alliance on Race and Equity (GARE), and also publishes Colorlines, a daily news site where race matters. The new Race Forward also presents Facing Race, the country's largest multiracial conference on racial justice. Founded in 1981, Race Forward brings systemic analysis and an innovative approach to complex race issues to help people take effective action toward racial equity. Founded in 2002, CSI catalyzes community, government, and other institutions to dismantle structural racial inequity and create equitable outcomes for all. As one organization, the new Race Forward is dedicated to transforming institutions and empowering the community in order to move policy, culture, and narrative for racial equity.