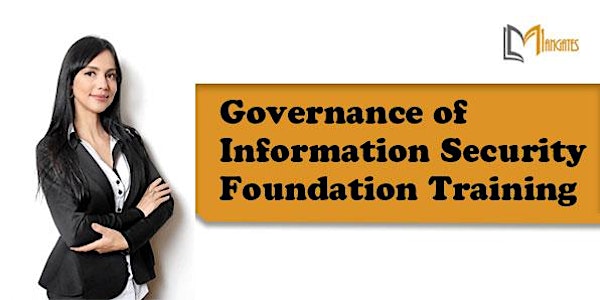 Governance of Information Security Foundation 1 Day Virtual in Windsor
Catering to the demands of busy professionals, our virtual training programs are as effective as face-to-face learning.
Refund Policy
Refunds up to 7 days before event
About this event
Course Overview:
Information Security is a critical topic given the huge amount of information that is handled electronically and the associated Risks of mobile communications, the internet, portable storage devices and cybercrime. However, implementing effective security is a challenge because the topic is complex and technical, poorly understood and often not addressed in a business-like or systematic manner.
This Course provides a broad range of stakeholders with an appreciation of how to drive the implementation of an effective information security improvement program driven systematically by business needs. Using an "information security Management system" approach combined with governance and Management Practices will enable participants to ensure that implementation has appropriate support from board level and senior executive Management and addresses security in a sustainable and practical way.
The Course is based on COBIT 5 and ISO/IEC 27000 Principles but at a level that can be understood by everyone, not just governance or technical security experts.
Target Audience:
This Course is aimed at business and IT managers, auditors, and consultants as well as Information Security professionals
Learning Objectives:
Effective governance and Management Practices.
The challenges faced by the organizations while implementing improved information security.
The strategies and techniques to effectively manage the challenges of implementing improved information security.
The components of the COBIT 5 Framework and an Information Security Management System (ISMS) based on ISO/IEC 27001:2013.
The role of the COBIT 5 framework in guiding an effective improvement programme.
The Process of initiating and sustaining continual improvement of Information Security based on the ISMS.
Agenda:
Day 1
Introduction
Governing and Managing Information Security
Break
COBIT 5 and ISO27000
Lunch
Establishing the ISMS
Implementing the ISMS
Sustaining the ISMS
Wrap up and Close
Course Outline:
Overview of Governance and Information Security
Governance and Management Challenges of Information Security
Overview of COBIT 5
Overview of ISO 27000
Establishing an ISMS
Organizing ISMS roles and responsibilities
Aligning the ISMS with business
Initiating continual improvement
Sustaining the ISMS
Monitoring the ISMS
Prerequisites:
There are no prerequisites for this course.
Course Materials:
Students will receive a course manual with presentation slides and reference materials.
Examination:
There is no exam.
Technical Requirements:
For eBooks:
Internet for downloading the eBook
Laptop, tablet, Smartphone, eReader (No Kindle)
Adobe DRM supported software (e.g. Digital Editions, Bluefire Reader) eBook download and activation instructions.