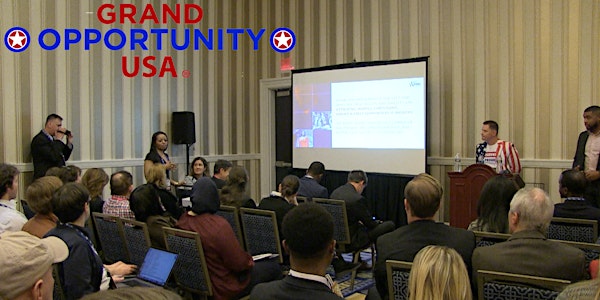 GOUSA's #ConservativeProud New England States Conference
JOIN THE FIRST UNITED CONSERVATIVE NEW ENGLAND EVENT - MEET #WALKAWAY'S BRANDON STRAKA, AIDEN KEARNEY, JOE COLLINS, JOHN PAUL AND MANY MORE
When and where
Location
Lexington Depot Square Depot Square Lexington, MA 02420
About this event
Come join the Revolution at Grand Opportunity USA's #ConservativeProud New England States Conference: Taking Liberty Back to Where It Began! Free Morning & Day Events .
***NOTE: There are 2 locations for this event. The first is at Depot Square, Lexington, MA for the Pro-Constitution Rally starting10 am. The main event is being held from 12 noon - 10 pm at John Paul's Cathedral & Grounds Residence, 25 Winsor Road, Billerica, MA 01821. Street parking available (do not block resident's driveways or mailboxes please) and nearby at Billerica Lodge of Elks, 14 Webb Brook Road, Billerica.
Featuring #WalkAway's Brandon Straka, Joe Collins for Congress - 43rd District in CA, Scott Presler, Aiden Kearney, Carla Spalding, Ricky Rebel, Angela Stanton King, Boris Kizenko, John Paul and Many More. Rally & Daytime Activism Training Free, Evening Main Event is $75. We Welcome Your Donations to Support GOUSA!
Hear Brandon Straka, Founder of the #WalkAway Campaign, discuss his journey about leaving the Left and becoming a conservative, and the major national movement he started as millions of voters have decided to exit the Democrat Party. See Joe Collins, US Navy Veteran and Candidate for CA's 43rd District in Congress, who will be challenging Rep. Maxine Waters and discussing his journey that's gaining major national interest.
Featured Speakers
John Paul, GOUSA Founder • Brandon Straka, Founder, #WalkAway • Joe Collins, Candidate for US Congress, CA 43rd District • Rick Rebel, Billboard Top 40 Artist • Aiden Kearney, Turtleboy Sports • Carla Spalding, Candidate, Broward County FL Supervisor of Elections • Robert Lancia, RIGOP Director of Outreach • Rachel Kemp, MassGOP Director of Outreach • Angela King, CEO, American King Foundation.• CT GOP Chair • Tim Fazenbaker, Candidate of US Congress, MD• Vermont GOP • Boris Kizenko, Executive Director, High Schoolers for Freedom • Cirsten Weldon, Conservative Chinese American• Morgan Zegers, Founder , Young Americans Against Socialism • ME GOP Chair • Charles Downs, Madison Coalition • New England Libertarian Party • More to come!
Here in New England where our country began, conservatives no longer hold a single US House Seat. We have the strategy, tactics and messaging to reverse this trend and give conservatives a path to retake our six states in America's birthplace to make our blue states Red, White & Blue Again!
Join pro-liberty leaders from all six New England states and other star speakers from around the country at this first-of-its-kind event. Learn how to reach young and diverse audiences to communicate our message more effectively, unite the conservative movement and win back New England in MA, RI, CT, ME, NH and VT.
A morning Pro-US Constitution Rally in Lexington, MA followed by dynamic presentations from leading speakers at John Paul's Cathedral Bar & Grounds in Billerica, MA, and then the evening main event, networking, drinks and music. Day program includes BBQ.
Register for VIP tickets to receive a personally autographed book by George Papadopolous, "Deep State Target: How I Got Caught in the Crosshairs of the Plot to Bring Down President Trump" and a photo opp. VIP Donors Brunch features an intimate meeting with George and Simona and other guest speakers.
Lexington US Constitution Rally 10:00 am - 11:30 am - FREE
Defend the Constitution Rally, Lexington Depot Square near Lexington Battle Green: 8/8 @ 10 am. Free for all! Join us for a rally in defense of the US Constitution and our liberties – now under attack by the Left – at the very site that the opening shots of the Revolutionary War were fired on April 19, 1775, 244 years ago.
VIP Donors Brunch 12 noon - 1:00 pm - Billerica
Join an intimate discussion with our guest speakers for a private VIP Donor Brunch. Tickets includes full day VIP pass.
Day Activism Program: 1:00 – 5:00 pm - Billerica - FREE / Donations
Register for the GOUSA day event, where you will participate in grassroots workshops & talks by leading speakers from New England and around the country, on topics including new messaging to better communicate conservatism, voter registration, campaign marketing, free speech rights and more.
#ConservativeProud BBQ Dinner with Candidates for Office: 5:00 – 6:00 pm - Billerica
Day & Evening Program guests are invited to the #ConservativeProud BBQ, where we will be featuring brief talks and introductions from conservative candidates for political office in New England and beyond. You don't want to miss it!
Evening Program: 6:00 – 10:00 pm - Billerica
Register for the evening event to watch presentations from our speakers, a New England GOP Chairs discussion, GOUSA's "Opportunity Tour" event with John Paul & Team on reaching diverse audiences, and keynote speaker presentations. Featuring event networking, music, appetizers and open bar.
*The address of the Billerica venue, located in central Billerica, MA near Rt. 3A / Boston Road, will be sent to ticket holders prior to the event.