Gourd Art Class: Giraffe Vase with Stipple Carving

Saturday, March 18, 2017 from 10:00 AM to 2:00 PM (PDT)
Event Details
Giraffe Vase with Stipple Carving
with Christy Barajas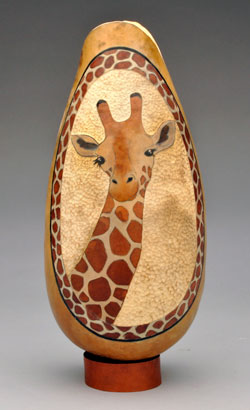 This fun class is great for any skill level and beginners are encouraged to come because you will have an instructor, Christy Barajas, and an instructor's assistant to help with all your questions/needs. If you are new to woodburning, arrive 30 minutes early for a quick tutorial on how to get started!
All registered attendees get a $10 voucher for gourds the day of class!
In this class you will discover how to properly place your pattern, how to create an even border around your design, how to blend Transparent Acrylics to create custom colors, when to shade certain areas with your Woodburner and why, how to stipple carve and what burrs work best and why, how to hide blemishes on your carved areas, and much more!
Everyone will take home their finished art piece!
What is provided?
 • Pre-cut craft-ready gourd vase that has been cut and the inside cleaned.
 • Pattern
 • Gourd Ring Stand
 • Carvers and Woodburners are available to use at no charge, but a valid driver's license is required to rent. (Please arrive 30 minutes prior to guarantee a rental).
 • All colors, finishes, paints, brushes, and applicators
Required Materials
 • Dremel 107
 • Dremel 191
 • Saburr Tooth Flame or similar burr to remover a large area of the skin (2 will be available for class to share)
 • Writing Woodburning Pen (2 will be available for class to share)
 • Face Mask and Eye Protection
 • Blade Style Woodburning Pen (if you rent a burner, one is included for you)
Optional
 • Carver
 • Woodburner
 • Your Favorite Woodburning Pens
Please Note: Class will be held outdoors under a white canopy, so dress accordingly. Bring a sac-lunch. Snacks and drinks are available in the store for purchase.
Instructor: Christy Barajas (plus instructor assistant)
Skill Level: Beginner - Intermediate
Date:  Saturday, March 18th, 2017
Time: 10:00 AM- 2:00 PM
Location: Welburn Gourd Farm
Price: $49
Class Limit: 25 Students

All cancellations and changes will be charged a $10 fee. No refunds on cancellations within 7 days of the class.
 


When & Where

Welburn Gourd Farm
40635 De Luz Road
Fallbrook, CA 92028


Saturday, March 18, 2017 from 10:00 AM to 2:00 PM (PDT)
Add to my calendar
Gourd Art Class: Giraffe Vase with Stipple Carving