Gourd Art Class: Fancy Copper Rosette

Friday, January 23, 2015 from 8:30 AM to 3:30 PM (PST)
Event Details
"Fancy Copper Rosette"
with Rosario Wilke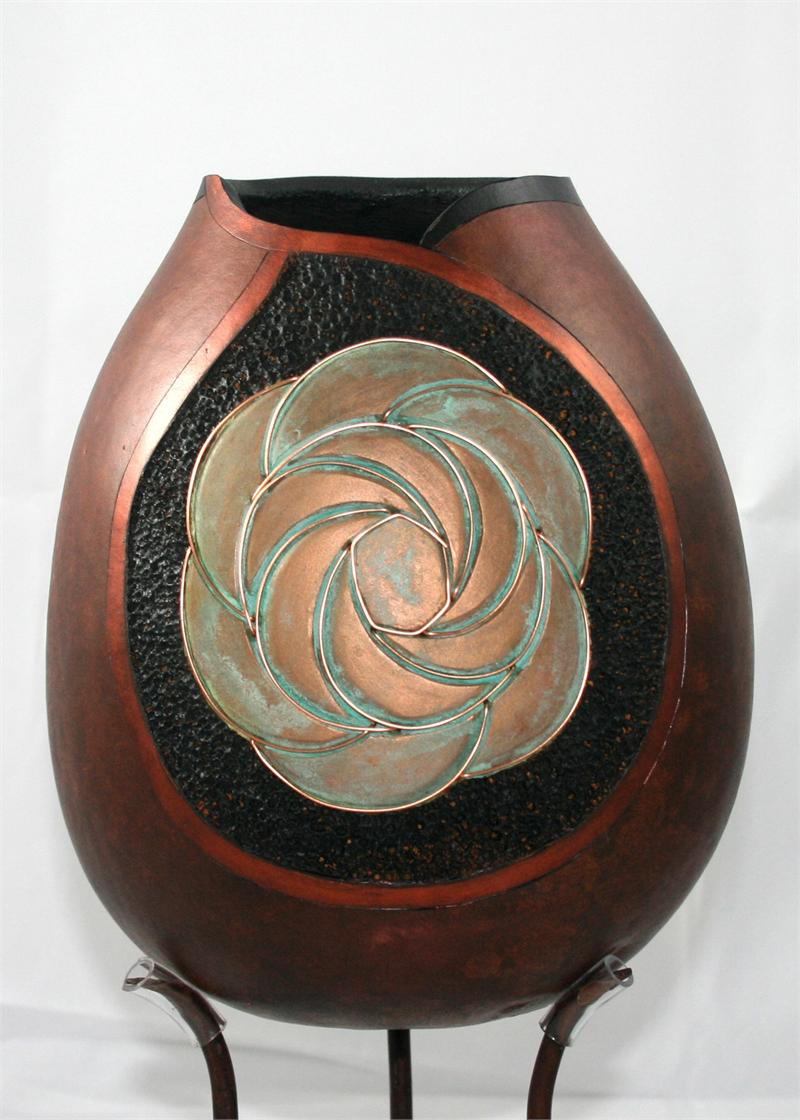 Join artist and instructor, Rosario Wilkie, as she shares with you many great tips throughout this exciting class.
Using a bottle or tall body gourd, students will learn step by step how to create this beautiful Vessel. They will use stick n burn to accelerate the process of the design and execute a three-dimensional caving technique creating a delicate and elegant rosette. They will work on beveling the contour of each petal of the rosette giving depth and dimension. They will also work on stippling; will use patinas and GourdMaster Transparent Acrylics with translucent metallic powders to give the vessel an ancient and metallic look. Finishing up, they will learn to inlay copper wire to accentuate the curvature and detail of the rosette. 
Required materials:A good quality dust mask, eye protection, woodburner with your favorite tip, Rotary Tool such as the GourdMaster Pro Carver (please avoid bringing cordless Dremels), all the burrs that you already own. Dremel High Speed Cutter 191 or 192, small electic sander with medium and fine grit, Pigment Powder Copper. One pair of gloves, sanding paper or sanding sponges, diamond riffler files, pencil, small and medium size paint brushes, gorilla glue, small nose pliers, wire cutter and your general gourding tool box which will be helpful. 
Materials Provided: A written tutorial, stick and burn pattern to accelerate the process, copper wire, adhesives, matte and metallic paints, and spray sealer. Welburn Gourd Farm will provide gourd free of charge. The instructor will have it cleaned so you can get right into the fun part of designing and creating.
Ability Level: Intermediate to Advanced
Date: Friday January 23rd, 2015
Time: 8:30-3:30
Location: Welburn Gourd Farm
Class Limit: 20 
Cost: $70
"Due to the different skill levels not all students maybe able to finish this gourd in class"
When & Where

Welburn Gourd Farm
40635 De Luz Rd
Fallbrook, CA 92028


Friday, January 23, 2015 from 8:30 AM to 3:30 PM (PST)
Add to my calendar
Gourd Art Class: Fancy Copper Rosette