Gourd Art Class: Canteen Gourd Vase with Sunflower and Basket Weave

Saturday, April 29, 2017 from 9:30 AM to 3:00 PM (PDT)
Event Details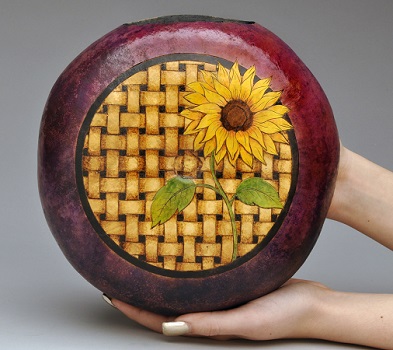 Woodburning a Basket Weave design can be very intimidating, but with the step by step instructions you'll be shown in class, you'll realize it's easier than you thought!
In this class you will discover how to properly interlace your basket weave pattern, how to color and shade realistic sunflowers, how to shade a realistic basket weave design, why the order you do your steps in is so important, and much more!
This class is great for intermediate to advanced skill levels. If you are new to shading on gourds you are encouraged to come because you will have an instructor and an instructor's assistant to help with all your questions/needs.
Please Note: If you are a beginner you are welcome to join but it is highly recommended you have previous woodburning experience.

What is provided?
• Pre-cut craft-ready canteen gourd vase that has been cut, cleaned on the inside, and sanded to sit flat.
• Pattern
• Adjustable Heat Woodburners are available to use at no charge, but a valid driver's license is required to rent. (Please arrive 30 minutes prior to guarantee a rental).
• All colors, finishes, paints, brushes, and applicators
Required Materials
• Writing Style Woodburning Pen (if you rent a burner, this pen will not be provided for you, but is available to purchase)
• Blade Style Woodburning Pen (if you rent a burner, one is included for you)

Optional
• Your personal Adjustable Heat Woodburner
• Your Favorite Woodburning Pens
Please Note: Class will be held outdoors under a white canopy, so dress accordingly. Bring a sac-lunch. Snacks and drinks are available in the store for purchase.
Instructor: Christy Barajas (plus instructor assistant)
Skill Level: Intermediate- Advanced (students should have prior woodburning experience)
Date: Saturday, April 29th, 2017
Time: 9:30 AM- 3:00 PM
Location: Welburn Gourd Farm
Price: $49
Class Limit: 20 Students
All cancellations and changes will be charged a $10 fee. No refunds will be given for cancellations within 7 days of the class.
When & Where

Welburn Gourd Farm
40635 De Luz Rd
Fallbrook, CA 92028


Saturday, April 29, 2017 from 9:30 AM to 3:00 PM (PDT)
Add to my calendar
Gourd Art Class: Canteen Gourd Vase with Sunflower and Basket Weave