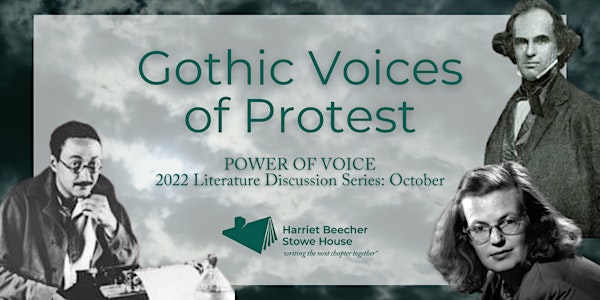 Gothic Voices of Protest (2022 Power of Voice Discussion Series)
Discuss how 3 American authors used terror and horror fiction to make us think more deeply about some truly frightening societal realities.
Refund Policy
Contact the organizer to request a refund.
Eventbrite's fee is nonrefundable.
About this event
Get into the Halloween spirit by reading these three Gothic stories from different eras in US history. We'll discuss how the authors used the popular genre of terror and horror fiction to dig deep into American culture and make us think about some truly frightening realities: the underside of the American Revolution, race relations in the post-Civil War South, and the tyranny of unquestioned tradition and authority.
Discussion Leader:
Dr. John Getz, Professor Emeritus, Xavier University
Suggested reading & viewing:
Nathaniel Hawthorne, "My Kinsman, Major Molineaux" (1832)
Jean Toomer "Blood-Burning Moon" (1923)
Shirley Jackson, "The Lottery" (1948)
See full series information and links to readings at https://www.stowehousecincy.org/discussiongroup2021-623760.html
About the series
2022 Discussion Series Theme: Power of Voice
This year the monthly literature discussion series from Harriet Beecher Stowe House will continue with a new theme: "The Power of Voice." We'll focus on moments in American--and, in one case, world—history when eloquent voices arose, often from the margins, to address important issues, usually related to social justice, in culture and society.
Harriet Beecher Stowe exemplifies the power of voice. During her eighteen years in Cincinnati (1832 -1850), she discovered her voice as a writer, and in 1851, she decided to devote it to the anti-slavery cause. Horrified by the Fugitive Slave Act of 1850, she wrote to editor Gamaliel Bailey: "Up to this year I have always felt that I had no particular call to meddle with this subject [slavery], and I dreaded to expose even my own mind to the full force of its existing power. But I feel now that the time has come when even a woman or a child who can speak a word for freedom and humanity is bound to speak." The result, of course, was Uncle Tom's Cabin, the bestselling blockbuster that awakened many Northerners to the horrors of slavery and helped create the change of heart that would allow the Union to stand firm when the South seceded over slavery.
We'll study the writings of many authors from the 19th and 20th centuries to determine
how they discovered their voices,
the forms they chose for expressing their voices,
the needs both personal and societal to which they put those expressions,
the effects their work had,
how we can develop and enlist our own voices in service of our own values.
Discussion Format
Discussions will take place on Zoom from 7-8 pm on the first Wednesday of each month February - May and September - December. The leader will again by Dr. John Getz, Professor Emeritus, Xavier University, either by himself or with a co-leader, depending on the topic.