Actions and Detail Panel
Gossip & Glamour Style Summit
Sat, March 25, 2017, 9:00 AM – 1:00 PM PDT
Description
The Gossip & Glamour Style Summit will bring Seattle's fashion and lifestyle blogging community together for a half-day event on Saturday, March 25 at The Thompson Hotel. The summit will feature interactive panel discussions and valuable insight from top fashion brands with the goal of exploring industry trends and empowering bloggers to seize opportunities in the year ahead.
Event Overview
8:30 a.m. - Doors open/Registration Begins
9:00 a.m. - Welcome
9:15 a.m. - Panel 1: The Art of Creative Collaborations: How to add value and strategically work with fashion brands (Featuring Jessica Branning of Neiman Marcus, Jess Estrada of Fresh Jess, Sammy Scharg of Julep, Danielle Pepperl of Brooks Running and more)

10:15 a.m. - Panel 2: Beyond the Blog: How to Launch a second concept (Featuring Jenny Keller of Jenny Cookies, Moorea Seal, Tiffany Ishiguro of T+J Designs, Brandy Brown of Marabou Design, and more)

11:15 a.m. - Keynote - Alan Gertner, Tokyo Smoke
12:00 p.m. - Fashion Mixer // Photo Opps // Music // Niche Networking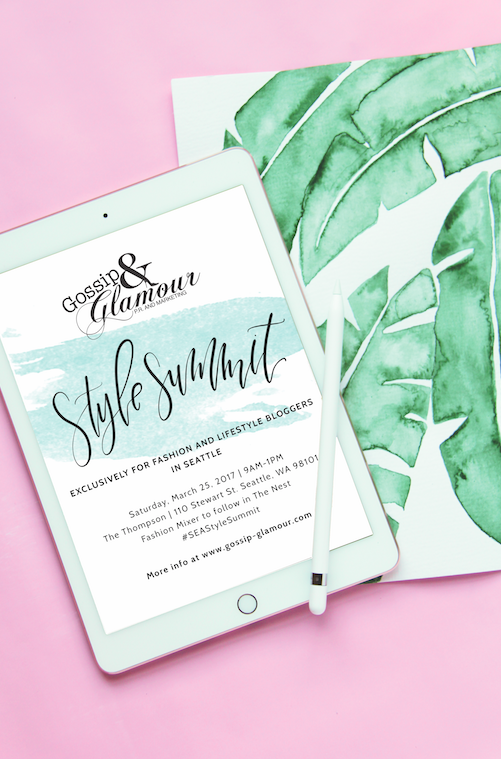 This event is exclusively for Pacific Northwest fashion and lifestyle bloggers and provides a unique platform to connect, collaborate, share big ideas, and talk trends. In the past year, this group has grown exponentially and our goal is to provide the tools and resources necessary to ensure continued growth and sustainable success. Tickets to last year's Stylish in Seattle Summit sold-out weeks before the big event, don't miss your chance to join Seattle's top fashion bloggers for a day of connection and inspiration.
// UPDATE //
Tickets are sold out. Please join the waitlist if you are interested in attending.