| | |
| --- | --- |
| GoPro and Adobe @ November 9th's LAPPG Meeting | |
Event Details
Join us for our November meeting featuring a very special double header:
EDITING OPPORTUNITIES WITH GOPRO
GoPro Entertainment has their sights on you! Join us as we explore their exciting new opportunities for content creators and video editors which includes getting paid for your best GoPro content through two of GoPro's latest and most exciting programs: GoPro Awards and Content Licensing!
We'll also learn about GoPro's freelance editor community for those who are stoked on GoPro, interested in editing a variety of GoPro content and who want to continue to improve their skill set.
You'll get an overview of each program, get to meet the GoPro team, ask questions and have a chance to win GoPro swag!
Speakers will include:
DEVON VANDERVORT: Devon Vandervort, Sr. Program Manager for Content Acquisitions at GoPro. Devon will provide an overview of GoPro Awards and the many benefits of participating in the GoPro Entertainment Community.
JP HARRISON: Jon-Paul Harrison, Senior Manager of Content Licensing at GoPro. JP handles the day-to-day curation and artist communication for GoPro's next generation content licensing business.
CLAIRE PODGORSKI:
Claire Podgorski is on GoPro's Creator Marketplace team and manages marketing, communications and the benefits program for freelance editors.


ADOBE CREATIVE CLOUD: IMMERSE YOURSELF IN CREATIVITY
See how Adobe Creative Cloud empowers you to create visually stunning videos faster with industry-leading video and audio apps, including Premiere Pro, After Effects, Audition and Media Encoder. With Adobe Creative Cloud you get high performance for editing and motion graphics, easy-to-use color and audio tools, and support for the latest formats all in a single integrated workflow. Adobe Premiere Pro product manager, Al Mooney, will demonstrate how the latest innovations will continue to make Premiere Pro CC the market leading NLE.
***As always there will be plenty of time to network, enjoy some coffee and participate in our great giveaway which includes thousands of dollars of amazing prizes from our generous partners!

$5.00 cash kindly requested at the door will include 1 giveaway ticket.
Location:

@Sports Complex - Community Room (2nd Floor)

1634 18th Street
Santa Monica, CA 90404
***Street parking is available as well as a Crossroads parking lot at the end of 18th Street behind the building.
Click for a map here.

---
PROVIDEO COALITION RELEASES NEW BLOG SERIES "28 WEEKS OF POST AUDIO"
LAPPG's own Woody Woodhall has just begun a 28-week series of blog postings on sound for picture every Monday. Below is an excerpt from the series' introductory post:
What is post audio anyway?
...Let's start this series by having a look at what exactly post audio is. Post audio is a

complex, multi-disciplined art. It requires the crafts of recording, editing, adding, creating, enhancing, manipulating, mixing and rerecording audio to create the soundtrack for moving pictures. Often misunderstood, if done right, it's invisible to the audience.  (Read more here.)

---
MARK YOUR CALENDAR FOR THESE UPCOMING EVENTS:

November 9th, 2016 – November LAPPG Meeting (Crossroads School, Community Room)

November 19th, 2016 – NFMLA November 19th Film Festival (Los Angeles, CA)
November 19, 2016 – 2016 DCS Post Production Expo (Raleigh Studios)
December 14th, 2016 – December LAPPG Meeting (Crossroads School, Community Room)

January 11th, 2017 – January LAPPG Meeting (Crossroads School, Community Room)

January 18th-22nd, 2017 - Editors Retreat (Nashville, TN)
February 8th, 2017 – February LAPPG Meeting (Crossroads School, Roth Hall)

March 8th, 2017 – March LAPPG Meeting (Crossroads School, Roth Hall)                                                        

---
ATTEND EDITORS RETREAT WITH LAPPG DISCOUNT!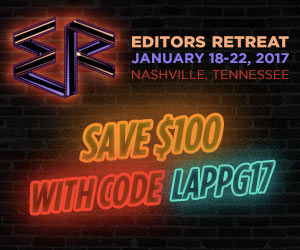 Editors Retreat is a five day, interactive event created for experienced TV, film and video editors. The event, taking place from January 18-22, 2017 in exciting Nashville, Tennessee, brings together industry visionaries to discuss and share the latest technologies, techniques, platforms, and workflows you should be applying to generate leading-edge work. Editors Retreat invites you to come get inspired by the experiences and knowledge of the speakers and your fellow attendees. At Editors Retreat, you are surrounded by like-minded professionals, who are as passionate and eager to learn and stay up with the latest trends as you are. Past attendees of ER rave about the event and look forward to it each year.

Editors Retreat is all about learning how to be the best at your craft. Attendees will have the opportunity to challenge themselves and enhance their skills in advanced skill-building training sessions lead by the industry's most celebrated editors. Plus, you have the chance to expand your professional network and build lasting relationships with members of this influential community.

Be sure to use code LAPPG17 to save $100. For more information and to register visit: http://editorsretreat.com/
---
DON'T MISS DCS's UPCOMING POST EXPO ON NOVEMBER 19th
The Digital Cinema Society will again hold their annual Post Expo at the Chaplin
Theater on the Raleigh Studios lot in Hollywood on the afternoon of Saturday November 19th from 2PM to 5PM

It will cover a wide variety of Post Production topics including

HDR

,

Storage

,

Finishing

,

ACES

, and

VR

, as well as taking advantage of the

Cloud for Post

and

Distribution

.  Organizations invited to participate include, (in alphabetical order):
ACES – Adobe – Avid – Blackmagic Design – Intelligent Assistance – MTI Film – NVIDIA – OWC – Quantum – WCP Media Services
Special guests pending confirmation include an Academy Award winning Editor and a leading Post Production Technologist.  Refreshments will be served courtesy of OWC and MacSales.

The event is open to all, but

RSVPs are mandatory

.  To register, send an email with your contact details and "Post Expo" in the subject line to:  RSVPtoDCS@digitalcinemasociety.org
---
A LOOK AT LENSES FROM HDSLR SHOOTER 
Our friends at HDSLR Shooter caught up with Zeiss' Snehal Patel at Band Pro's Burbank location, where he presented Zeiss' Otus line of premium SLR lenses, as well as their awesome new Lens Gears that turn their "Otus, Milvus and Loxia lenses into proper cine-style lens for professional filmmakers."
---
DISCOUNT OFFER FROM EDITSTOCK

Are you working on your editing skills and in need of professionally shot footage to practice on? Now is a great time to check out what the folks at EditStock have to offer. Visit www.editstock.com to see their footage options plus learn about getting personalized feedback on your edited scenes. Don't forget to use code: START to save 15%!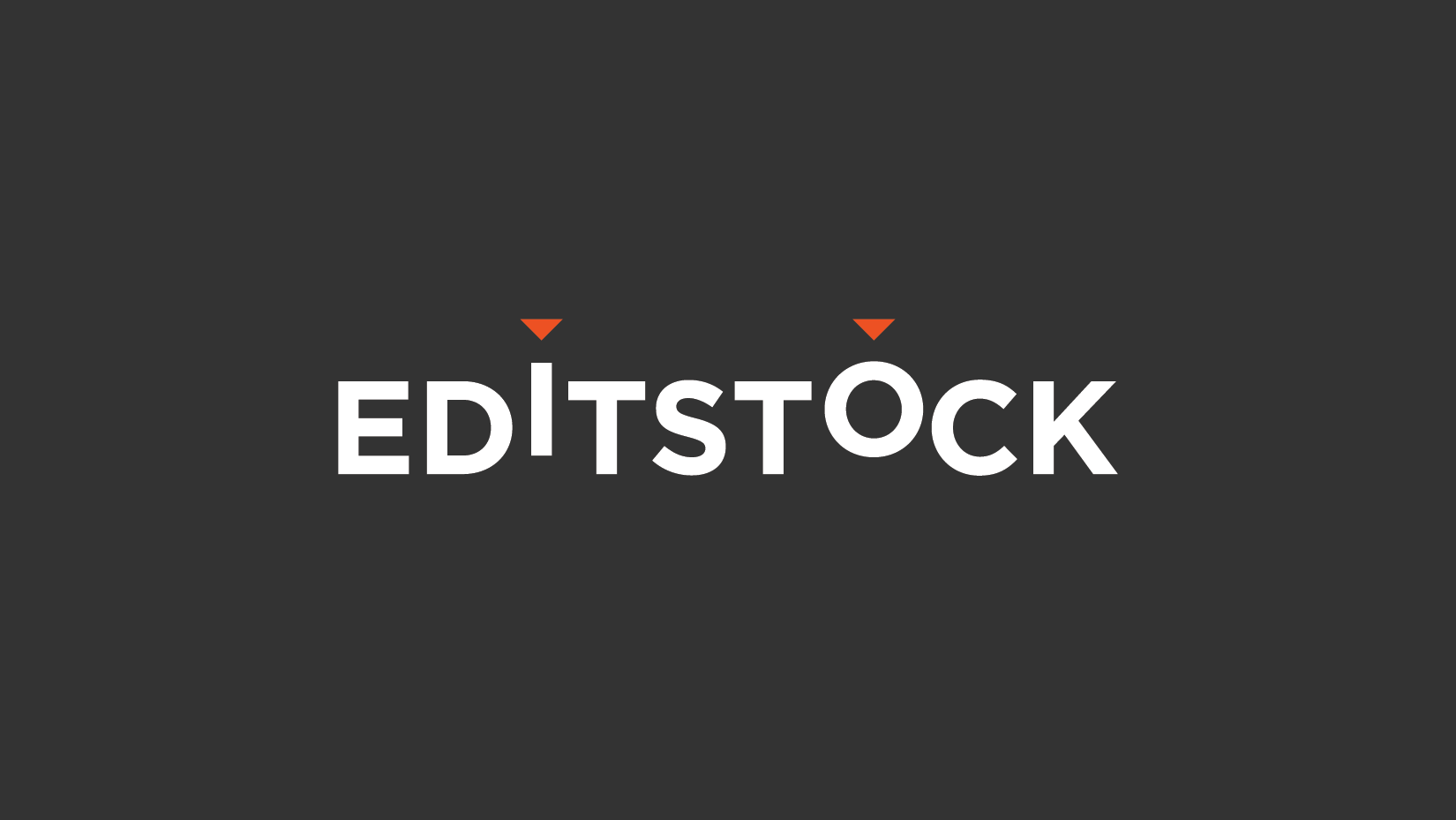 ---
CALLING ALL FILM LOVERS AND FILMMAKERS!!!!!
On November 19th, NewFilmmakers Los Angeles (NFMLA) celebrates another month of astonishing independent cinema! This month's event will include a general short film program, an InFocus short film program and a feature film premiere.
This month's InFocus program spotlights American Indian and aboriginal cultures' influence on modern cinema, emphasizing yet another piece of diversity that exists in Hollywood. In between films, audiences can check out filmmaker Q&As or mingle with one another in the premium South Park Center lounge over cocktails in Downtown LA.
$5 for individual programs
$15 for all-access passes to all three programs with an open bar
---
We thank the following partners for their generosity and support of our monthly meetings. Please visit them:
Adobe, Advantage Video Systems, Art of the Guillotine, Blackmagic Design, BorisFX, Creative Handbook, Digieffects, Digital Rebellion, Focal Press, GoPro Entertainment, HDSLR Shooter, Imagineer Systems, Intelligent Assistance, iZotope, Mercury Production Report, Other World Computing,  Post Production Buyers Guide, Pro Sound Effects, Pro Video Coalition, ProductionHUB, Randi Altman's postPerspective, Shutterstock, Sorenson Media, Sound & Picture.
We look forward to seeing you on Wednesday, November 9th!
Sincerely,

Los Angeles Post Production Group
Please visit www.lappg.com for discount offers, job listings, industry news and more.
When & Where

Crossroads School for Arts & Sciences
Sports Complex - Community Room (2nd Floor)
1634 18th Street
Santa Monica, CA 90404


Organizer
The Los Angeles Post Production Group is a professional organization for people with a passion for film, video and the digital media finishing process.

The LAPPG discusses all aspects of post production, from picture and sound editing to color correction, visual effects, codecs, storage and post workflows.

Expert presenters and leading companies come to our monthly meetings and share new technologies, techniques, tools, products and best practices to aid us in telling great stories.
We also provide our members with great offers and discounts as well as opportunities to network and make industry connections.
Membership is free and you need not live in Los Angeles to take advantage of this great resource.
To become a member please email your name and information about yourself to membership@lappg.com.