About this Event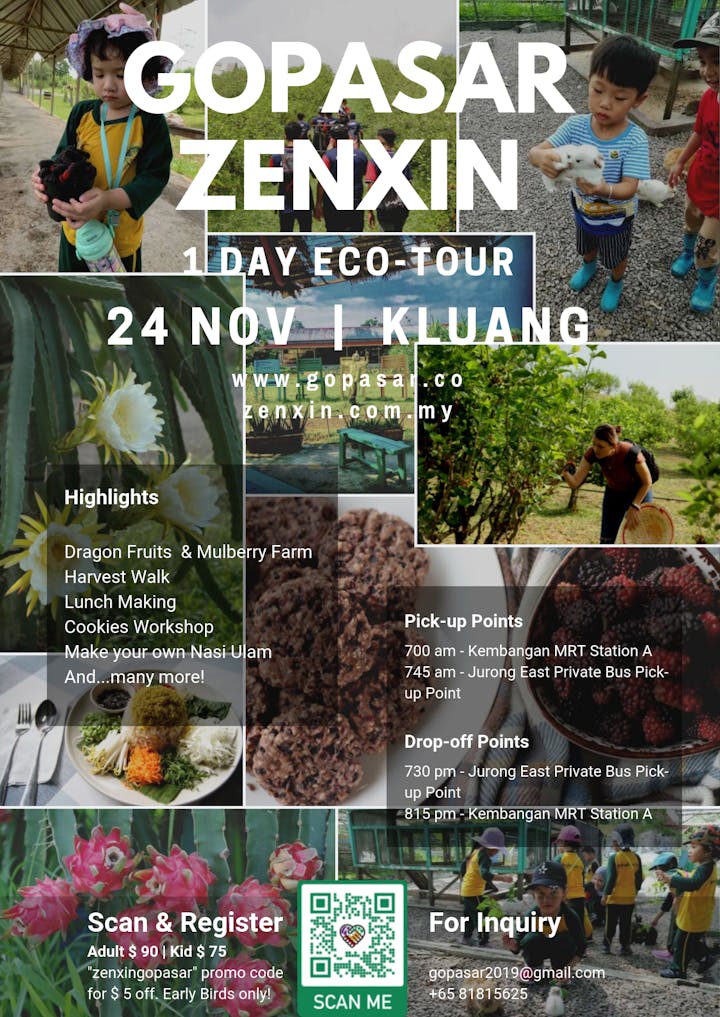 Visit Zenxin Organic Park, and let us bring you into the world of organic, where you can enjoy the great organic experience and moments. Tour through our farm guided by 4 principles of organic, harvest with your own hands flowers and vegetables to make your very own Nasi Ulam, and experience true farm to table concept. Organic is a lifestyle choice, and understanding of our connection to the society, and more importantly our Mother Earth. Family time, education and fun, sincerity, human to human connection, healthier you and world.
Pick-up point in Singapore:
700 am Kembangan MRT Station Exit A
745 am Jurong East Private Bus Pick Up Point
Drop-off point in Singapore:
730 pm Jurong East Private Bus Pick Up Point
815 pm Kembangan MRT Station Exit A
The itinerary
700 am - Pick up at Kembangan
745 am - Pick up at Jurong East
930 am - Welcome Drinks at Zenxin Organic Park
940 am - Guided tour begins: Introduction, Dragon Fruit Farms, Mulberry Farm and Herb and Vegetable Farms. We will have handpicking and tasting session!
1200 pm - Make your own Nasi Ulam (served with fresh coconut drink + nyoya prawn + curry chicken)
130 pm - Guided tour continues: Banana, Jambu, Passion Fruit and Papaya farms, DIY Traditional Jumping Noodles, Mulberry Cookies Workshop.
400 pm - Shop at Farm Mart & Eko Paradise
430 pm - Depart from Kluang to Singapore
730 pm - Arrive at Jurong East
815 pm - Arrive at Kembangan
As there will be photo and video taking during the tour, you will be giving us consent for the occasional recording by confirming the registration.
Please contact +65 81815625 if you have any question.
We look forward to seeing you!