Goose on the Loose Comedy Festival
About this Event
Goose on the Loose-When Comedy and Community Collide
Thursday, October 10th - Wild Goose Creative
Opening Night, The Sassy Do Experience presents, the 5 th Annual Spooky Do! Doors, 6:30 p.m. Show, 7:00 p.m.
Wild Goose Creative - $5
Join the ladies of Sassy Do as they improvise, spreading laughter and joy as they build never been told before stories from your suggestions. As the opening night of the Goose on the Loose Festival, come for the 5 th Annual Spooky Do tradition of weaving improv and opportunity into a whole bunch of Halloween fun. The night ends with an "All Play" where the ladies invite you on stage in safe, inclusive and inviting experience to give improv a try yourself! We can't wait to see you!
Friday, October 11th - Wild Goose Creative
Community Celebration: A love letter to Columbus Stand Up, Storytelling and Improv!, 7:00-10:30 p.m.
Doors open 6:30 p.m., Show, 7:00 p.m.
$5, please feel free to bring a canned good to share with the community food bank
Come join in a celebration of the Columbus Comedy Community! Watch when these talents collide in a fun evening to see new and seasoned performers share their laughter, narratives and fun with you. At the door, there will be handful of open mic spots and improv sets, so come at 6:45 to take your chance to sign up. An ALL PLAY IMPROV set ends the night for everyone to jump on stage to celebrate Columbus!
Saturday, October 12th - Wild Goose Creative
Evening Workshop and Performance
3:30-5:30 p.m. Hitch*Cocktails workshop
Join the Hitch*Cocktails cast for an interactive improvisation workshop for novice or seasoned performers or just enthusiasts and the curious alike! In a safe and creative environment, we explore together narrative, voice and joy of improvising as an ensemble!
Workshop Registration - $20
7:30 p.m. Doors open for show
8:00-9:30 p.m. Hitch*Cocktails Show
Check Out Chicago's #1 Improv Troupe! Our show starts with a fear, but not an ordinary fear. It's one that is unique to one of our audience members. What unfolds from that suggestion is a full-length improvised thriller in the style of Alfred Hitchcock.
We also have a fully stocked bar on stage. Any time an actor is offered a drink, they must accept it and finish before the end of the scene. Believe us, these plots get more complicated; one way or another.
Voted Chicago's Best Improv Troupe by the Chicago reader in 2017, and runner-up in 2018 & 2016, this show has been delighting audiences (who can also join the fun with their own drinking game) since 2012.
Hitch*Cocktails show - $15 in advance; $20 at the door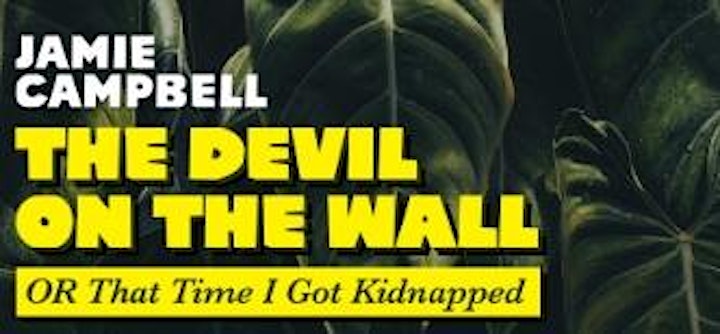 Sunday, October 13th - Wild Goose Creative
Workshop and Performance:10:00-12:00 p.m. (workshop), 6:00-8:30 p.m. (performance)
Workshop Schedule: 10:00-12:00 p.m : Jamie Campbell Professional Workshop
Laughter and Truth - There is a fine line between what makes an audience laugh and what makes them gasp. This workshop will challenge participants to open up about moments that have shaped their lives and help them relate their experiences in a way that elicits laughter without sacrificing truth. The comedy landscape is changing, and this workshop visits the intersection where stand-up meets storytelling. Class time will consist of group discussion, writing exercises, and will culminate in participants sharing their own stories.
Workshop Registration - $15
Performance: 7:00-8:30 p.m: Jamie Campbell Show
The Devil On the Wall or, That Time I Got Kidnapped
At the age of eleven, Jamie Campbell was an accomplice to his own kidnapping. He grew up to be a comedian and finally decided to share his story 25 years later. The Devil On the Wall or, That Time I Got Kidnapped is a powerhouse solo performance that is half stand-up comedy and half brutally-honest storytelling. Travel back to 1991 for what Jamie calls "the greatest adventure of my life." The veteran performer deftly walks the line between humor and tragedy, exposing his own faults, and refusing to play the victim card in a story that has wowed critics and audiences throughout the United States.
Jamie Campbell Show - $10 in advance; $15 at the door