Description
Come hear former Google Director of Engineering, Innovation Agitator and author Alberto Savoia share his advice on "The Right It—Why So Many Ideas Fail and How To Make Sure Yours Succeed."
Most new products and companies will fail—including those that have well thought-out plans that are executed to perfection. Alberto Savoia calls this sobering fact The Law of Market Failure, and he summarizes it as follows: Most new ideas will fail in the market—even if they are competently executed.
After working on a string of successful products and companies, including leading the team that launched Google AdWords and founding a successful startup, Alberto experienced his first heartbreaking, head-on encounter with the Law of Failure. After licking his wounds, he decided to fight back. He set out to study how and why failure strikes so many good teams working on what they believe are great ideas—and how to prevent that.
In this presentation, based on his work at Google and his new book, Alberto will share his unique perspectives on failure and teach you the tools and techniques you need to fight the Law of Failure—and win!
Join us for dinner, a great talk, and inspiring conversations.
About Alberto Savoia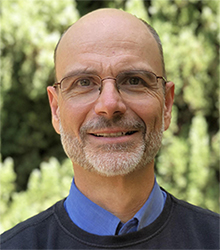 Alberto Savoia is an engineer, entrepreneur, and innovator. As Google's first engineering director, he led the team that launched Google AdWords and later became the company's Innovation Agitator. Prior to Google, Alberto founded a successful startup and was Director of Software Research at Sun Microsystems Laboratories, where he played a key role in the development of Java technology and tools.
Alberto's work has won industry recognition and awards, including: the Wall Street Journal Technical Innovation Award, InfoWorld Top 25 CTOs Award, and InfoWorld's Technology of the Year Award. Today, he teaches his unique approach for beating the Law of Market Failure in seminars and workshops at Google, Stanford University, and to organizations and entrepreneurs all over the world.
Raffle Prizes
After the talk, we will be giving away copies of Alberto's book The Right It—Why So Many Ideas Fail and How To Make Sure Yours Succeed.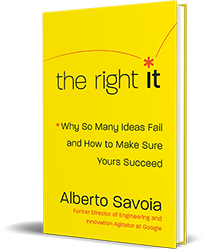 Schedule
6:00 to 6:30: Check-in and networking over dinner
6:30 to 8:00: Alberto's talk plus Q&A
8:00 to 8:30 Prize raffle followed by networking
Note: tickets are non-refundable.
About our Sponsors

Our sponsor UserTesting enables companies to put their customers at the center of every business decision by leveraging the power of human insights. Through our platform, product & design, marketing, and UX teams connect with their exact target customer in a matter of hours and uncover actionable insights that drive ROI. Learn more at usertesting.com.

Our sponsor Amplitude provides product analytics to help you build better products. Learn more at amplitude.com.

Our sponsor Pendo helps product teams deliver software users love. Pendo captures product usage patterns and user feedback, and lets you communicate in-app to onboard, educate and guide users to value. Learn more at www.pendo.io.

Our sponsor UserVoice combines feedback from multiple sources and teams to give product managers a singular, complete view of customer feedback. Save time, shorten research cycles, and ship the right functionality, faster. Learn more at uservoice.com.


Our sponsor Sam's Club is hiring product managers and designers. Learn more at http://bit.ly/sams-pm-ux.

Our sponsor productboard is the product management system that helps you understand what users need, prioritize what to build, and rally everyone around your roadmap. Learn more at https://www.productboard.com.

Our sponsor Balsamiq is the easiest way to wireframe your product ideas. Learn more at balsamiq.com.

A big thank you to Intuit for providing the space for our event!

Our sponsor Coreography provides corporate video and webinar solutions. Learn more at coreography.com.