Google Presents: Know Your Worth: Structuring and Negotiating Best Deal
Know Your Worth: Structuring and Negotiating the Best Deal
About this event
At a young age, we're taught not to toot your own horn; however, many learn quickly the harsh reality that if you don't advocate for yourself, no one is going to do so for you, i.e., salary negotiations. In today's fast-paced, high-stakes business environment, new opportunities may present themselves at any moment and professionals must be prepared to negotiate. When it comes to negotiating skills, don't sell yourself short. This is an excellent topic for early and mid-careers professionals who seek to grow their negotiation skills for the benefit of their careers and organizations and prepare for success.
Speakers:
Maria Medrano, Global Diversity, Narrative & Public Policy, Google
Maria is responsible for setting a global diversity strategy that includes partnerships, policy, and practices with equitable outcomes. With more than 20 years of experience, Maria is a balanced blend of strategist and community advocate—holding roles in Inclusion & Community, HR, Finance, Operations and Strategic Sales. In her previous role as Visa's Chief Diversity Officer, Maria was responsible for establishing the Inclusion & Diversity vision and mission and for supporting the company's promise of universal acceptance for everyone, everywhere.
Through her work, Maria has earned several important accolades, including Top 100 under 40 Diversity MBA, Silicon Valley 40 under 40, and YWCA Tribute to Women Emerging Leader Award. She continues to advise and serve on multiple non-profit boards dedicated to improving the education of students in disadvantaged communities.
Rachel Spivey, Head of Retention & Progression Consultant Team, Google
Rachel Spivey has worked at Google for the last eleven years, promoting various dimensions of diversity, equity and inclusion. She is currently the Head of the Retention & Progression Consultant Team, focused on ensuring retention and progression rates are at parity across race and gender lines throughout the company. Rachel is passionate about leading this team aimed at helping Googlers stay and thrive at the company. Previously, she held the role of Internal Community Advocate where she served as a Diversity Team liaison between the Black and Hispanic Employee Resource Groups. During her time at Google, she has also worked as the Project Manager for Google's race initiatives, helped launch a diversity engagement platform and continues to advocate to increase our investment in HBCUs. The highlight of her career has been elevating Google's racial justice agenda by organizing a Hoodie March for Trayvon Martin, Day of Support for the victims of Charleston shooting and vigils for Alton Sterling and Philando Castile.
Gabrielle Gambrell, Consultant, Speaker & Graduate Faculty Professor at NYU
Gabrielle Gambrell is a consultant, speaker, professor, communications, branding and media expert devoted to empowering excellence. She is currently serving industry-leading sports, media, entertainment, consumer, technology and lifestyle brands, as well as talent and influencers. As a chief communications and marketing officer, executing award-winning strategies to promote and increase visibility are Gambrell's baseline strengths. Gambrell creates innovative diversity, equity and inclusion programming for global brands.
As a NYU faculty professor, she teaches graduate-level courses in integrated marketing, digital and social media, media relations, corporate communications and more. While at Barnard College of Columbia University, Gambrell made history as both the first Black woman to lead marketing and communications, as well as the youngest since the college's founding in 1889. By age 27, she held tenures at many world-renowned media giants, including Comcast NBCUniversal, CBS Corporation and ABC. Gambrell was also named to PRNEWS' 2020 list of Top Women in PR and PRWeek's 2019 Hall of Femme as a Woman To Watch. Originally from Los Angeles, she now resides in New York with her husband and son. You can learn more about her at www.giftofgabrielle.com and connect on Clubhouse, Facebook, Twitter and Instagram @_GiftofGab_.
Moderator:
Angelina Darrisaw, Founder and CEO of C-Suite Coach, National Digital Coach for Google, and Adjunct Professor, NYU
Angelina is the founder and CEO of C-Suite Coach, a firm that offers expertly designed professional development and coaching programs for working professionals and small business leaders. C-Suite Coach has staffed coaches and provided training programs for Google, Major League Baseball, NYU's Veteran Lab Accelerator, Zendesk, Oscar Health, Year Up, Omnicom, SEO, THowardF, and many others.
C-Suite Coach is a preferred supplier for Google, with contracts ranging from Supplier Diversity consulting and content design for racial equity programs. C-Suite Coach also services Black & Latinx small businesses by supporting Google's efforts to bridge the digital divide through tactical digital skills training. As a part of this work, the C-Suite Coach staff manages 20 coaches who have offered free coaching and resources to over 60,000 US-based Black and LatinX small businesses through more than 900 programs across the US since 2018.
These efforts helped Angelina earn Forbes Next 1000 and Black Enterprise's 40 under 40 Award for Business in 2021, the Digital Diversity Network Innovation and Inclusion for social entrepreneurship in 2019, the "Innovators & Disruptors: Diversity & Inclusion Award" presented by New York On Tech and NBC Universal and the Year Up Urban Empowerment Award in 2018, and the Walker's Legacy Power25 award in 2017.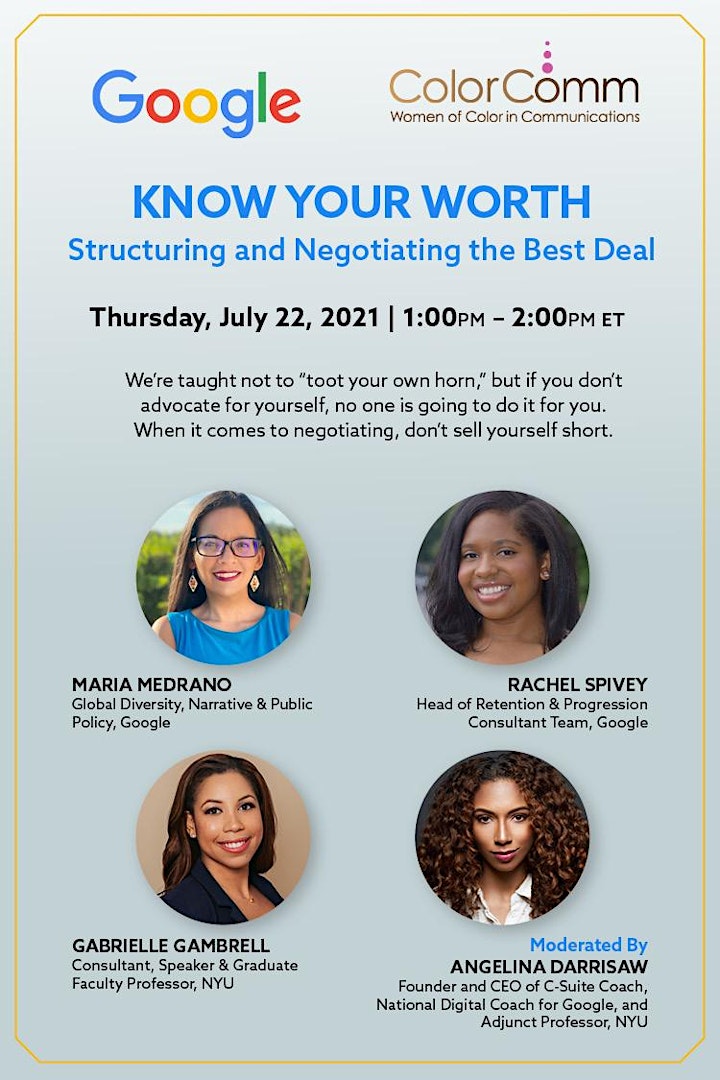 Organizer of Google Presents: Know Your Worth: Structuring and Negotiating Best Deal
The ColorComm mission is to personally connect women with other like-minded individuals to build a strong network of leaders by creating mentors/mentees, business relationships and friendships. ColorComm offers a unique opportunity for women to share experiences and learn from one another to enhance their personal and professional development.