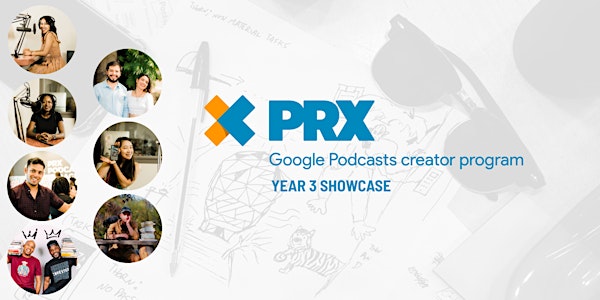 Google Podcasts creator program Year 3 Showcase
As the Year 3 of of the Google Podcasts creator program draws to a close, we are hosting a final showcase celebrating our audio creators!
About this event
Over the past 6 months, nine independent, mid-career creators from Taiwan to Paris to Bogotá and beyond have participated in our rigorous curriculum. They've been working on creative development, business strategy, audience growth and heard from dozens of industry expert guest speakers along the way. Now, they will gather for one last time to present their shows and the transformations they've made throughout the program, as well as hear from some very special guests!
This year's class of creators features:
🇺🇸 Corey Paul & JaMorcus Trayham, Literacy Kings
🇺🇸 Fil Corbitt, The Wind
🇨🇴 Juan Diego Beltrán & Angélica María Romero, Pensamiento Espiral
🇹🇼 Lily Wang, 她說犯罪 She Tells True Crime
🇺🇸 Lyanne Alfaro, Moneda Moves
🇲🇾 Matthew Durai, Zag Studios
🇫🇷 Tsippora Sidibé, Tant Que Je Serai Noire