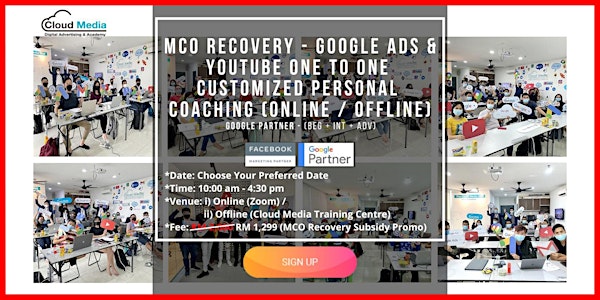 Google Partner - Google Ads & YouTube (One to One Coaching)
Google Partner - Google Ads & YouTube (One to One Customized Personal Coaching)
Refund Policy
Contact the organizer to request a refund.
About this event
𝐀𝐝𝐯𝐞𝐫𝐭𝐢𝐬𝐢𝐧𝐠 𝐨𝐧 𝐆𝐨𝐨𝐠𝐥𝐞 𝐢𝐬 𝐠𝐞𝐭𝐭𝐢𝐧𝐠 𝐦𝐨𝐫𝐞 𝐚𝐧𝐝 𝐦𝐨𝐫𝐞 𝐜𝐡𝐚𝐥𝐥𝐞𝐧𝐠𝐢𝐧𝐠. 𝐈𝐟 𝐲𝐨𝐮 𝐡𝐚𝐯𝐞 𝐛𝐞𝐞𝐧 𝐟𝐚𝐜𝐢𝐧𝐠 𝐩𝐫𝐨𝐛𝐥𝐞𝐦𝐬 𝐰𝐢𝐭𝐡 𝐡𝐢𝐠𝐡 𝐜𝐨𝐬𝐭 𝐩𝐞𝐫 𝐜𝐥𝐢𝐜𝐤 (𝐂𝐏𝐂), 𝐠𝐞𝐧𝐞𝐫𝐚𝐭𝐢𝐧𝐠 𝐬𝐚𝐥𝐞𝐬 & 𝐥𝐞𝐚𝐝𝐬, 𝐒𝐓𝐎𝐏 𝐍𝐎𝐖! 𝐉𝐎𝐈𝐍 𝐨𝐮𝐫 𝐆𝐨𝐨𝐠𝐥𝐞 𝐀𝐝𝐬 & 𝐘𝐨𝐮𝐓𝐮𝐛𝐞 𝐇𝐚𝐧𝐝𝐬-𝐨𝐧 𝐖𝐨𝐫𝐤𝐬𝐡𝐨𝐩 𝐭𝐨 𝐬𝐭𝐚𝐫𝐭 𝐠𝐞𝐧𝐞𝐫𝐚𝐭𝐢𝐧𝐠 𝐡𝐢𝐠𝐡-𝐪𝐮𝐚𝐥𝐢𝐭𝐲 𝐭𝐫𝐚𝐟𝐟𝐢𝐜, 𝐬𝐚𝐥𝐞𝐬 & 𝐥𝐞𝐚𝐝𝐬 𝐭𝐨 𝐲𝐨𝐮𝐫 𝐛𝐮𝐬𝐢𝐧𝐞𝐬𝐬 𝐭𝐨𝐝𝐚𝐲!
𝐃𝐚𝐭𝐞: Choose Your Preferred Date
𝐓𝐢𝐦𝐞: 10:00 am - 4.30 pm
𝐕𝐞𝐧𝐮𝐞: Online (Zoom) / Offline (Cloud Media Training Centre)
𝐖𝐨𝐫𝐤𝐬𝐡𝐨𝐩 𝐅𝐞𝐞: RM 1,299 (MCO Recovery Subsidy Promo)
𝐑𝐞𝐦𝐚𝐫𝐤 (𝐢): Very Limited Slot Available - 80% Fully Booked for December
𝐑𝐞𝐦𝐚𝐫𝐤 (𝐢𝐢): First Come First Serve Basis & Will Propose Date Based on Availability
𝐖𝐡𝐚𝐭 𝐭𝐨 𝐄𝐱𝐩𝐞𝐜𝐭?
FOCUS on Practical Training in our Workshop!
Understanding the importance of Google & YouTube Ads to your business
Learn how to plan, execute, monitor & review your campaign performance
Best Practices from Google & YouTube Ads
Know what you CAN & CAN'T DO
Use ADVANCED targeting available on Google & YouTube Ads
HANDS-ON training with our trainer
𝐓𝐨𝐩𝐢𝐜𝐬:
Why Google Ads
Campaign Structure
Creating Effective Ad Content
Keywords Research Tools
Different Types of Campaign Creation
A/B Testing
Campaign Reporting
Campaign Optimization
Advanced Targeting - Similar Audience
Advanced Targeting – Customer List Targeting
Advanced Targeting - Remarketing
Assessment (To Ensure Participants Follow All of the Best Practices)
Q&A Session
Others
𝐖𝐡𝐚𝐭 𝐖𝐢𝐥𝐥 𝐘𝐨𝐮 𝐆𝐞𝐭?
Able to execute advertising campaigns using Facebook Ads Manager
Able to monitor the ad performance through the Facebook Ads Manager
Boost your sale's volume & maximize ROI
Experienced & Skillful Trainers - One (1) Main Trainer & Additional Three (3) Co-Trainers who used to work in Google & Facebook Malaysia Support Team
Lifetime Support /After Sales Service
E-Certificate upon course completion
𝐖𝐡𝐲 𝐂𝐡𝐨𝐨𝐬𝐞 𝐔𝐬?
Certified Google, Facebook & TikTok Partner
HRDF Certified Programs – Google, Facebook & TikTok
MDEC Certified Programs – Google, Facebook & TikTok
Experience Trainers - Trainers who used to work in Facebook & Google Malaysia Support Team
Hands-on Training - Step by step guide on the campaign creation
HRDF Certified (TTT) Trainers
Lifetime Support
𝐓𝐫𝐚𝐢𝐧𝐞𝐫 : 𝐑𝐨𝐞𝐲
𝐖𝐡𝐨 𝐢𝐬 𝐡𝐢𝐦?
𝟏) 𝐉𝐨𝐮𝐫𝐧𝐞𝐲 𝐖𝐢𝐭𝐡 𝐅𝐚𝐜𝐞𝐛𝐨𝐨𝐤 𝐌𝐚𝐥𝐚𝐲𝐬𝐢𝐚 𝐒𝐮𝐩𝐩𝐨𝐫𝐭 𝐓𝐞𝐚𝐦:
➡️ Joined as Facebook Campaign Specialist for Malaysia & Singapore markets.
➡️ Managed thousands account for SMEs & corporate accounts under Facebook STS & Facebook Go Program
𝟐) 𝐉𝐨𝐮𝐫𝐧𝐞𝐲 𝐰𝐢𝐭𝐡 𝐆𝐨𝐨𝐠𝐥𝐞 𝐌𝐚𝐥𝐚𝐲𝐬𝐢𝐚 𝐒𝐮𝐩𝐩𝐨𝐫𝐭 𝐓𝐞𝐚𝐦:
➡️ Joined Google as a Google AdWords Campaign Specialist
➡️ Managed New Campaign Specialist Team for New Markets such as China, Taiwan, Hong Kong & Korea
➡️ Multiple Roles Including Product Specialist, a Speaker, a Trainer, a Consultant & a Team Leader
➡️ Awarded as the Best AdWords Campaign Specialist for SEA region
𝟑) 𝐐𝐮𝐚𝐥𝐢𝐟𝐢𝐜𝐚𝐭𝐢𝐨𝐧 & 𝐂𝐞𝐫𝐭𝐢𝐟𝐢𝐜𝐚𝐭𝐢𝐨𝐧:
➡️ Facebook Blueprint & Google Ads Practitioner
➡️ HRDF Professional Trainer
𝐍𝐨𝐭𝐞𝐬:
Prepare your own laptop, laptop charger, smartphone & notebook
Be punctual & will start the one to one coaching session on time
Confirmation email shall be sent to you once the payment was made.
𝐂𝐨𝐧𝐭𝐚𝐜𝐭𝐬:
Edwin: 014-6299324 (https://bit.ly/edwinwhatsapp)
Ashley: 012-9240528 (https://bit.ly/ashleywhatsapp)
Roey: 013-3695526 (https://bit.ly/roeywhatsapp)
𝐅𝐚𝐜𝐞𝐛𝐨𝐨𝐤 𝐏𝐚𝐠𝐞:
www.facebook.com/CloudMediaPangEdwin/
𝐈𝐧𝐬𝐭𝐚𝐠𝐫𝐚𝐦 𝐀𝐜𝐜𝐨𝐮𝐧𝐭:
www.instagram.com/cloudmediaacademy/
𝐖𝐞𝐛𝐬𝐢𝐭𝐞:
𝐘𝐨𝐮𝐓𝐮𝐛𝐞 𝐂𝐡𝐚𝐧𝐧𝐞𝐥:
www.youtube.com/channel/UCMDVmwXrhw4ArQx3lF4qugQ
𝐂𝐥𝐨𝐮𝐝 𝐌𝐞𝐝𝐢𝐚 𝐖𝐨𝐫𝐤𝐬𝐡𝐨𝐩 𝐆𝐚𝐥𝐥𝐞𝐫𝐲:
https://cloudmedia.com.my/gallery/
𝐄𝐦𝐚𝐢𝐥:
info@cloudmedia.com.my
𝐋𝐢𝐦𝐢𝐭𝐞𝐝 𝐒𝐞𝐚𝐭𝐬 𝐎𝐧𝐥𝐲, 𝐒𝐢𝐠𝐧 𝐔𝐩 𝐓𝐎𝐃𝐀𝐘!
_____________________________________________________________________________________________
在Google投放广告变得越来越具有挑战性。如果您每次投放Google广告的时候都遇到:Keyword 点击费用高?想要寻找有潜质的客户群可是广告费却很昂贵?请停止所有的Google广告!立即加入我们的课程,并开始在 Google 广告中获得高质量的网上流量,销售和寻找潜在客户!
以下是我们的课程大纲:
我们的课程专注于实践培训
了解 Google 广告对企业的重要性
了解如何规划,执行,监控和审核您的广告效果
Google 广告的最佳做法
知道什么广告是不能被执行的,以及什么是你必须注意的事情
使用 Google 高级广告设定功能
与我们的培训师进行手把手教的培训
课程纲要:
Google Ads 的重要性
广告结构
如何设计最佳广告内容
Keywords 搜索工具
如何创建不同类型的广告模式
A / B 广告测试
了解广告报告
优化广告的方法
高级广告设定 -使用类似受众扩展销售
高级广告设定 - 如何有效使用客户列表
高级广告设定 - 如何重复推广您的广告
测验/考试 (确保每一位参与者遵从所有最佳实践策略)
问答环节
其它
您将会得到什么?
正确的使用 Google 广告管理器去执行广告
可以通过 Google 广告管理器监控广告效果
提高销售量与提升投资回报率
将会与 一名经验丰富且非常熟练主要培训师,以及额外的三名 (3) 共同培训师,他们曾是 Google & Facebook Malaysia 广告后勤专员
提供长期的协助
提供课程的参与证书
为什么选择我们?
Google, Facebook 和 TikTok 认证的合作伙伴
HRDF 认证 - Google, Facebook 和 TikTok 课程
MDEC 认证 - Google, Facebook 和 TikTok 课程
经验的培训师 - 曾经在 Google & Facebook Malaysia 工作
实战培训 - 手把手教如何创建 Google 广告
HRDF 认证(TTT)的培训师
提供永久性的售后服务/协助
培训师: ROEY
他是谁?
1) 工作履历 : Facebook Malaysia 广告后勤专员
➡️成为 Facebook 广告专家的一员(马来西亚和新加坡市场)
➡️帮助多达数千个中小型企业完成了 Facebook STS & Facebook Go广告策划
2) 工作履历 : Google Malaysia 广告后勤专员
➡️成为 Google 广告专家的一员
➡️被委任为管理 Google 广告团队的新市场覆盖于中国,台湾,香港和韩国等等
➡️被委任为多项重任,包括 Google 产品专家,演讲者,培训师,顾问和团队负责人
➡️被评为东南亚地区最佳 Google AdWords 的广告专家
3) 资格认证:
➡️Facebook Blueprint & Google Ads Practitioner
➡️HRDF 专业培训师
上课需注意的事情:
准备笔记本电脑,笔记本电脑充电器,智能手机和笔记本
准时,并且我们会按时开始一对一的辅导课程
付款后,确认邮件将发送给您。
想了解更多?请联系:
Edwin: 014-6299324 (https://bit.ly/edwinwhatsapp)
Ashley: 012-9240528 (https://bit.ly/ashleywhatsapp)
Roey: 013-3695526 (https://bit.ly/roeywhatsapp)
Facebook 专页:
www.facebook.com/CloudMediaPangEdwin/
Instagram 商业账户:
www.instagram.com/cloudmediaacademy/
网站:
YouTube 频道:
www.youtube.com/channel/UCMDVmwXrhw4ArQx3lF4qugQ/
相册:
https://cloudmedia.com.my/gallery/
电子邮件:
info@cloudmedia.com.my
位置有限,请立即报名!