Google Hangout: Business Book Author Panel - How a Book Changed My Business
Description
LIVE Google Hangout: Business Book Author Panel - How a Book Changed My Business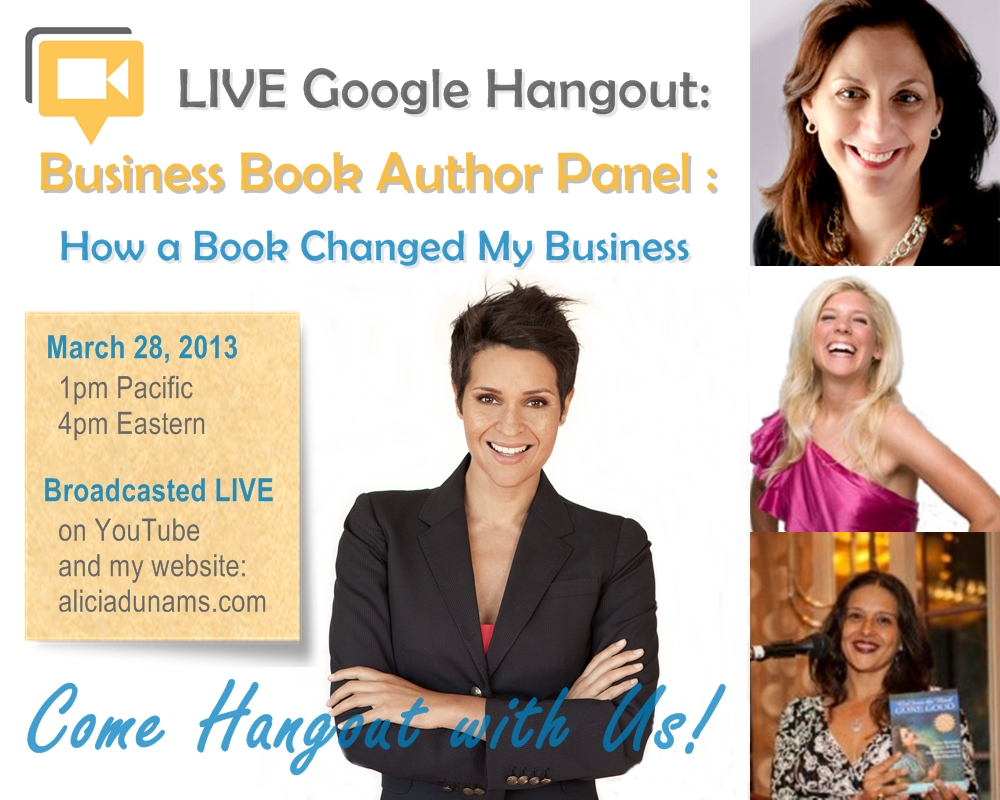 This will be a live panelist discussion where you will discuss how a book changed your life (business, personal, professional). You will have an opportunity to promote your book and your success. We are looking to have thousands of people on the call, and you will have an opportunity to make affiliate commissions on anyone you send to the call who purchases Bestseller in a Weekend. (There will be a very soft-sell at the end of the call that discusses Bestseller in a Weekend)
Date: March 28, 2013 at 1pm Pacific / 4pm Eastern
Duration: 2 Hours
Broadcasted LIVE on YouTube and my website
Host: Alicia Dunams
Six Panelists: TBD
I'm excited for the Google Hangout with you (confirming time: 1pm Pacific / 4pm Eastern on 3/28).
Here are some important confirmations, to help you prepare for the call:
First you should sign up as an affiliate to Bestseller in a Weekend:
1) Sign up here: http://www.bestsellerinaweekend.com/affiliates
2) Watch video here to get promotional materials. (I will send you additonal promo materials)
3) You will earn $148.50 per referral sale.
4) I hold the Bestseller in a Weekend workshops monthly. They are always LIVE.
-------------------------
1. Do you have the Google Hangout software installed on your computer? If not please install it before the event.
2. Some pointers to be broadcast-ready:
- Have a nice background & good lighting
- Have a headset nearby
- Be hair/makeup ready
- If you're watching the Live Broadcast page (where there's Facebook chat happening) as well as the GHangout page, mute the Broadcast page so there's no double-feedback
- Mute yourself (control on GHangout) if you need to type or make other background noises
- Have a reliable internet connection
3. We'll be setting up the hangout half an hour prior to the "live" time (so we'll be on there at 12:30pm PT) and we will send a Google+ invite to you at that time (just check the email that's linked to your G+ profile).
You are welcome to join us early right away if you want to get comfy together before the live call starts :)
4. If you need to ping me during the live call, I can be reached via:
- Skype: Alicia.Dunams
- Text: 916-267-3469
Dedicated to your Success,
Alicia Dunams
Organizer of Google Hangout: Business Book Author Panel - How a Book Changed My Business