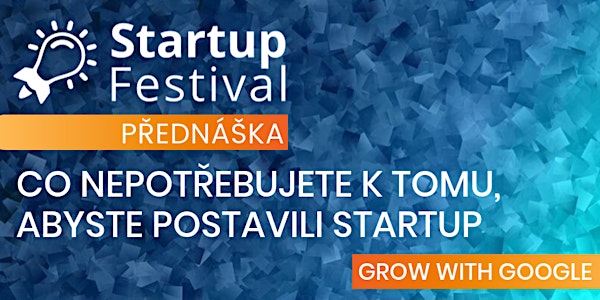 Google: Co NEpotřebujete k tomu, abyste postavili startup
Udělejte si jednou provždy jasno v tom, co jako začínající startup potřebujete, a co je naopak přeceňováno.
When and where
Location
Vysoká škola ekonomická v Praze 1938/4 náměstí Winstona Churchilla 130 67 Praha 3 Czechia
About this event
Všude se dočtete o tom, co všechno je třeba k tomu, abyste mohli vybudovat startup. Co když je to ale snazší, než se zdá? Ukážeme vám věci, o kterých si startupisté často myslí, že je nutně potřebují, ale není to pravda. Z přednášky si naopak odnesete jasný seznam priorit.
Kdo vás tématem provede?
Pavel Bartoš a Petr Mandík, marketingoví experti a startupoví mentoři Grow with Google.
Přednáška proběhne v Rajské budově VŠE v učebně RB 101. Nevíte, jak se do učebny dostat? Nevadí! Navigace na místě Vás do učebny dovede.
Zajímají Vás další akce ze Startup Festivalu?
Na Startup Festivalu vás čeká ještě více přednášek, workshopů a panelových diskuzí. Pro více informací navštivte náš web nebo sledujte fb event!
Na letošním Startup Festivalu se představí začínající startupy, ale i ostřílení hráči na trhu. Poznejte českou startupovou scénu offline v jeden den a ve skvělé festivalové atmosféře.
Těšíme se na Vás už 11. 10. 2019 na VŠE!