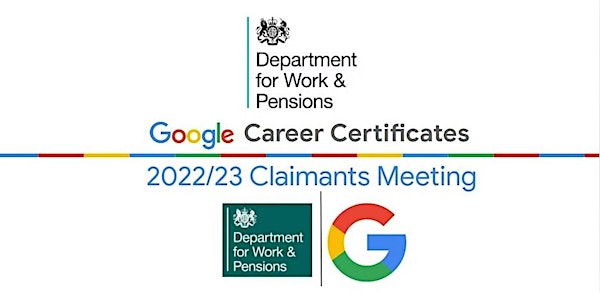 Google Career Cert Scholarships DwP Claimants Meeting
Google has partnered with DwP, to deliver Career Certificate Scholarships. Find out more about this, and our Employer Consortium opportunity
About this event
The Google Career Certificates Scholarships are self-paced courses, positioned to launch learners into careers in
Data Analytics
Digital Marketing & e-Commerce
IT Support
Project management
User Experience (UX) Design
These courses are totally free, hands-on, and do not require any previous degree or experience from learners.
Google has also partnered with top UK Employers and Organisations, Including BBC, BT Group, Deloitte, John Lewis, NatWest, and more. These businesses recognise Google Career Certificates and consider those who complete the courses for jobs, providing a low-cost path into high-growth, well-paid tech roles
This meeting is scheduled to sensitize the claimants about the opportunities available through this partnerships, and help more jobseekers to land their dream jobs
Kindly click on the link to secure your seat during this virtual meeting.