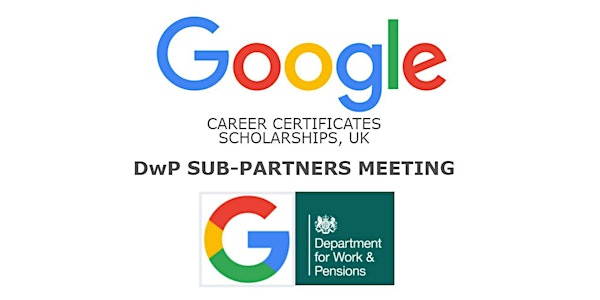 Google Career Cert Scholarships 2022 Partner Meeting
The Google Career Certificates Scholarships Meeting, of DwP Sub-Partners, to schedule events and plan deliverables for our 2022 partners
About this event
It has been a great year, creating awareness for the Google Career Certificate Scholarships, and getting Jobseekers on their path to a fulfilling career, leveraging this opportunity. As we begin to plan a new year, this meeting is scheduled to help us strategize together with our partners, as we plan to help more jobseekers get onto their dream jobs in 2022.
During this meeting, we will discuss:
Our DwP Google Career Certs Scholarship strategies for 2022
Our 2022 Partner Events, and how we can integrate the Career Certificates
Learner Engagement Plans, to help enrolled learners to get certified
Events, Webinars and Mentoring opportunities
Partner Engagement and Feedback Platforms
Hiring Consortium opportunities now available to learners
Any Other Businesses
Kindly click on the link to register and attend this virtual meeting.