Google Analytics Certification Classes Fall 2016

Tuesday, October 4, 2016 at 1:00 PM (CDT)
Event Details
Google Analytics Comprehensive Training & Certification Classes
Learn how to navigate Google Analytics, analyze data and improve your overall business performance and ROI. The online marketplace has never been more competitive, no matter what practice area you're in. Learn how to track web visitors and turn those visitors into qualified leads. Analytics is a powerful tool that will help you determine which practices are best for your business in terms of marketing and advertising online.
Whether you are new to Google Analytics or are already managing  multiple Analytics campaigns, we can teach you the best ways to use the full potential and power of Google Analytics. Improve your ROI, your customer acquisition and retention and your overall web performance.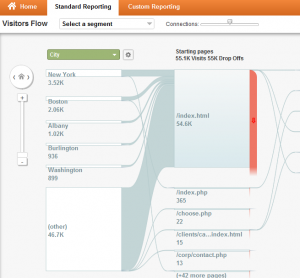 In this highly informative 2 full-day course series, Comprehensive Google Analytics teaches you the correct way to set up Analytics, create reports and analyze website data. Whether you are new to Google Analytics or are already managing multiple Analytics campaigns, we can teach you the best ways to use the full potential and power of Google Analytics. Improve your ROI, your customer acquisition, customer retention and your overall web performance.
Account Set-Up & Management: Learn how to properly set up accounts, new profiles, install tracking codes and more. Do it right the first time, learn how to properly manage client accounts.

Data Cleansing: Filters & Goals: Engagement principles, campaign tagging, landing pages & bounce rates. Learn about conversions including goal set-up, reports and e-commerce tracking. Learn how to create custom reports, API integration and more.

Dig Deeper into your Executive Account Structure: Learn best practices for account setting, user management & account structure. Adjust your account to easily gather the most relevant data.

E-Commerce Tracking: Learn how Google Analytics works and best practices for tracking, reporting and analyzing your AdWords, AdSense and e-commerce data.

Adjust and improve your ROI with Google Analytics to determine the strengths and weaknesses of  advertising copy, keywords, landing pages, and more.

Learn advanced tracking and how to monitor client conversions with simple, straightforward reporting. We'll go in-depth into filters, conversion tracking, Flash tracking, custom visitor variables, managing cookies & tracking and extracting data.

Learn strategies and best practices for new features and overall campaign success

Prepare for the Google Analytics Certification Test (materials & sample questions included)

Beginning Google Analytics: Tuesday, October 4, from 1:00 - 5:00 pm    
Intermediate Google Analytics: Thursday, October 5, from 1:00 - 5:00 pm      
Advanced Google  Analytics: Tuesday, October 11, from 1:00 - 5:00 pm     
Analyzing your Google Analytics Data & Test Prep: Thursday, October 13, from 1:00 - 5:00 pm 
About your Google Analytics Seminar instructor: 
Jeff Sauer: Jeff cre­ated his first website in 8th grade and hasn't looked back. Through ini­

tia­tive, oppor­tu­nity, curios­ity and good old fash­ioned elbow grease, he is now a master of web ana­lyt­ics, website opti­miza­tion and test­ing, social media, online rep­u­ta­tion man­age­ment, e-commerce, com­petitive analy­sis, online sur­veys, email mar­ket­ing, lead gen­er­a­tion, and more. The results speak for them­selves. Jeff is currently traveling around the world teaching and consulting. He advises some of the world's biggest companies/brands oninter­ac­tive mar­ket­ing strat­egy and mon­i­tors web ana­lyt­ics pro­files for hun­dreds of com­pa­nies and websites. 
DemandQuest: the Twin Cities' only Google Certified Partner offering complete training.
DemandQuest was founded by marketing & sales entrepreneur Ted Kozlowski. Having crafted marketing solutions for a variety of organizations and industries, and having worked extensively with such internet marketing companies as Google, Yahoo!, Microsoft, Facebook and LinkedIn, DemandQuest's founder and instructors are uniquely qualified to take the guesswork out of your marketing efforts and provide processes and solutions that are easy to use and affordable for businesses of all sizes. Please call with any questions, 612-460-8770. Thanks! 
When & Where

DemandQuest Marketing Institute
2112 Broadway St NE
Suite 230
Minneapolis, MN 55413


Tuesday, October 4, 2016 at 1:00 PM (CDT)
Add to my calendar
Organizer
DemandQuest Marketing Institute
About the Demand Quest Marketing Institute: Through educational seminars and hands-on training, DemandQuest provides business owners and marketing executives with the tools, education, and understanding necessary to create and manage effective marketing programs that will drive new revenue. We offer comprehensive seminars as well as customized training. We specialize in all things Digital Marketing: Google AdWords, Google Analytics & Google Tag Manager, Facebook Advertising, LinkedIn Advertising, & Yahoo!/Bing Advertising, Email & Inbound Marketing, Search Engine Optimization (SEO) and all things SEM (search engine marketing). Our mission is to provide valuable seminars & training that will give you the skills and direction needed to navigate the complexities in today's digital marketing & advertising landscape. 
Google Analytics Certification Classes Fall 2016