About this Event
Thursday June 27, 2019
Goodnight Blue Moon
The Meadows Brothers
Little Silver
8pm (doors)
$10 advance / $12 day of show
GOODNIGHT BLUE MOON
Blending rich vocal harmonies with lush orchestrations, Goodnight Blue Moon has created a sound that is steeped in tradition, yet entirely current. GNBM is known for their energetic, honest, and dynamic live performances, offering a refreshing take on Americana roots music.
Awarded Best Roots Act in the 2016 New England Music Awards, and Best Folk/Traditional Act in the 2018 and 2013 Connecticut Music Awards, Goodnight Blue Moon has cemented their place as one of New England's premier groups. They have shared the stage with indie-folk heavyweights Hurray for the Riff Raff, Spirit Family Reunion, Wild Child, Joe Fletcher and the Wrong Reasons, and Mother Falcon among others, in addition to creating a diverse and devoted following of their own. Goodnight Blue Moon has been regularly featured on WNPR's Where We Live and NEXT with John Dankosky. Their festival credits include CT Folk Festival, LAUNCH Music Festival, MUSIKFEST, Podunk Bluegrass Festival, I AM Festival and Block Island Music Festival. Goodnight Blue Moon's third studio album Dawning Dream was released April 2018.
https://www.goodnightbluemoon.com/
THE MEADOWS BROTHERS
"Singing guitarists Ian and Dustin Meadows prove that roots music is an unending resource, turning influences into an engagingly twangy sibling sound all their own." - The Boston Globel
"Blending folk and country with a blues edge, the brothers Meadows pack a powerful punch for being just two dudes armed with only a couple acoustic guitars and a harmonica. But their harmonies are the type of stuff only siblings can usually muster and their songs smack of souls much older than their earthly years would let on." - Chip McCabe
Hailing from the Connecticut River Valley of New England, Ian and Dustin Meadows, 23 and 21, have been making music together for more than a decade. The countless hours spent singing and playing together eventually resulted in concocting their unique blend of stripped down Rock n' Roll, Country, Blues, and Folk music combined with honest songwriting, distilled through the brothers life experience and ever-changing outlook.
Since taking the stage as "The Meadows Brothers" in 2012 while both were still in High School, Ian and Dustin have logged tens of thousands of road miles, written a pile of songs, recorded a few albums, met a lot of interesting people, and had a lot of fun every step of the way. Dustin says "There aren't too many things that beat getting to travel around and play music with your brother. We do it because we absolutely love it. The fact that people connect with the songs just makes it better." Keeping it simple, continuously improving their craft, and not taking themselves too seriously are major tenets of the brothers code.
Their parents taught them a love for music of all genres, and they always try to keep the diversity gleaned from this informal musical education a part of their work.
"We're influenced by all the giants of American Roots music, but we're not a traditional band." says older brother Ian. "We're all about finding the right vehicle for the song, and that can take a lot of different stylistic turns, even within the realm of folk music."
The brothers released their third studio album, "Truth" in the fall of 2017. Recorded in Holyoke, MA at Ghost Hit Recording with producer and engineer Andrew Oedel; the album represents the culmination of a few years of weeding through notebooks full of songs and road-testing each one. The brothers also implemented their "jack of all trades" musicianship; featuring them on acoustic and electric guitars, bass, drums and percussion, keyboards, and harmonica. "There's not a note we didn't play on this record, and I think we're both proud of that." says Ian. "We could've hired a killer band and just tracked the songs that way, but we wanted it to be a true Meadows Brothers album from the songwriting all the way down to the music, even if it was a little more of a challenge." Sticking to their DIY ethic, the album was released on the brothers own label, Side Porch Records.
2018 will find the Meadows Brothers keeping the wheels rollin'. "We'll be driving around, playing shows, writing songs, seeing the sights, and working on another record. What else would we be doing?"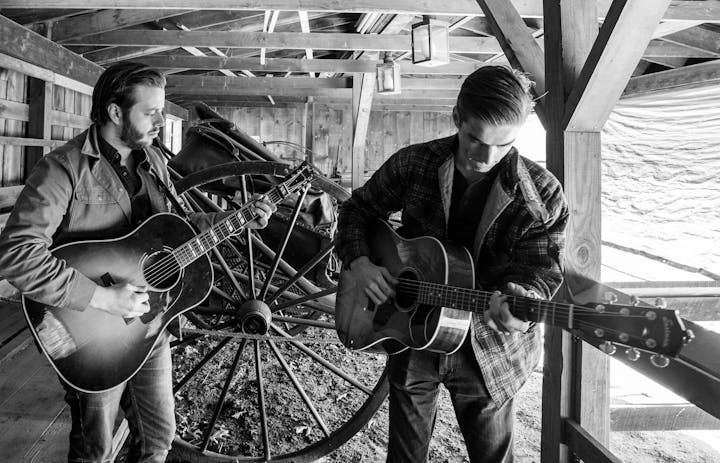 LITTLE SILVER
"The elegantly understated debut from this Brooklyn band does what great, grown-up indie rock at its best has always done: It maps out states of personal, emotional and historical in-betweenness with careful, intelligent grace… Songs […] take their time building from muted beauty to closely held grandeur."—ROLLING STONE
"Once they emerge from the trancelike perfection of [Somewhere You Found My Name's] first two tracks, they and their band rock out… Don't wait for them to come to your town, just buy the darn record."—NO DEPRESSION
"Little Silver has a familiar, delicious vibe… Listen, for example, to a cut called "Anytown" and hear echoes of the New Pornographers. The brew of ethereal harmonies, majestic arrangements and gentle melodies proves there was more precious metal in those hills… In "You Slept Through Summer," an evocative sonic journey through the passing of time, the words themselves are so rich they feel like instruments… The album is built on delicate harmony, and Simonian's voice, in particular, is lovely. In fact, it might be its similarity to that of Neko Case […] that beckons that comparison. It's good company; Little Silver has shown it belongs there."—ASSOCIATED PRESS

Little Silver.
*****DOORS at 8pm, SHOWTIME at around 9pm*****
Performers
Date and Time
Location
Refund Policy