GoodLife USA Travel - $ Save or Make Money with Membership $ Mon,CA
Description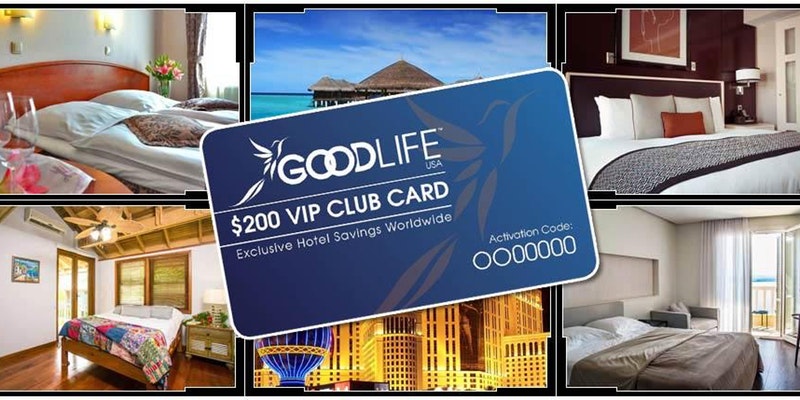 The GoodLife VIP Club Card gives you the opportunity
to do all the fun things that you always dream about
at a cheaper price!

What If You Could SPEND LESS so you could LIVE
MORE and then MAKE MONEY doing it!

It's Real – It's Possible. And we call it GOOD LIFE USA

Your one path to discount travel, everyday savings and
being able to Live the GOOD LIFE by enjoying:

• Massive Discounts
• Huge Deals When You Shop
• Convenient CashBack
• Special Offers
• Worldwide Travel
• Luxury Destinations
• Breathtaking Cruises
• Restaurants & Dining
• Movies & Entertainment
• Concerts & Amusement
• Sports & Much More

• Need A Hotel? With Our Search Engine Program…
Members can search over 900,000 Hotels & Resorts
by Amenities,Star Ratings, Property Type, Price, City,
Nearby Landmarks, Address, Airports and Availability.

It's true...

There are lots of Travel Businesses out there.

But Good Life is a different breed all by itself..

Passing out our FREE VIP Club Discount Cards
earns you 50% of whatever a person SAVES...

They Save $200 and you earn $100.

They Save $100 and you earn $50

They Save $50 and you earn $25 etc.

That's A GAME CHANGER!
Also you can make money if people join the business under you!
Here is the full compensation plan for everyone to see. We have a ton of brand new IBO's that are brand new. Everyone will have a much better understanding of our business after you watch these videos. Congrats to everyone I'm sending this out to. You are about to be blown away by how simple this business model is.
Compensation Plan. This is very informative.
https://www.youtube.com/watch?v=u7kZkUnVvBc&t=785s
This is a video on the commission volume pay. Try to sleep after you watch this one.
https://www.youtube.com/watch?v=npr2NqtJkF8
want to go to
https://www.goodlifeusa.com/jeyplayerlife