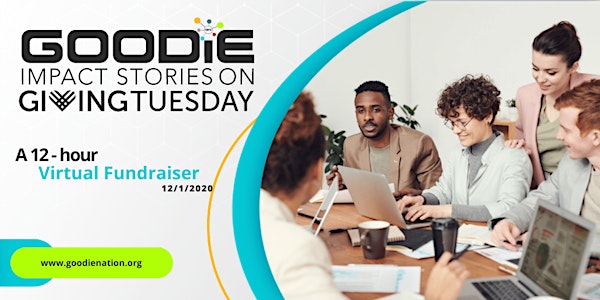 Goodie Impact Stories on #GivingTuesday #RelationshipsMatter
We're raising money for our 2021 programming + operating with a virtual fundraiser feat. 12 hours of livestreamed stories of our impact.
About this event
Note: If you'd like to make a donation (not required), you may do so by registering. We are also on Benevity for employer matching. Check with your employer to see if you are eligible.
---
No entrepreneur can succeed without a strong network of support. Because of the ways access and opportunity have traditionally been distributed, social entrepreneurs and diverse founders are less likely to know people from top colleges and companies than their counterparts. This means they have less robust networks to draw on for advice, customers, funding, and professional growth. We call this the Relationship Gap.
Goodie Nation exists to eliminate the relationship gap that stands in the way of success for too many promising entrepreneurs, especially those who are people of color, women, or aren't located in coastal financial centers. Our super power is the ability to make the right connection at the right time, and we leverage an extensive network to create deep relationships that lead to revenue and funding, less stress, and more polished CEOs.
This Giving Tuesday, we're producing 12 consecutive hours of live streamed stories, via Zoom webinar, on how we've helped social entrepreneurs and diverse founders. We're borrowing from our hackathon roots and calling it a Zoomathon. The money raised will go toward our 2021 programming and operations costs.
Goodie Impact Stories on #GivingTuesday will feature 10-15 minute interviews with the amazing founders and experts from our Intentionally Good community as well as 20-30 minute fireside chats with our partners.
Speakers + Schedule (All Times EST):
8am: Opening Remarks + 2020 Impact/Update
9am: Why Relationships Matter for Diverse Founders feat. Umama Kibria (Sweatpack), Edmund Amoye (CodeLess Summit), Brandon Andrews (Values Partnerships), Nate Washington (Qoins), and more.
10am: Why Relationships Matter for Social Entrepreneurs feat. Jyah Hyoh and Robin Cho (Raise For Good) Courtney Counts (KTC), and Doll Avant (Aquagenuity)
11am: Accelerating Futures: Why Relationships Matter for K-12 + College Tech Training Program Operators feat. Staci Lynch (Walton Family Foundation), Chad Womack (UNCF), and more.
12pm: Education x Tech x Leadership feat. Horace Williams & Greg Clay (Empowerd)
1pm: Revenue Over Everything feat. Dru Riley (Trends.vc), Adam Marx, Holly Beilin (Engage), Deisha Barnett (Metro Atlanta Chamber of Commerce), and more.
3pm: Sports x Tech feat. Andre Fluellen and Brian Zwerner (Beyond The Game Network), Jerel Worthy (Former NFL Player/Entrepreneur), Lizzy Levine (Viragoes), Brandon Deyo (Mars Reel Media), and LaVonne Idlette (Olympian)
4pm: Entertainment + Media x Tech feat. Brandon Butler (Butter.ATL), LaToya Marc (Combs Enterprises), Mercedes Lindsey (REVOLT TV), Rob Hardy (Rainforest Entertainment), and more
5pm: Music x Tech feat. J Carter (ONE MusicFest), Jarrett Hines (MusicTechWorks), Austin Webster & Darrell Thompson (Deepr) and more.
6pm: Culture x Tech feat. James Andrews (Authenticated), Ryan Wilson (The Gathering Spot/A3C), Twanna Harris (Cultural Anthropologist/Activist) and more.
7pm: How Relationships Impact a Founders' Mental Health
8pm: Goodie Impact Stories End
Note: schedule is being updated
Proudly Supported By
Kapor Center, Google, Verizon, Accenture, Deloitte, Village Capital, Walton Family Foundation, Atlanta Wealth Building Initiative, Fulcrum Equity Partners, Metro Atlanta Chamber of Commerce, Collab Capital, Beyond The Game Network, Hypepotamus, Travelers, ATL Black Tech, The Plug, UrbanGeekz, Venture Atlanta, Georgia Social Impact Collaborative, The Gathering Spot, Technologists of Color, Product404, Techsquare Ventures, Russell Center for Innovation and Entrepreneurship, ATDC, AthenaHealth, Porsche, Knightley, Engage VC, and more.
Why We're Doing This
Goodie Nation made a ton of progress and impact in 2020. We facilitated 700+ connections to 160+ founders across the country who raised $20M+ and landed some of the top companies in the world as customers. We've grown to become a national entrepreneurship support nonprofit, and found a process that works.
Imagine the possibilities if we had the proper funding to execute at full capacity.