Event Information
Location
Quaid Gallery
5128 North Florida Avenue
Tampa, FL 33603
Outdoor Musical Performance and Closing Reception for "Juice Choir" at QUAID Gallery
About this event
You're invited to fall asleep and dream with us! For the closing of "Juice Choir," Jessi (sleepy) and Eric (the moon) will be playing new songs from their musical project Gooder that will bring you through a series of dreamscapes (and a couple nightmares). Since dreams can be non-linear and non-physical, each attendee will receive a tiny booklet to help guide them through the dreams. We might need your help through!
patreon.com/quaidgallery
*****************************************************************************
Luckily, QUAID is secluded, with a very large outdoor courtyard for socially-distanced gathering, and the building has two large garage doors that can be opened on the east and south walls of the gallery. To keep everyone healthy and comfortable, the following guidelines will be in place for all events at the gallery:
+ The inside of the gallery is limited to 4 people at a time. Chairs and ground markers spaced 6 ft. apart are in the surrounding outdoor courtyard for the audience to gather.
+ The garage doors on the east and south sides of the building will remain open.
+ Face masks and 6 ft. social distancing required at all times inside and outside.
+ This event is BYOB. Straws will be provided for guests to sip with a mask on.
+ Obviously, if you don't feel well, please stay home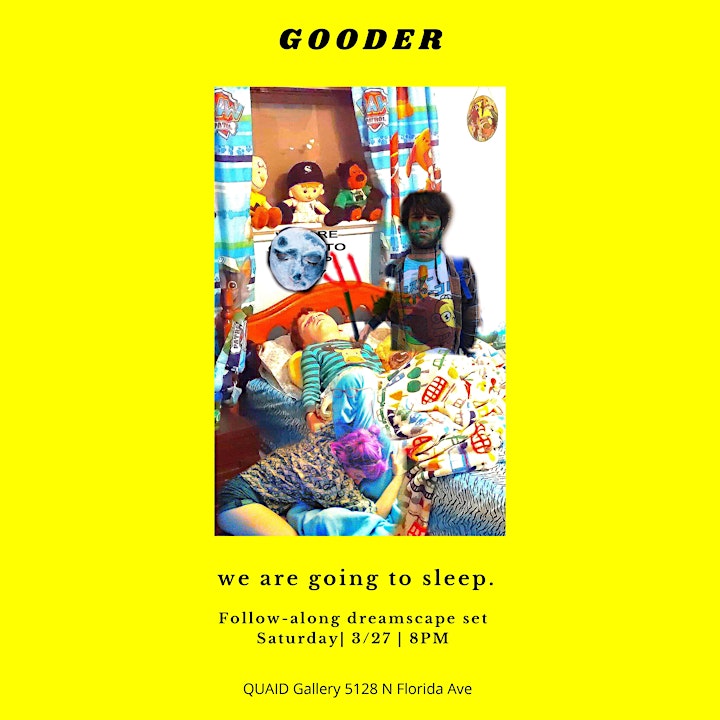 Date and time
Location
Quaid Gallery
5128 North Florida Avenue
Tampa, FL 33603